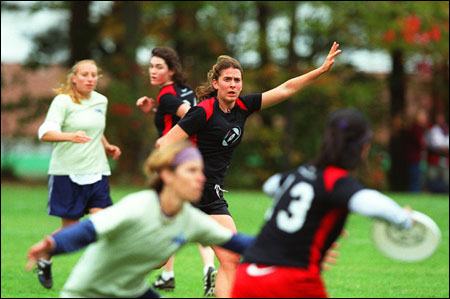 "Nothing runs like a pig." This indisputable truth is the motto for the Ultimate Frisbee club Junk of Pork, the host of the recent (Oct. 13-14) Frisbee tournament "Red Tide Ultimate Clambake, 2002."
Joining Junk of Pork, Smell My Mule, Stoned Clown, Bootay, and other club and college teams who descended on the tiny campus of Bowdoin College on the cool, cloudy fall weekend were Harvard's own Red Line and Quasar, the men's and women's (respectively) teams representing the Crimson.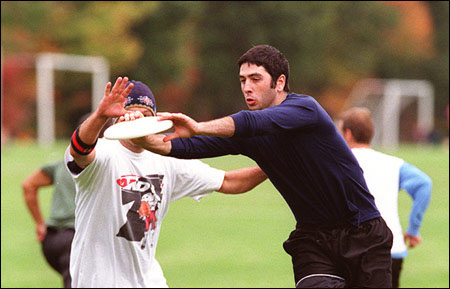 It was a tribute to the clubs' skill to be invited – only a few college teams took part in the rough and tumble. But getting in the games, which raised money for Maine's Special Olympics, counted on creativity as well as athletic ability: Interested teams were asked to make a "bid" to join the contest. The Red Line men offered to dress in drag and serve breakfast to all the tournament participants, while the Quasar women offered to provide massages to all members of the host team. Naturally, their bids were accepted.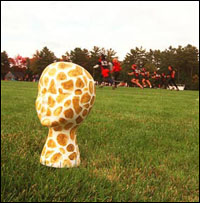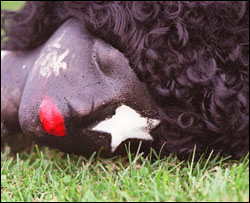 Decorated mannequin heads, harbingers of Halloween, serve as grotesque end zone markers.
On Saturday, round-robin play placed the teams for the competition. Depending on the results of the round-robins, teams were moved either into the "Lobster Pool" or the "Clam Pool."
In the action, the Red Line placed second in its round-robin, advancing to the Lobster Pool. Sadly, the team lost in the quarterfinals to a tough New York competitor. Quasar didn't fare quite as well, losing a tight fight with a Portland team that left the women languishing in the Clam Pool.