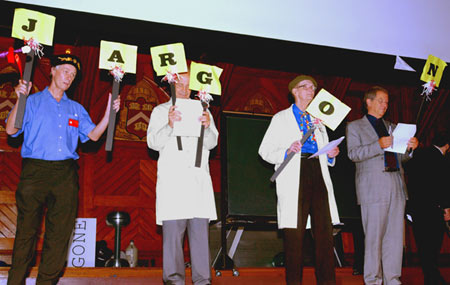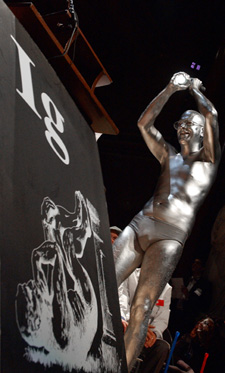 Ostrich lust, belly button lint, and creative corporate accounting took honors at the Twelfth 1st Annual Ig Nobel Prize Ceremony in Sanders Theatre on Oct. 3, an event that celebrates scientific achievements that "cannot or should not be reproduced."
Prize winners paid their own expenses to travel from four continents to collect their prizes – a certificate and a statuette of chattering teeth – and participate in an awards ceremony that was equal parts science and circus. Genuine Nobel Laureates Dudley R. Herschbach, Frank B. Baird Jr. Professor of Science; Abbott and James Lawrence Professor of Chemistry Emeritus William Lipscomb; and New England Biolabs' Richard Roberts passed out awards and gamely participated in the irreverence.
As paper airplanes soared and costumed audience members shouted and cheered, Ig Nobel winners graciously accepted the awards that made light of their legitimate research. The awards and ceremony were "reluctantly inflicted upon you," said the evening's program, by the science humor magazine Annals of Improbable Research (AIR).
Arnd Leike, of the University of Munich, chugged a beaker of beer after accepting the physics Ig Nobel for research that demonstrated that beer froth obeys the mathematical Law of Exponential Decay.
"I had much fun in taking data and writing this paper," said Leike. "Thank you, and cheers."
Accepting the biology award for a report he co-authored on "Courtship Behaviour of Ostriches Towards Humans Under Farming Conditions in Britain," a dapper Charles G. Paxton quipped that "For too long, science has had its collective head in the sand over this particular issue."
Ceremony censors nixed a demonstration of the medicine Ig Nobel, awarded to University College, London, professor Chris McManus for his report on "Scrotal Asymmetry in Man and in Ancient Sculpture."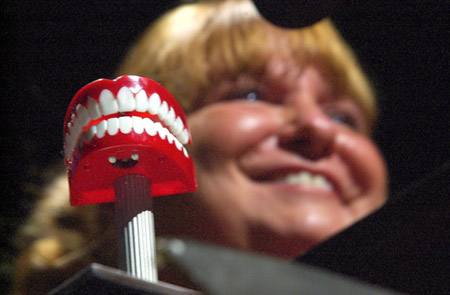 A team of Japanese scientists accepted the Ig Nobel for peace for Bow-Lingual, a dog-to-human translation device, and Eduardo Segura of Spain won the hygiene award for inventing a washing machine for cats and dogs.
The literature award went to Vicki Silvers of the University of Nevada, Reno, and David Kreiner of Missouri State University for their paper exploring "The Effects of Pre-Existing Inappropriate Highlighting on Reading Comprehension."
"The moral of the story is, do not buy a textbook that has been highlighted by an idiot," said Kreiner. After the ceremony, he admitted that he and Silvers were both honored and somewhat miffed that their work was recognized with an Ig Nobel. "We took this as serious, and we still do," he said.
Not surprisingly, none of the winners of the economics prize – the executives, directors, and auditors of Enron, WorldCom, Kmart, Arthur Andersen, and other battered corporations – claimed the honors in person. They were collectively cited for "adapting the mathematical concept of imaginary numbers for use in the business world."
Scientific hijinks and dramatic tomfoolery surrounded the actual bestowing of awards. The evening's theme, jargon, was played out in the world premiere of the four-act "Jargon Opera." The opera was set at the International Jargon Conference where, sang one of the performers, "each syllable is billable."
A range of "Ignataries," including National Public Radio "Science Friday" host Ira Flatow and Alyssa Goodman, professor of astronomy at the Harvard-Smithsonian Center for Astrophysics, delivered "24/7" seminars on topics ranging from neurobiology to animals. Each lecturer summarized his or her topic in 24 seconds and then explained it in lay terms in seven words.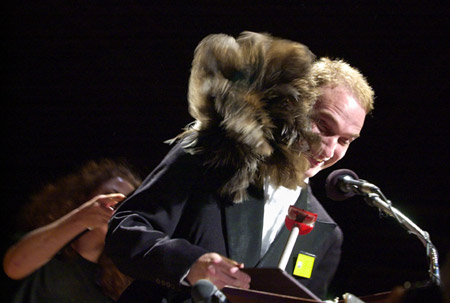 "Star light, star bright, it's my job," was Goodman's description of astrophysics.
Co-sponsored by the Harvard Computer Society, the Harvard-Radcliffe Science Fiction Association, and the Harvard-Radcliffe Society of Physics Students, the Ig Nobels aspire, remarkably, to a goal higher than hilarity: The event's organizers hope that they can spark an interest in science through humor.
"It lets scientists have a night when it's OK to have fun in public," said AIR editor and master of ceremonies Marc Abrahams, and it lets the public see that even Nobel laureates can cut loose.
"Everyone involved wants to tempt a few more people into getting curious about science," he added.