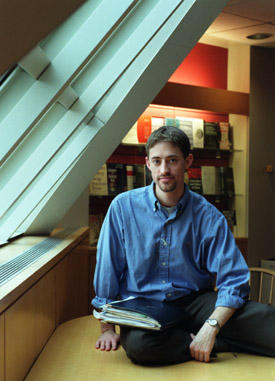 To Harvard seniors eager to leave the classroom for the first time in 16 or more years, Teach For America has a message: Stick around.
Specifically, consider extending your stay in education to teach some of America's poorest and most disadvantaged children.
Teach For America (TFA), the national corps of recent college graduates who teach in urban and rural public schools, will visit Harvard next week (see sidebar) to encourage graduating seniors to commit their next two years to education and leadership. In exchange, Teach For America corps members receive a full teacher's salary from the district that employs them, training and support from Teach For America, and likely "a profoundly life-changing experience," says program alumnus Daniel Jones, now a master's of public policy candidate at the Kennedy School of Government.
'It changed the path of my future'
Jones was headed to law school until three years as a Teach For America teacher in a Baltimore middle school steered him toward public service. "It really changed the path of my future," he says. Now, in addition to his studies at the Kennedy School, Jones serves as an alumni recruiter for TFA.
"For recent college graduates who really want to make a difference, Teach For America is a great option. It puts you on the front lines right away," he says. "You're a leader immediately. I don't know of any other job out there where you have so much responsibility," he adds, noting that other entry-level public service jobs are generally very administrative.
Jones doesn't sugarcoat his experience, citing crowded classrooms, high staff turnover, outdated textbooks, and overall lack of resources as ongoing challenges. They were mitigated, he says, by experiences like advocating for his students. It was rewarding "to know that I was the one responsible for getting them the services they need, and once they do get those services, to see the light bulb going off," he says. "I don't think I'll ever have a job that's as rewarding as teaching in Baltimore."
Teach For America recruiting events
Feb. 4-8
All week:
Tabling in the houses and class presentations
Monday, Feb. 4:
Dinner in Dunster small dining room, 6 p.m.
Wednesday, Feb. 6:
Evening information session in Parlor Room, Phillips Brooks House, 7 p.m.
Thursday, Feb. 7:
Reception with Miwa Powell '96, '99 M.Ed., Teach For America alumna and executive director of TFA in Washington, D.C., at Phillips Brooks HouseFor more information, visit http://www.teachforamerica.org
Looking for leaders
While Teach For America does not seek students with teaching experience or education degrees, it does court leaders. "We look for people who are good critical thinkers, constant learners, very achievement-oriented, and [who] can operate with respect for the communities they're working with," says Miwa Powell '96, '99 M.Ed., a TFA alumna who is currently executive director of Teach For America's Washington, D.C., office.
TFA recruits from a wide network of colleges, says Powell, but Harvard is particularly attractive for the leadership qualities of its students. "At Harvard, the community service programs are really strong and give students opportunities to be in leadership roles," she says. Active in Phillips Brooks House when she was an undergraduate, Powell credits that organization with grooming student-leaders in community service.
"Teaching is a form of leadership," says Powell, adding that it is also a valuable resource to the communities TFA serves. "Now more than ever, it's important to close the achievement gap and be able to offer all children in America educational opportunities."
Bridging the achievement gap
Ajarae Johnson '02, a biological anthropology concentrator who's been accepted to teach in Los Angeles with Teach For America, has seen that achievement gap up close. Her own education took her from an under-resourced elementary school to middle school in a wealthier district, then to a boarding school for her high school years, and then to Harvard.
"I saw the difference in terms of what schools were able to offer for their children," she says. "And I also saw that money wasn't everything, and that the teachers in under-resourced schools could really make an impact."
The power of making a difference attracted Johnson (whose only prior teaching experience was leading summer enrichment courses) to Teach For America. "Especially at Harvard, it seems like we've all been leaders so we want to go into jobs where we can be on top immediately," she says. "By being in the classroom, I know that I can make an immediate impact right out of college."
While Johnson admits some trepidation about TFA's intensive five-week training, she is unfazed by the rigors of first-year teaching. "Hopefully it will be a huge growing experience for me, as well as for the students I'll be teaching," she says.
Expanding to meet a growing need
Teach For America counts 101 Harvard graduates among its current and former corps members. The organization is growing steadily – in 2001, TFA sent 951 teachers to 16 sites, from Los Angeles to rural Louisiana – and ambitiously. A recent grant supports the organization's goal of doubling the size of its corps.
Tim McCarthy '93, a lecturer in history and literature and Quincy House tutor who helps recruit students for Teach For America, is confident that TFA will succeed. "It's incredibly well-organized. It's easy to send students there," he says, noting that Harvard students tend to be "impatient with chaos" so TFA's well-oiled recruiting, training, and support mechanisms mesh well with students' expectations.
For all his boosterism, McCarthy sees a dark side to Teach For America's success: the insatiable demand for educational services for underserved youth. According to the organization's materials, nearly 70 percent of innercity and rural fourth graders cannot read on a basic level and are one or two grades behind their counterparts in wealthy areas in math skills. Students in low-income communities are seven times less likely to graduate from college than children in high-income areas.
"If things were working right, we wouldn't need to double the size of the program," says McCarthy.
Contact Beth Potier at beth_potier@harvard.edu