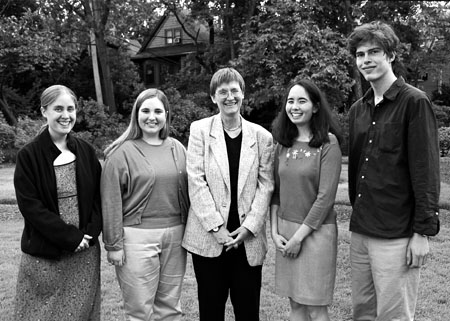 Andrea Kurtz, a chemistry concentrator and a resident of Kirkland House who plans to do graduate work in her field this fall at Stanford University, is the winner of this year's Captain Jonathan Fay Prize, awarded by the Radcliffe Institute for Advanced Study to a graduating senior.
Receiving commendations for their exceptional projects are Fay Prize runners-up Alison Egan, Megan Frederickson, and John Maier. Drew Gilpin Faust, the Dean of the Institute, announced the four names at the Radcliffe Association's Strawberry Tea on May 30.
This year's Fay Prize honors a member of the graduating class who has produced the most outstanding imaginative work or piece of original research in any field. The work can take the form of a thesis, class research, or creative arts project. Kurtz was chosen for her thesis titled "Synthesis and Characterization of Aluminum and Iron Nanoparticles and Development of a Colloidal Catalyst for Carbon Nanotube Growth."
"It gives me great pleasure to present the Fay Prize to Andrea Kurtz and to honor the other three seniors for their exceptional research this year. Andrea's thesis beautifully and lucidly describes two original contributions that she has made to her field," said Faust. "By honoring the work of these students, whose concentrations represent four different disciplines, we are also reflecting the mission of the Radcliffe Institute for Advanced Study. This is a exciting moment for them and for us."
A resident of Las Vegas, Kurtz plans to continue her studies at Stanford University. As an undergraduate, she has worked for The Harvard Crimson and been involved with the Harvard Pops Orchestra, the Taiwanese Cultural Society, and WISHR (Women in Science at Harvard-Radcliffe).
Alison Egan, a resident of Mather House and Scarsdale, N.Y., and an applied mathematics concentrator, is being honored for "The Impact of Ability Grouping on Student Achievement."
Megan Frederickson, a resident of Dunster House and Coquitlam, British Columbia, and a biology concentrator, conducted research on "Chemical Ecology of a Neotropical Ant-Plant System."
John Maier, a resident of Dudley House and Asheville, N.C., and a literature concentrator, wrote on "Giving Up the Book: An Essay on the Epistle Dedicatory."
The Captain Jonathan Fay Prize was established in 1907 by Joseph Storey Fay in memory of his great-grandfather, Capt. Jonathan Fay. This year's candidates for the Fay Prize were chosen from among the nominees for Harvard College's Thomas T. Hoopes Prize, awarded annually for outstanding scholarly work or research. An interdisciplinary committee, convened by the Institute, made the final selection.