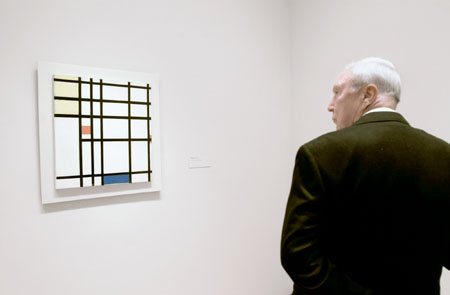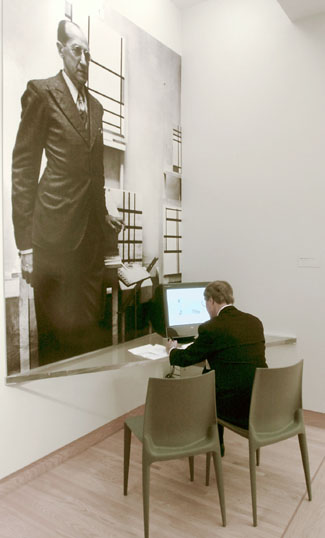 It took a little artifice, but it came off. In honor of President Neil L. Rudenstine and his wife, Angelica Zander Rudenstine, an art historian and curator, the Harvard University Art Museums made a surprise announcement on May 4: The museums have acquired 29 drawings and one painting by leading contemporary American artists to celebrate Rudenstine's tenure. Taken unawares, the Rudenstines were delighted with the announcement and the guests that accompanied it, including Jasper Johns and Ellsworth Kelly, two of the artists represented in the acquisition. The group also includes works by Roy Lichtenstein, Sol LeWitt, Brice Marden, Joel Shapiro, Richard Serra, and Ellen Phelan.
During their 10-year tenure at Harvard, Neil and Angelica Rudenstine have been champions of the Art Museums. All of the artists represented in the acquisitions know the Rudenstines personally and have participated in this initiative to honor the Rudenstines and their work on behalf of the Art Museums.
The Harvard University Art Museums' commitment to modern and contemporary art stretches back to the 1930s, when the Harvard Society for Contemporary Art, as well as the Busch-Reisinger Museum, began hosting a series of significant exhibitions of contemporary art and acquiring important examples for their collections.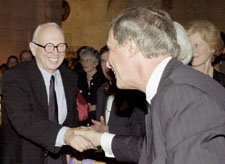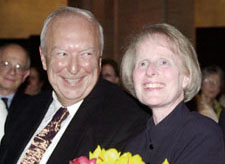 At left, Rudenstine (right) shakes hands with painter Ellsworth Kelly directly after the surprise announcement of Harvard's new acquisitions. At right, Angelica Zander Rudenstine (right), beside Jasper Johns, upon hearing the news of the acquisitions of modern and contemporary art in honor of the Rudenstines. (Photos by Stephanie Mitchell)