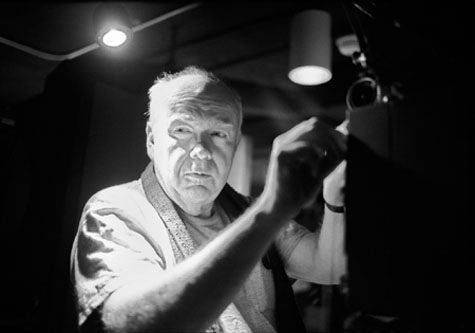 Photo by Kris Snibbe

His first professional job took him into Boston's "Combat Zone."
"I was hired to work from midnight to 5 a.m., four nights a week, at a pay of $4.75 an hour."
His office was pitch dark, but for a single flickering light.
"You can spend a lot of time talking about the working conditions when you're projecting pornography … very amusing."
Today Steve Livernash spends his darkest hours as a projectionist for the Harvard Film Archives. He is, quite literally, the man behind the films.
"My father was a professor here and my parents kept me in graduate school past age 30 to stay out of Vietnam," says Livernash.
"And I couldn't abide business school so I got interested in film out at the University of Chicago, and then switched to N.Y.U." Livernash eventually earned his master's degree from New York University. In 1973, he returned to Cambridge to house-sit for his parents, who were moving to Iran where his father had accepted a teaching position. At 30 years old, having never held a job, Livernash inquired about employment with the Boston projectionists' union, where he was hired. After a stint in "the Zone," Livernash wound up back at Harvard.
"I spent all my time watching movies in those years," says Livernash.
"From the late '70s until the early '80s I worked here." With no rent to pay and all the free movies he could take in, Livernash set his own schedule, at a pace that suited his lifestyle. "I'd do a drive-in (movie theater) in the summer months, and then I'd do Harvard in the spring and fall, and I'd take a vacation in January."
Steve Livernash has run a projector at just about every theater in the Boston area. He still works the Loews at Copley Place, where once a week he shows 11 movies at a time. Technology has come a long way since those dark days downtown. "You only have to get the film ready before it starts, and then you push a button … and wait for people to complain." His favorite flick? " 'Rules of the Game' by Renior. I can't explain, you'd just have to see the film."
The 1939 Jean Renior release isn't showing right now at the Harvard Film Archives. For a full listing of what is, visit the Web site at http://www.harvardfilmarchive.org.
Note new e-mail address: We serve the public interest! Interesting people, interesting jobs, interesting hobbies – we want them in the Big Picture. If you have an idea for the Big Picture, give us a buzz at our new e-mail address: big_picture@harvard.edu