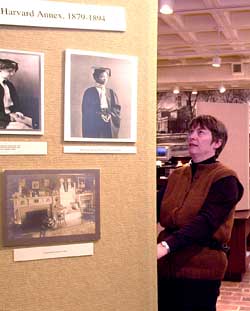 Female basketball players in knee-length bloomers and high socks, field hockey players in skirts that touch the grass, the cast of an all-female "Merchant of Venice" decked in doublets, capes, and beards – these are the images of a new exhibition on Harvard Women's History at the Harvard Information Center in the Holyoke Center Arcade.
The exhibition coincides with the publication of a self-guided walking tour designed to acquaint visitors with the often hidden history of women at Harvard.
"We want people to realize that women have been part of Harvard for a very long time. We don't want their early presence here to be forgotten," said Jane Knowles, acting director of the Schlesinger Library.
Knowles helped select the images for the exhibition along with Katherine Kraft, acting archivist of the Schlesinger Library. Graduate student Linzy Brekke designed the exhibition and composed the text.
"We're delighted that the Information Office let us have this space. It's made it possible to bring women right into the middle of Harvard," said Knowles.
The idea for the tour was originally suggested by Laurel Thatcher Ulrich, the James Duncan Phillips Professor of Early American History. Brekke took on the assignment of creating the tour and has been conducting it for the past year. That experience has helped her shape and refine the written text.
"While I was editing the brochure, I was giving the tour, so I got a sense of what moved people, what they got excited about, "she said.
Brekke explained that to make the tour a success, she thought hard about how to make it an interactive experience, how to tie the information about women at Harvard with the physical environment.
"For each site on the tour, I tried to ask, 'Who was here? Who wasn't here? Why weren't they here?'"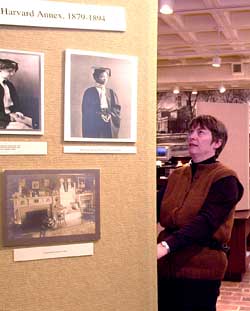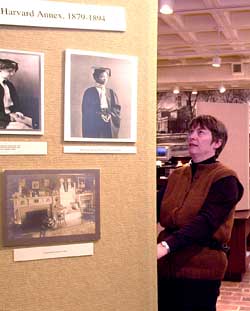 The exhibition recapitulates some of the information on the tour, but it is also an experience in itself. Its many images vividly portray the long struggle of women to prove their worth and to share Harvard's educational bounty.
The exhibition represents only a minute portion of the material contained in the Radcliffe Archives, all of which is open to the public and has been used by numerous students and scholars of women's educational history.
"It's a very rich collection," said Knowles. "This is just a tiny slice."