David A. Jones, who has served Harvard as director of Workforce Initiatives since January 1999, has been appointed director of Labor and Employee Relations. He replaces Kim Roberts who resigned in June to return to New York.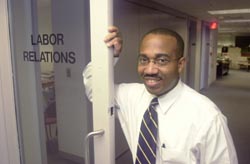 Jones, who holds a J.D. from Howard University School of Law and an LL.M. in labor and employment law from Georgetown University Law Center, has had extensive experience in the field, serving most recently as manager of corporate employee relations at Southern California Edison Company.
"All of us who know David and have worked with him are delighted that he will now be turning his broad skills to the management of the University's labor and employee relations efforts," said Polly Price, associate vice president for human resources. "He brings solid experience, an understanding of the Harvard culture, and an unflappable manner to this important position."
While at Southern California Edison, Jones was responsible, among other things, for policy development, implementation, and interpretation; for managing the company's problem-resolution procedure; and for human resources (HR) communications. He also provided advice, counsel, and training on employee policy issues to the HR community and senior-level executives.
Prior to that, he was director of employee and labor relations and director of employment and human resource services for the Georgetown University Medical Center. He served as the Center's chief representative for labor and employee relations, managed its dispute-resolution program, and developed, interpreted, and administered human resources policies and practices. He was also responsible for contract administration, grievance handling, union negotiations, arbitration, NLRB, and other third -party proceedings.
While serving as director of Workforce Initiatives, Jones challenged Harvard to be the very best place to work for all of its employees in order to attract and retain a talented and diverse workforce. He oversaw the implementation of the central administration-wide employee survey, and has worked with the vice presidents and the provost to follow up on the results. He also collaborated with the Office of the Assistant of the President to plan and host three workplace conferences on the topic of staff diversity.
As director of Labor and Employee Relations, Jones will plan and oversee the University's contract negotiations with its seven labor unions and the administration of eight collective bargaining agreements. He will also manage a range of functions that ensure that Harvard's relationship with its employees is respectful, consistent, and fair, and that Harvard complies with federal and state regulations. The Office of Labor and Employee Relations, which includes the Disability Claims Unit, also conducts third-step grievance hearings, oversees problem-solving processes, and offers advice and counsel to managers on the appropriate application of the Collective Bargaining Agreements and University Human Resource Policies.