Harvard Divinity student Alyssa May leaned over Claire's bed, joking with the older woman about dancing and horseback riding. Claire, looking small and frail under the covers of her high, railed bed, joked back, her soft voice difficult to hear.
The two talked for a while, Claire saying how surprised she is at the people who come to visit, adding to Alyssa, "I think our paths will meet again."
Claire is one of three residents of Chilton House, a residential hospice on Chilton Street in Cambridge, where terminally ill people come to pass their final months. Helping make them comfortable, giving them someone to talk to, or even doing chores like cleaning or grocery shopping are volunteers and interns from a variety of places including Harvard University.
"It's absolutely very important. It's a big help," said Alice Burke, one of two nurses who staff Chilton House and whose mother was also a Chilton House patient.
May first came to Chilton House last October to gain the field education required for the master's degree she hopes to earn by next June. When the semester ended, May stayed on to complete additional fieldwork needed for her ordination in the United Church of Christ.
"I just didn't want to leave," May said. "I love hearing people's stories and that's a lot of what my job is about. It's a real honor to hear what people think is important."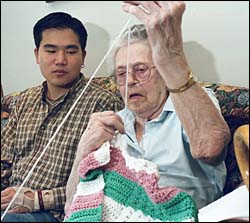 Harvard S.H.A.C. volunteer Eugene Kim watches as resident Bertha Nadeau knits another afghan, one of a constant stream she has produced since she came to Chilton House just over a year ago.
Chilton House, run by the Visiting Nurses Association Care Network, is one of four residential hospices in Massachusetts. It opened in a converted two-family home on a quiet residential street in 1991. Since then more than 500 patients – 85-90 percent suffering from cancer – have stayed at the hospice. The average stay has been 38 days.
House Manager Joanne MacInnis said Harvard students, alumni, and faculty make up about 30 percent of the house's volunteers.
"We have a lot of interest from the University," MacInnis said.
Though May is a chaplain intern at the hospice, she said her conversations with patients there aren't always about God and religion. She said she takes her cues from the patients, talking about everything from the Old Testament to sports.
"The spiritual can mean the Red Sox to one person, and another person may really want the Psalms read with prayer," May said. "My hope is to come in and be a presence. And if that means getting someone a glass of juice, that's all right."