The Growth Lab has over 50 faculty, fellows, research assistants, and staff working on development challenges in more than a dozen countries worldwide. Across its multidisciplinary team, the Growth Lab conducts academic research on the nature of growth as economies build new capabilities, engages in place-based applied research to understand local context-specific growth problems, teaches cutting-edge frameworks to empower current and future policymakers, and builds tools to provide high-definition information for public use. Here are some visual highlights from the Growth Lab's research in 2021.
South Africa's Non-Employment Rates by Main Place and Former Homeland Borders (2011)
Close to three decades after the end of Apartheid, South Africa's former homeland areas — i.e., under-serviced settlements that were self-governing territories during the Apartheid regime — still have some of the worst labor market outcomes in the country. South Africa's exceptionally high unemployment rate and low employment rate are largely driven by labor market indicators in areas within the former homelands, where close to a third of the country's population resides and where non-employment rates can be above 90 percent.
Source: South African National Census of 2011
An Agriculture Space in Ethiopia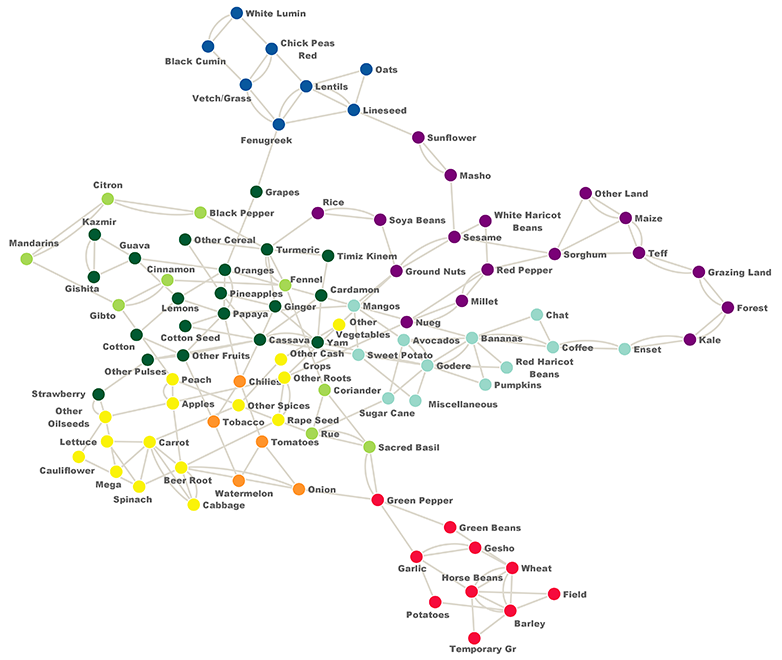 This network visualization captures the similarity of agricultural products produced by smallholder farmers in Ethiopia based on co-production at the household level. It is built using data from Ethiopia's Agriculture Sample Survey, which covers over 20,000 farming households spread across the country. Farm products are close to one another in this space if they require similar capabilities, including climate, soil, water, and infrastructure conditions, as well as related knowhow of farmers. Colors on this visualization reflect natural clustering. The Ethiopia project team is exploring use of this network to understand diversification opportunities within agriculture for various areas of the country, particularly areas where household livelihoods are at risk due to climate change and other pressures.
Source: Ethiopian Agriculture Sample Survey