For the past two years, members of the Harvard community have participated in the Ride for Food, fundraising on behalf of Food for Free.
Collectively, the Harvard team raised more than $10,000 for Food for Free. That complements the more than 100,000 pounds of food Harvard University Dining Services has donated since it partnered with Food for Free in the fall of 2014.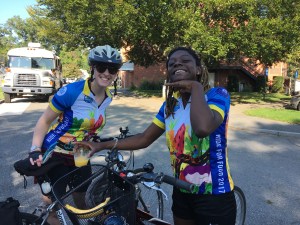 Team Harvard is hitting the road once again, on Sept. 23, 2018 in Dedham, and they're eager to grow the team with some new avid bikers/foodies on the squad!
Cyclists are asked to raise a minimum of $300 dollars in donations (but aim for $1,000 per person). The ride has 10- 25- or 50-mile courses. The ride concludes with a lunch and music.  Extensive details about the ride can be found at https://www.threesquaresne.org/ride-for-food/
This year, the ride includes additional options for participating, including a "spinning" version of the ride, and an optional to join virtually if you can't be in Dedham that day.
Interested or willing to join the team?  Contact crista_martin@harvard.edu to learn more.
Anyone riding for Team Harvard will be equipped with a Harvard shirt!