The Graduate Commons Program at Harvard University Housing will say good-bye to Faculty Directors Chris and Nancy Winship this May after nine years. Professor Winship retired from the classroom last semester after 30 years with both the Sociology department and the Harvard Kennedy School.  Nancy Winship retired as senior vice president of Institutional Development at Brandeis in 2017, where she was a member President's Senior Team and raised more than $1.5 billion in support of the University.  Among their most popular events, was a fireside chat in their home called "40 years of Marriage and More" which focused on making a dual career marriage and family work, including the recent addition of their cherished grandchildren.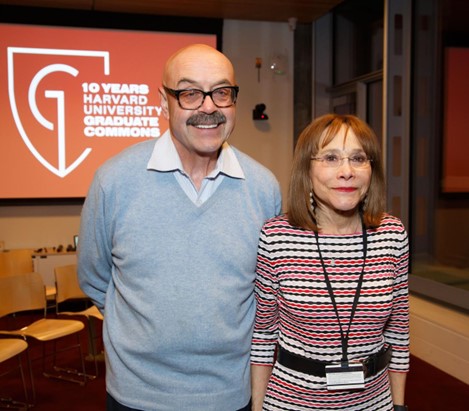 The Winships invited some of Harvard's most distinguished faculty for the Meet the Scholar lecture series, including Professor Emeritus Williams Julius Wilson (FAS), Brig. Gen. Dana Born (HKS), and the late Professor Ezra Vogel (FAS). "Our favorite events have been the Meet the Scholar program, the 40+ years of marriage discussion, and sharing holiday celebrations from Lunar New Year to St Patrick's Day.  We will miss the residents, learning about their graduate school experience, and sharing our stories and meals together."
"We feel lucky to have had the Winships as part of our team for so long," said Graduate Commons Director Lisa Valela.  "Over the last nine years, they have welcomed countless new members and visiting family to the Harvard Housing community."
As the Winships depart, the Graduate Commons Program is excited to announce the appointment of Professor Todd Rogers and his wife Sara Dadkhah as faculty directors at 29 Garden St.  Rogers is a professor of public policy and behavior scientist at the Harvard Kennedy School focused on work that supports student success and attendance, strengthens democracy, and improves communication.  He received both his master's degree (GSAS) and Ph.D. from Harvard (HBS/GSAS) and has started two outside social enterprises.  Dadkhah, the child of Iranian immigrants, is an alum of the HKS Mid-Career Master's in Public Administration Program and consults with the International Rescue Committee's refugee resettlement operations in the United States.  GCP is excited to bring their new energy to the Harvard Housing resident community.
Having three Harvard graduate degrees between them, Rogers and Dadkhah are very familiar with the Harvard graduate student experience, "We know that graduate school here can sometimes be socially isolating, especially for students and families from outside the US.  We want to cultivate a community where everyone feels invited and accepted by sharing our interests and expertise with them."
Outside of work, Dadkhah is an animal lover who volunteers at a local shelter, while Rogers saves his Sundays to cheer on the Philadelphia Eagles, the NFL team he states, "will win the Super Bowl next year."  Their family, which also includes two children, Fletcher and Caroline, will begin working with the Graduate Commons Program in early fall 2023.  "We want to use our new roles as faculty directors to cultivate and support the connection people are craving right now."