As part of a University-wide effort to support local Boston and Cambridge youth programming that builds college and career awareness, Harvard hosted middle and high school students through several campus programs this fall.
In September, nearly 20 students from Massachusetts Rep. Chynah Tyler's 7th Suffolk district visited Harvard's campus for a tour and lunch. For Tyler, this visit to Harvard was an opportunity to share part of what was a pivotal experience from her own youth with students from her district. Tyler was a member of the first class of Crimson Summer Academy, a program for motivated local public school students. Tyler credits that experience with helping to inform her own pathway to college and public service.
"My time with Crimson Summer Academy made an incredible impact on how I envisioned a future for myself. It gave me what I needed to make college a priority. I wanted to give these students a taste of that, and to give them a chance to speak with Harvard students they can relate to or who may have experienced some of the same challenges as them to underscore the point that Harvard is a reality!" explained Tyler.
Harvard's long-standing college awareness program, Project Teach, also welcomed Boston seventh-graders on campus.  Project Teach was developed based on research showing that creating a college-going identity early in a student's academic career is critical to increasing college enrollment and graduation rates. This was the first in-person campus visit for Boston Project Teach since 2019. Having previously met with undergraduate mentors, the students immediately split into groups to attend class information sessions, with choices ranging from the History of Hip Hop, to Science of the Teenage Brain, to Chemical Reactions.  The lectures were followed by lunch with undergraduates in Annenberg Hall, and a tour of campus.  Project Teach will continue work in the spring when Cambridge seventh-graders visit the campus for similar programming.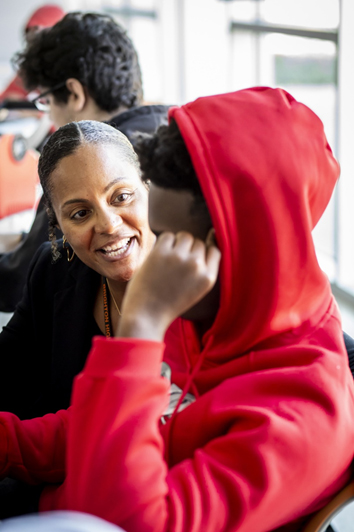 The Harvard Ed Portal also hosted Brighton High Seniors on Oct 12 for College Apps Day. The students split their time between a financial aid information session and a session focused on application and essay help. Students received application and essay feedback and support from other students, Harvard undergraduates, and adult support staff. The financial aid information was presented in both Spanish and English by Carmen Pineda from Massachusetts Education and Career Opportunities, Inc.
"Just having kids in the same room, with that peer-to-peer support, and a dedicated time and space to focus on this is huge," explained Brighton High Guidance Counselor Molly Brewster.