A study by a Brown researcher found mindfulness training reduces blood pressure, which can prevent cardiovascular disease. A Vanderbilt scientist showed meditation, like sleep, helps the glymphatic system get rid of metabolic waste from our brains, a key to brain health. One study at the University of California, San Francisco, found mindfulness can lead to better metabolic health, reducing risk factors for heart disease and stroke.
The studies were presented during a symposium last week to mark the launch of the Thich Nhat Hanh Center for Mindfulness in Public Health at Harvard T.H. Chan School of Public Health. The center aims to explore the growing body of research and approaches to improve health and well-being through mindfulness — a meditative practice of being fully present in the moment.
Created by a $25 million anonymous gift, the center bears the name of the late Vietnamese Zen master and peace activist who helped popularize the practice of mindfulness in the West. Thich Nhat Hanh, who died in 2022 at the age of 95, wrote "The Miracle of Mindfulness" in 1976, a book considered one of his most influential, with meditation exercises to achieve self-understanding and peacefulness.
For Jon Kabat-Zinn, an emeritus professor of medicine at the University of Massachusetts Medical School, having a Thich Nhat Hanh center devoted to mindfulness is a long time coming. In 1979, Kabat-Zinn, who studied meditation with the zen master (known as "Thay" to friends), founded the Mindfulness-Based Stress Reduction (MBSR) Clinic, an evidence-based program to reduce stress and chronic pain, which helped mindfulness go from the fringes of medicine to the mainstream.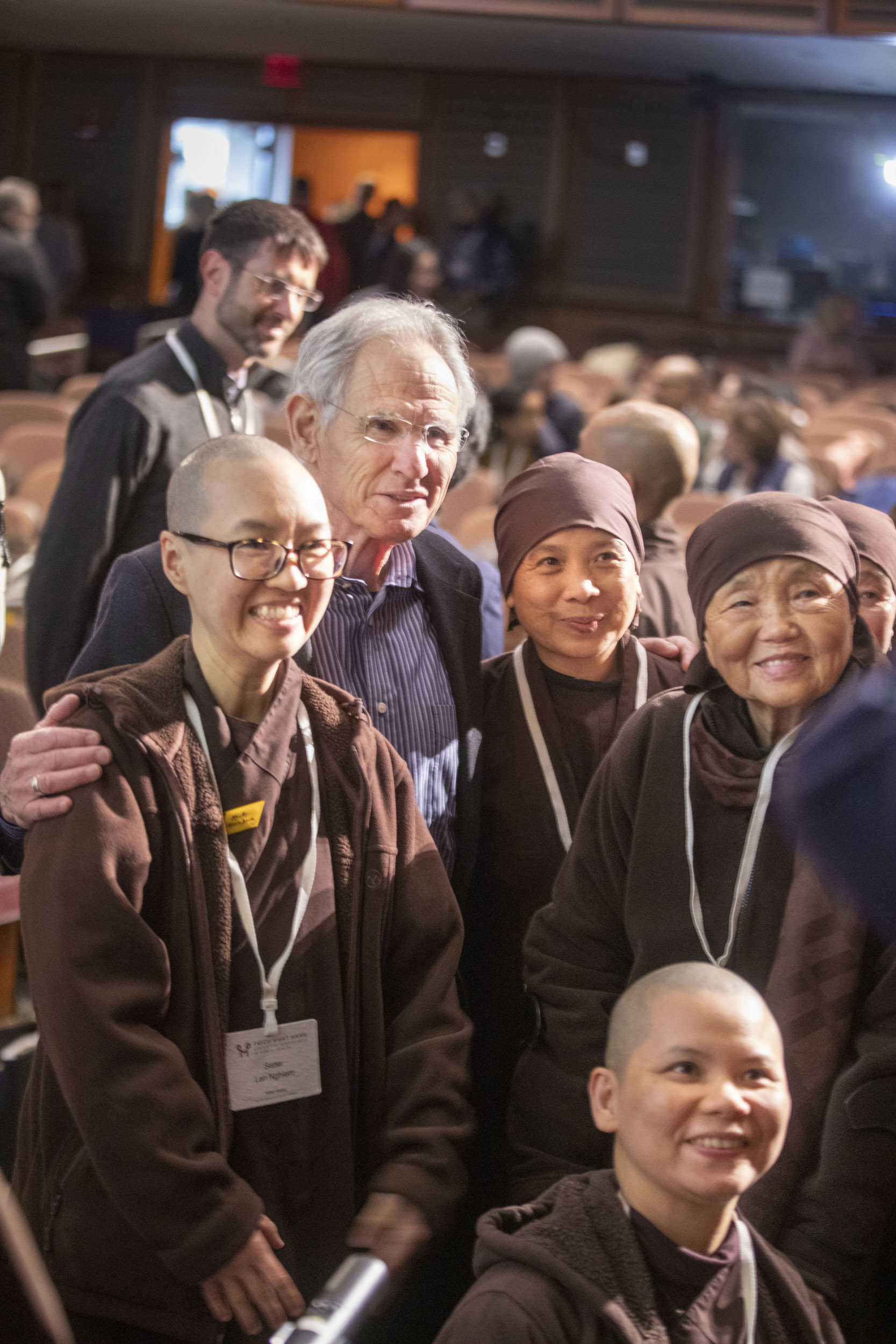 Mindfulness courses are now offered in schools, prisons, sport teams, and even the U.S. Army. U.S. Surgeon General Vivek Murthy leads mindfulness exercises from his department's official webpage. But nearly 50 years ago, mindfulness was not widely embraced and was derided in scientific and medical circles.
"From the perspective of 1979, when I started the stress-reduction clinic at UMass Medical Center, what is unfolding here is beyond imagination," said Kabat-Zinn at the symposium. "What Thay was teaching was a universal invitation to wake up. And that might have sounded back in the '70s as kind of a New-Age bullsh*t, but now with 30 or 40 years of neuroscience and psychological research and so forth, there's a suggestion at least it's slightly less than bullsh*t."
In her remarks, Michelle Williams, dean of the Chan School, greeted the center's opening by calling it a "living laboratory" as a hub of scholarship, research, teaching, and practice. The new center aligns with the School's mission of helping people live longer and healthier lives.
"Public health researchers have devoted our lives to finding opportunities to support population health, but all too often we find that the miracles of the science that we try to bring forward to improve population health are constrained by costs or by logistical challenges," said Williams. "Neither of those limitations applied to mindfulness. It is available to everyone everywhere, no matter your age, your race, your gender, background, or even financial status."
The center is a testament to Thich Nhat Hanh's legacy, said Lilian Cheung, director of mindfulness research and practice at the Chan School. "We will rigorously study the science of mindfulness, but we will also seek to share the benefits of mindfulness with all people around the world, just like Thich Nhat Hanh did," she said. "We will show them how to incorporate the principles of mindfulness in their own lives, to improve their health and the health of the world."
Researchers who took part in the symposium shared studies and clinical trials that explore the connections between mindfulness and health, both mental and physical. There is already a wealth of studies showing that mindfulness can help lower the risk of heart attack or stroke, slow weight gain among overweight women, and even change the size of brain regions associated with memory, sense of self, empathy, and stress.
Some scholars warned that while mindfulness is helpful, it can exacerbate problems for some by making them sit alone with their thoughts before they're ready to do it. They counseled that practitioners try to provide skills and support to help people deal with potential problems as soon as they become aware of them.
Thirty-four monastics who studied under Thich Nhat Hanh, including some from Plum Village, the first monastic community he founded in the West, also took part in the symposium. They led several exercises, and chants and bells were heard throughout the day. Brother Pháp Lữu, who received the Lamp Transmission from Thich Nhat Hanh to become a Dharma teacher in 2011, summed up the hopes the monastic community has for the center as it works to spread Thich Nhat Hanh's teachings.
"What I find so beautiful about having the center in the School of Public Health is that we're looking at the collective, not just at the individual, because, as Thay often told us, 'Happiness is not an individual matter,'" said Brother Pháp Lữu. "He also said that happiness is not a destination. There is no way to happiness. Happiness is the way."