This is one in a series of profiles showcasing some of Harvard's stellar graduates.
Zahra Aldawood, D.M.Sc. '18, M.M.Sc. '21, recalls the moment in dental school when she realized she wanted to pursue genetic research as one of the most enlightening experiences of her life.
"I conducted research to examine the 'nature versus nurture' effect on characteristics of twins' teeth. It was my first time being exposed to the world of genetics," Aldawood said. "That work shifted my thinking from the simplicity of 'hereditary versus environment' toward the complexity of 'genetic, epigenetic, and environment.'"
Eager to learn more, she sought out academic mentors in her native Saudi Arabia, and studied genomic variations in different contexts such as sickle cell anemia, heart disease, and cancer using next generation sequencing. The more she learned, she was hooked.
Her interest in research led Aldawood to Harvard School of Dental Medicine (HSDM) in 2015 where she was accepted into the Research Academy program in Oral Biology offered through HSDM and the Forsyth Institute. She completed her Doctor of Medical Science degree in 2018 and was recognized with the James H. Shaw Award for her research exploring regeneration in calvarial bone defects.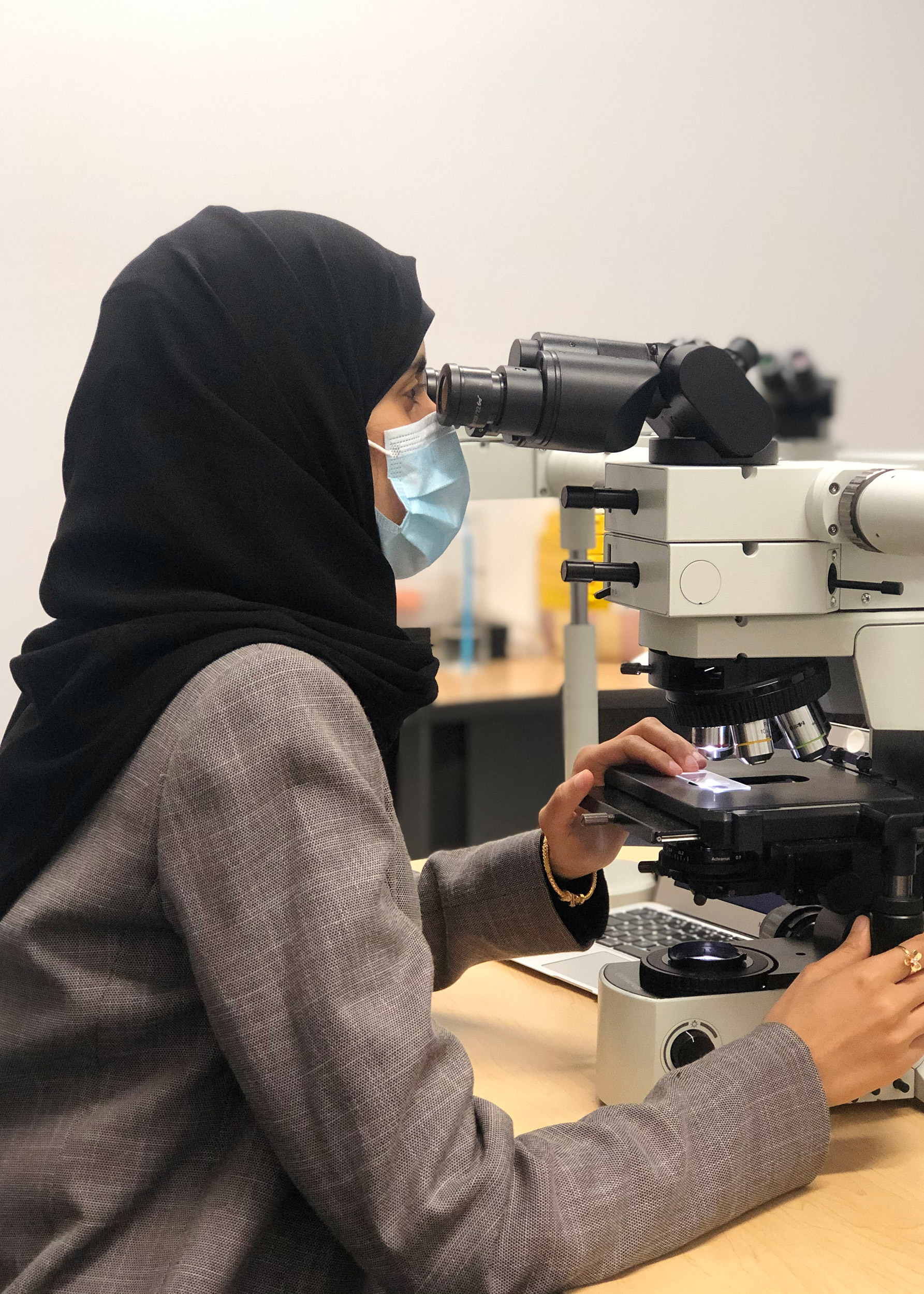 "During my D.M.Sc. training (in oral biology) I was very interested in learning more about the adult stem cell," Aldawood said. "I used state-of-the-art mouse genetics to explore the response, during bone regeneration, of a specific population of endogenous skeletal stem cells (SSC) to mechanical stimuli. At HSDM, every day comes with an interesting opportunity to design a new experiment and to learn about a novel discovery or technology," she said.
Her interest to delve deeper into genetic research led her to pursue a subsequent degree program in Oral and Maxillofacial Pathology where she explored genetics related to cancer, and was involved in investigating the genetic landscapes of primary intracranial sarcomas.
"I found the challenging environment at Harvard a very encouraging and motivating one as I grew personally and professionally," she said. "Being surrounded by world-class experts in different fields and brilliant individuals gave me more motivation and support and had a profound impact on my ultimate goal. I was lucky enough to advance my journey at HSDM in oral pathology to complete the bench-to-bedside loop."
When not immersed in her research, Aldawood found respite in a familiar hobby she grew up with in Saudi Arabia — gardening.
"When I was not at HSDM running experiments, my favorite thing was to spend my time at Countway Library reading or gardening and I became a member of the Countway garden community," she said.
When she graduates in May, Aldawood will return to Saudi Arabia to continue her academic career and research endeavors as a full-time academic educator and researcher in the Biomedical and Dental Science Department at the College of Dentistry at Imam Abdul Rahman Bin Faisal University. She hopes to cultivate the same sense of curiosity and passion for science that she discovered in the next generation of dental students.
"My biggest dream is to help my students' dreams come alive," she said. "I truly believe that the only way to be fair toward knowledge is to share it and participate in constructing bright minds. I also want to reciprocate the deep and sincere interests of my community to find long hoped-for solutions of the many health diseases we are facing."
The Daily Gazette
Sign up for daily emails to get the latest Harvard news.