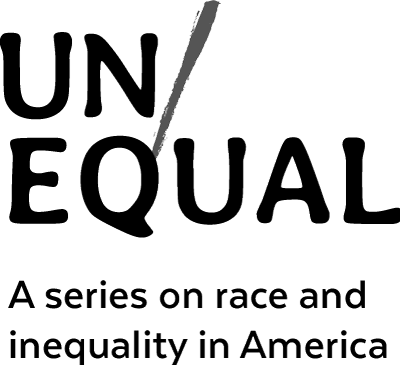 "Unequal" is a multipart series highlighting the work of Harvard faculty, staff, students, alumni, and researchers on issues of race and inequality across the U.S. The third chapter, "Environmental Exposure," explores the experience of people of color with America's climate policies.
North Carolina is one of the nation's largest producers of pork. The industry is primarily centered in agricultural portions of Eastern North Carolina, home to a number of Black and Indigenous communities, and a surging Latinx population.
Scattered about the region are thousands of "pig lagoons." Farms use the open-air pools to store tons of hog waste until it is sprayed over nearby fields to fertilize crops. On windy days, the noxious fumes from the spraying often drift into neighboring areas, many of which are lower income or minority communities, coating homes, cars, and people. The waste has also at times spilled over, tainting water sources.
The coexistence of air pollutants and communities of color isn't an anomaly, says Hannah Perls, J.D. '20, but is representative of the environmental injustices that many communities of color across America live with. As a legal fellow at the Environmental & Energy Law Program (EELP) at Harvard Law School, Perls' work focuses on issues revolving around environmental justice for such communities.
"There's that great saying – the system isn't broken; it's working exactly as it was designed," she says. "Often environmental justice communities live at the intersection of several inequitable and interlocking systems and ideologies: racism, capitalism, and white supremacy, among others."
Around the nation, various kinds of facilities that emit dangerous air pollutants tend to be situated in or near communities of color for political and economic reasons. Often, residents of lower-income and minority areas are not consulted in decisions about where, say, factories, oil rigs, or pig lagoons are placed. The communities also tend to lack the financial and political resources to effectively fight the decisions. And public health officials say that the increased exposure to pollutants have had quantifiable negative impacts on the health of residents.
A major contributing factor to that problem is the segregation of residential areas in the nation, owing to racist attitudes and practices, such as redlining. The term finds its roots in federal guidelines established in 1934 that subsidized mortgages in white neighborhoods, but typically not poorer, minority ones, which were delineated in red on maps. Some insurers and lenders adopted similar practices that made it more difficult for home buyers in minority communities to get loans or policies. Redlining was finally made illegal in 1968, but the exclusionary practice left an indelible mark on wealth inequality as it made it more difficult for people of color to buy houses (often a family's most valuable asset), limited their housing options, and had the effect of packing people of color into segregated communities, where they were sometimes made vulnerable to industrial pollution. 
In an episode of the EELP's "CleanLaw" podcast, Perls dives into the legal strategies that advocates are using to combat systemic inequities and underenforcement of environmental violations in parts of Eastern North Carolina. She speaks with Naeema Muhammad, organizing co-director of the North Carolina Environmental Justice Network (NCEJN), and Alexis Andiman, an attorney with Earthjustice, about a civil rights complaint filed with the EPA to address the disparate health impacts for people living near industrial hog farms in the eastern part of the state.