From helping bring technical innovations in government agencies to working to address threats to natural resources, for sixteen Harvard students, this summer offered a hands-on opportunity to drive change and strengthen needed services in their broader communities.
Now in its eighth year, Harvard's Presidential Public Service Fellowship (PPSF) lets students pursue summer-long projects serving the public good with organizations of their choice. The fellowship supports experiences across the spectrum of public service, including education, arts, and government, social service, and human rights organizations.
PPSF is the only public service fellowship or internship program at the University that includes both undergraduate and graduate students and extends to all of Harvard's Schools. As a result, in addition to making service a University-wide priority, it fosters relationships among students who share a passion for public interest work but likely wouldn't cross paths otherwise.
Speaking to this year's fellows at a luncheon in September, President Larry Bacow reaffirmed the University's commitment to public service. "I happen to think that no matter what somebody does with their Harvard degree — a doctor, a lawyer, an engineer, a teacher — whatever you do, each of us has an obligation to be an active, engaged, effective citizen," said Bacow. "I hope that everybody who graduates from Harvard would understand that with the privilege of studying at a place like this comes the responsibility to engage, to help make the world, our country, our communities, better places, and the Presidential Public Service Fellows are leading the way."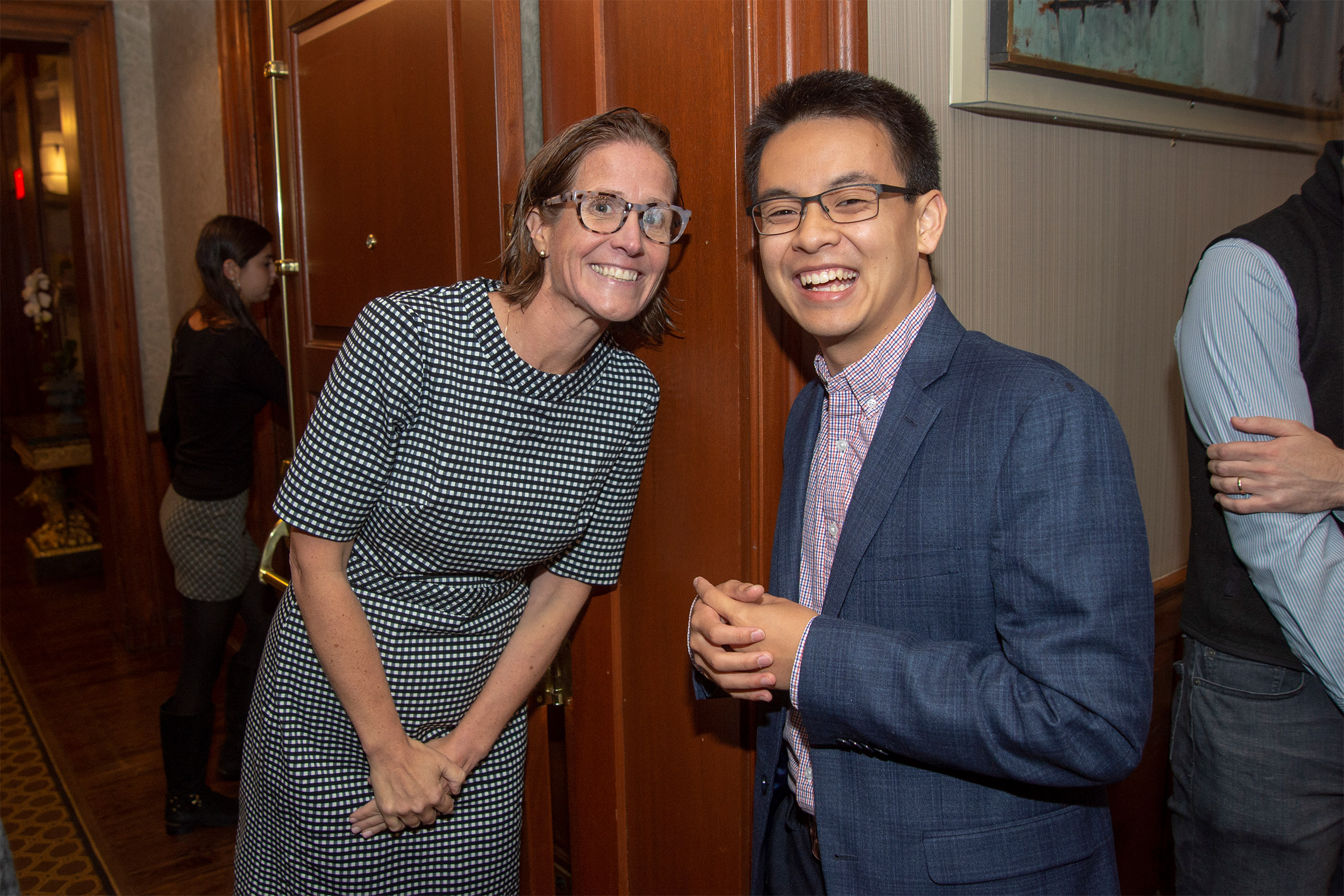 The work of this year's PPSF cohort spanned not only the University, with students from seven of Harvard's Schools, but also the country, with fellows working in eight states and Washington, D.C.
Chris Kuang, a junior studying applied mathematics and economics, spent the summer continuing his work with Coding It Forward, a nonprofit he started in January 2017 that helps foster mission-driven technical internships for computer science, data science, and design students.
Based in Washington, D.C., for the summer, Kuang focused on Coding It Forward's Civic Digital Fellowship, a fully funded, first-of-its-kind internship for students to bring technical innovations to government agencies. Kuang helped place 36 undergraduate and graduate students, spanning 30 different colleges and universities, in data science, product management, and design internships across six different federal agencies, providing opportunities for students who might not ordinarily think their skill sets would be applicable to civil service and bringing new talent to the agencies. These interns spent the summer building tools to help veterans, diplomats, health care patients, and students — groups who rarely benefit from the forefront of technical innovation.
For Kuang, the chance to help others discover and pursue positions in government agencies and departments made the most meaningful impact. "I think it all comes back to recognizing the immense opportunities and privilege that we have to be at an institution like Harvard that values public service and gives its students the occasion to pursue it," he noted. "For me, it was not just how do I take advantage of those opportunities, but how can I hopefully use them to empower the journeys of so many other students and inspire them to serve as well."