The Wall Street Journal investigative reporter whose new book chronicles the spectacular collapse of the blood-testing company Theranos and its alleged fraudulent activity told a Harvard audience that the fall is a cautionary tale for other high-tech firms aspiring to disrupt the health care industry.
During a panel discussion at Harvard Law School on Monday, John Carreyrou said successful Silicon Valley executives these days often voice their desire to take aim at a health care system they view as dysfunctional and in need of bold new ideas. But Carreyrou cautioned that the "fake it till you make it" approach that has served many high-tech entrepreneurs — hyping unproven products and then debugging them as they go along — may be ill-suited for medicine.
"It probably will be a breath of fresh air for Silicon Valley" to enter the health care realm, he said, "but hopefully everyone now will be cognizant of this Theranos precedent and of what can happen if you 'fake it till you make it' with a medical product that doctors and patients rely on for life-or-death decisions."
Carreyrou's best-seller, "Bad Blood: Secrets and Lies in a Silicon Valley Startup," details the rise and fall of Theranos and its charismatic founder and former CEO, Elizabeth Holmes, and how he uncovered the story.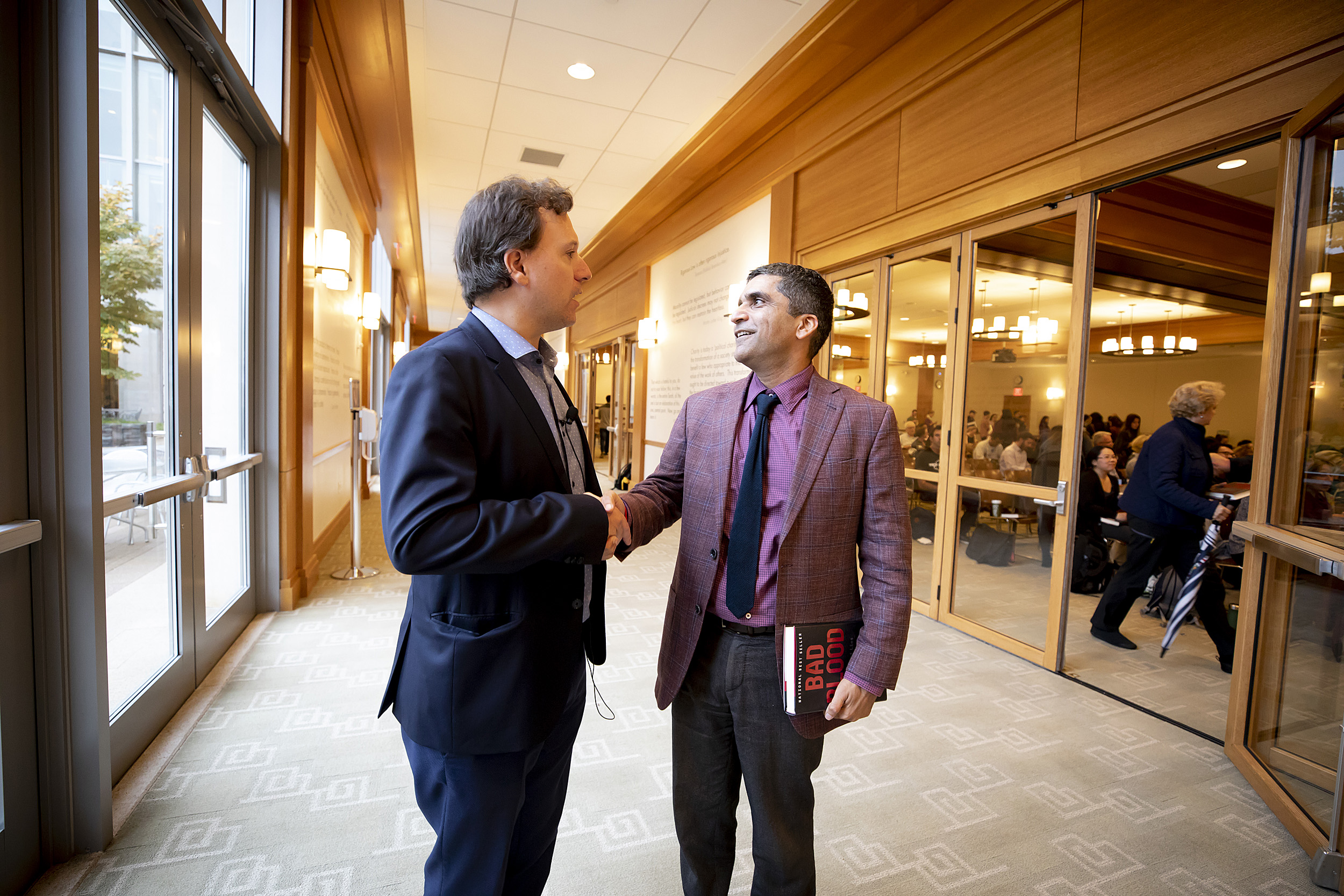 Joining Carreyrou on the panel were Glenn Cohen, James A. Attwood and Leslie Williams Professor of Law and faculty director of the Petrie-Flom Center for Health Law Policy, Biotechnology, and Bioethics at Harvard Law School; Rakesh Khurana, Danoff Dean of Harvard College, Marvin Bower Professor of Leadership Development at Harvard Business School, professor of sociology, and faculty dean of Cabot House; and Rachel Wang, J.D. '19. Douglas Eby, senior fellow at the Petrie-Flom Center and CEO of Cambridge Science, served as moderator.
Founded in 2003, Theranos became a quick Silicon Valley sensation, boasting a $9 billion valuation and a host of prominent backers impressed with its promise of a new blood-testing technology.
But some media stories cast doubt on its claims, and in March Theranos and Holmes agreed to settle massive civil fraud charges. In June, Holmes and Theranos' former president, Ramesh Balwani, were indicted on wire fraud charges, which prosecutors said stemmed from a multimillion dollar scheme to defraud investors, and a separate alleged scheme to defraud doctors and patients.
Reflecting on the story, Khurana said he found it "heartbreaking to have a young, talented individual … who lives in a kind of culture in which getting an education is not an end in itself but merely a means increasingly to developing your app," without considering social responsibilities or engaging in the "deep introspection" that a liberal arts education offers.