Former U.S. Secretary of State Hillary Clinton on Friday received the Radcliffe Medal, which annually honors a recipient whose life and work have had a "transformative impact on society."
Addressing the annual May gathering at the Radcliffe Institute for Advanced Study, departing Dean Lizabeth Cohen presented Clinton with the medal as hundreds of Radcliffe alumnae and Harvard luminaries looked on. Cohen cited Clinton's extensive career as a lawyer and champion for the rights of women and children, as first lady, as U.S. senator from New York, as secretary of state, and as the Democratic nominee for president in 2016. Clinton was the first woman nominated by a major party for that office.
"She has lived a life of public service. She uses her fierce intellect and determination to create meaningful social and political change. She displays the courage demanded of those who go first," Cohen told the audience at the Radcliffe Day luncheon, reading the medal's citation. Previous medalists include U.S. Federal Reserve Chair Janet Yellen, U.S. Supreme Court Associate Justice Ruth Bader Ginsburg, and former U.S. Sen. Elizabeth Dole.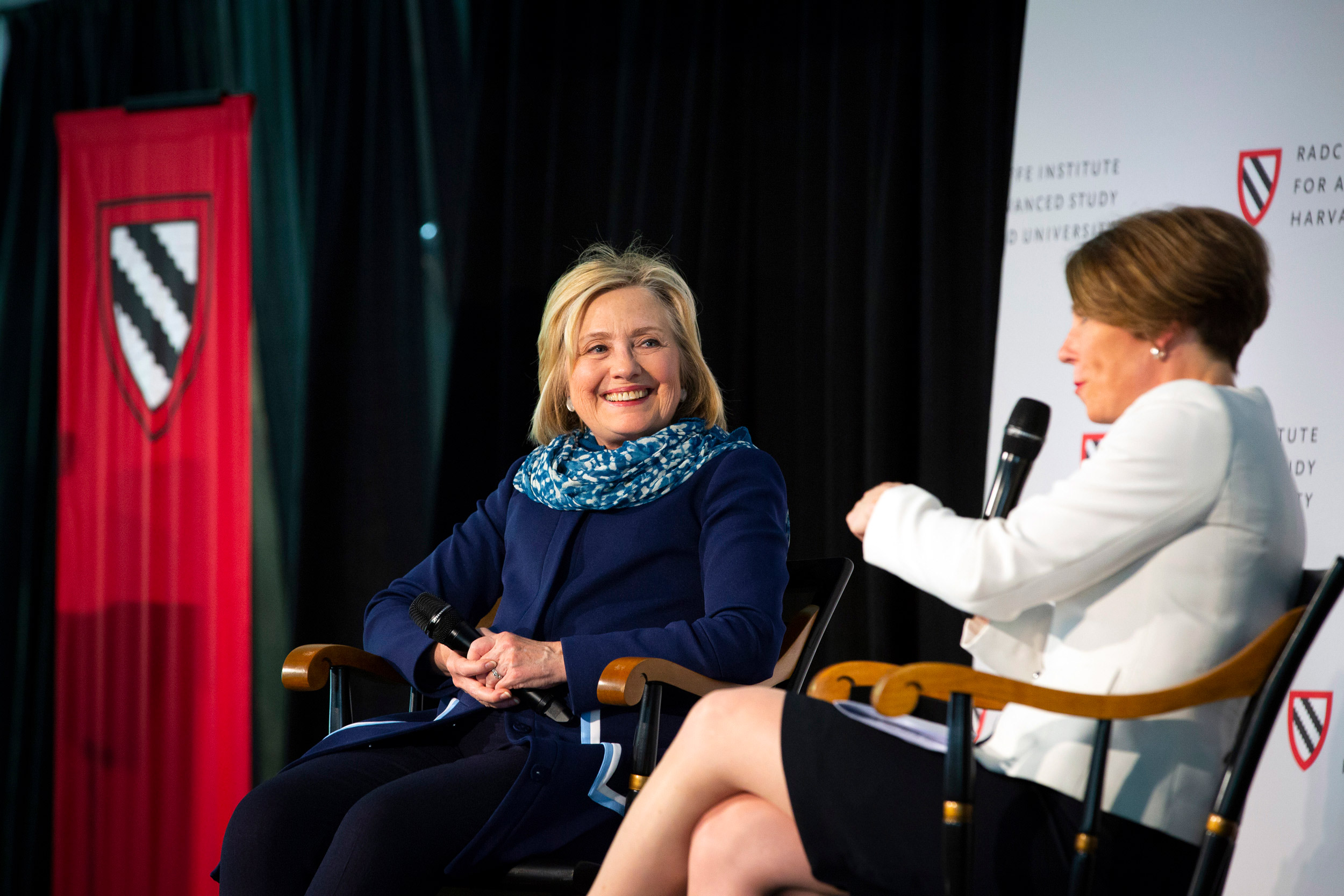 Prior to receiving her award, Clinton sat down with Massachusetts Attorney General Maura Healey '92 for a wide-ranging conversation about her life, work, and thoughts on the state of the nation.
Assessing the current situation with North Korea, Clinton said she was hopeful that American officials can regroup after plans for talks between President Trump and North Korean leader Kim Jong-un fell through this week. But she cautioned U.S. leaders to enter into future talks with their "eyes wide open," ready to "push as hard as possible."
She recalled that when you're in the White House situation room, trying to come to an agreement on a difficult decision, you need to have "as much information — dare I say facts and evidence — as you possibly could, in order to advise and then make the best decisions."
But even with all the best information, "There's no guarantee that the decision you make will be the right one," she said, recalling her part in advising President Barack Obama about whether to target the suspected Pakistan hideout of terrorist leader Osama bin Laden in 2011.
"It was by no means a 100-to-nothing decision. And it certainly wasn't a decision that could be made by the gut of the president," she said. Instead it was a decision that was made after advisers carefully considered the evidence, assessed the risks, and offered informed opinions. "Of course, the president has to make the decision," Clinton said. "There is no way that I can imagine important life-or-death decisions being made without that kind of thoughtfulness, and the State Department has a deep reservoir of people with experience.
"I am hoping that people who are currently in the government, not political appointees, will stay as long as they can, fighting for facts and evidence and our values," she said, "and I hope that people, if they are so motivated, will still go into our government."
Clinton said she has been inspired by the many women, some of them political newcomers, who have been running for office in recent months, a development that she is supporting through her new political action organization, called Onward Together. She said she also finds the rise of young advocates for common-sense gun-safety laws "thrilling."