Despite a chilly and torrential rain, the mood was warm and celebratory at the 10th annual Harvard Allston Partnership Fund (HAPF) grant awards ceremony at Raymond V. Mellone Park in Allston on April 25.
Since its creation in 2008, HAPF has provided $1 million in grants to dozens of local organizations, supporting programs for thousands of Allston-Brighton residents.
HAPF, established by Harvard University and the city of Boston, in collaboration with the Allston community, was created to support nonprofit organizations providing neighborhood improvement projects, cultural enrichment, and educational programming for residents living in North Allston-Brighton. The awards support a wide range of programs from educational and enrichment activities, to arts and family engagement programming.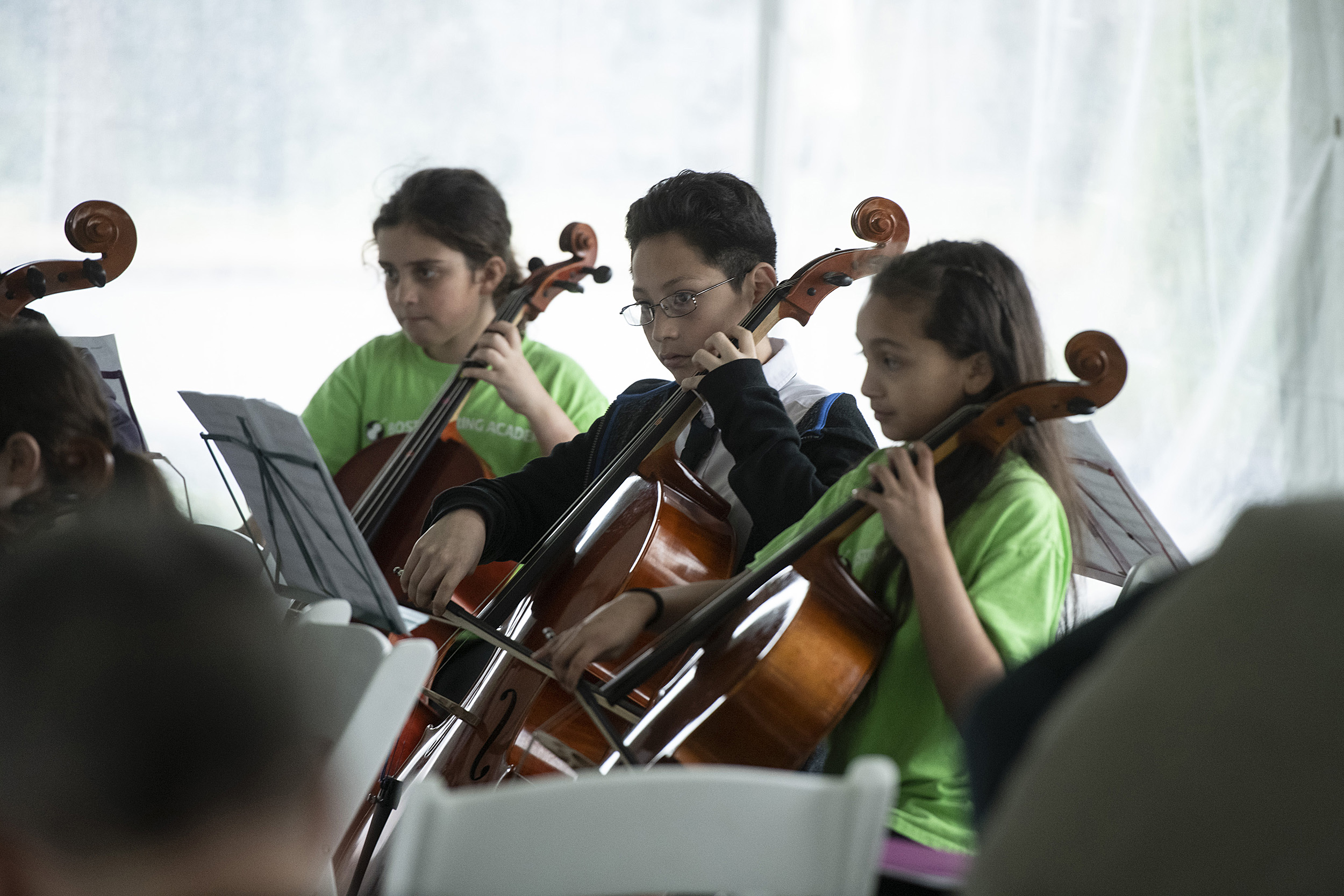 "Hundreds of people in Allston and Brighton benefit from the work of the nonprofit organizations that have been awarded grants this year," said Harvard President Drew Faust. "They bring to their work an extraordinary amount of energy and creativity, and we are honored to partner with them to bring more opportunities to residents throughout the community."
"I want to thank Harvard for their commitment to Allston-Brighton. Boston's identity is forged by the union of great global leadership with great local community," said Boston Mayor Martin J. Walsh. "We have the best universities in the world and the best neighborhoods in the world. That's an unbeatable combination and what this partnership and these grants are about."
Listed among the 32 organizations to have received the annual $100,000 funding are its newest recipients. It's estimated that more than 5,000 Allston-Brighton residents and families have been supported by the critical — and diverse — work being done by these groups.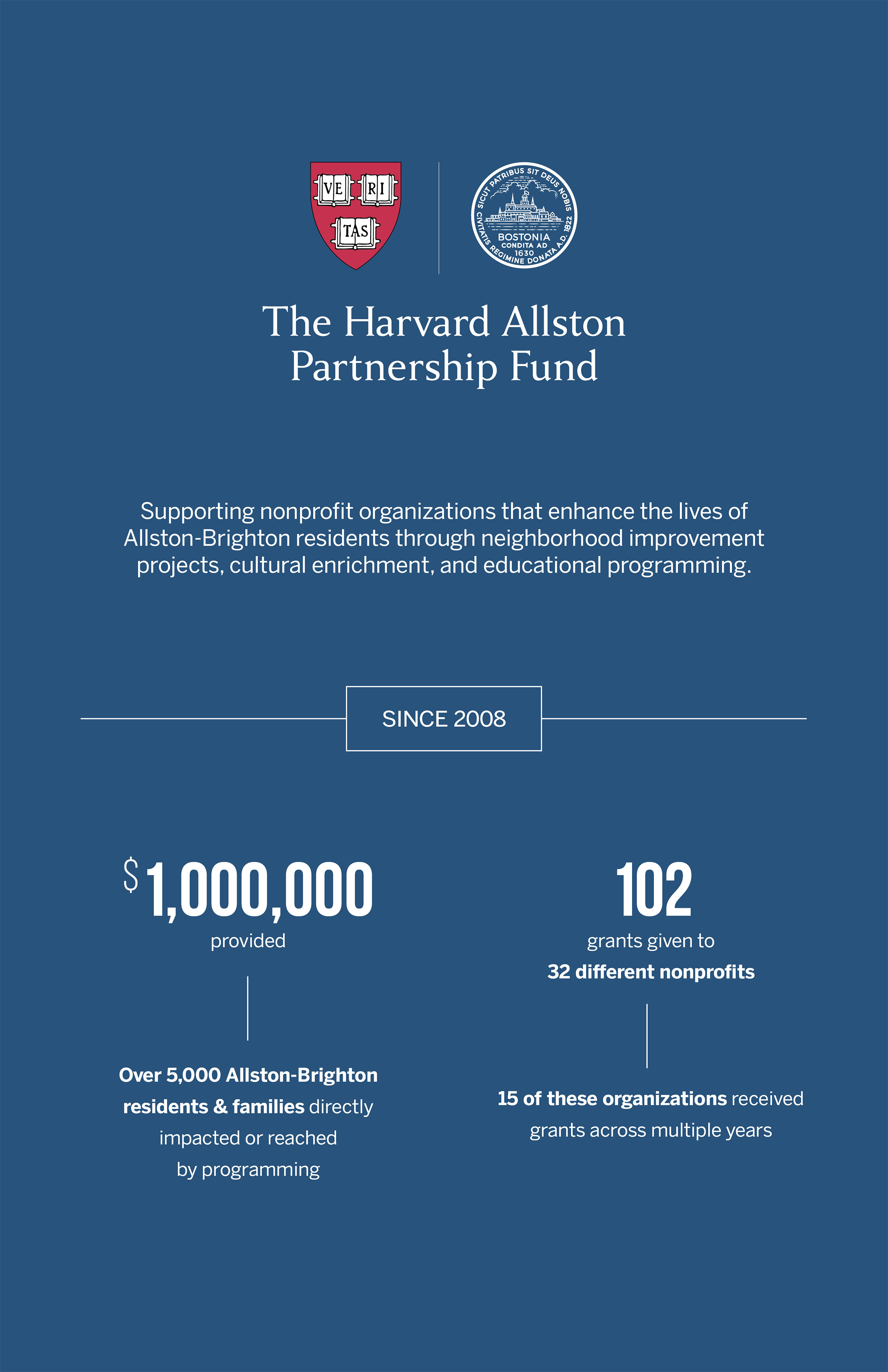 Some of the organizations have provided public performance opportunities for young musicians; others have brought poetry programming into the Gardner Pilot Academy (GPA); while another has supported the creation of an intergenerational and culturally diverse sewing community.
The Boston String Academy, which performed at the event, is based out of the Gardner Pilot Academy in Allston and is composed of students in grades one through six.
"Many of our students are immigrants, or low income, and the [HAPF] funding helps us to provide scholarships — opportunities they might otherwise not have access to," said Mariesther Alvarez, one of the directors of the Boston String Academy.
Among some of the other contributions are teaching literacy skills; offering citizenship preparation; providing financial security training to low-income adults; and supporting job placement services for North Allston-Brighton residents with disabilities. Some grant recipients have even provided home-cooked meals and diapers to North Allston-Brighton families.
"We are grateful to the Harvard Allston Partnership Fund for the support and generosity that helps us do the work that we do connecting with families, with young children here in Allston Brighton," said Colleen McGuire, director of Allston Brighton Community Programs for the Family Nurturing Center. "This grant is enabling us to grow our programs and play groups, and ultimately serve more families. … One of the reasons why our partnership with HAPF is so strong is that we have a common goal: supporting families in Allston and Brighton. We're all neighbors and we all benefit from the varied and diverse families that reside here."
Youth programming opportunities such as ice skating, boxing, swimming, fishing, filmmaking, and community organizing were offered to more than 1,000 local youth, and more than 200 scholarships were provided for sleep-away summer camp, fishing instruction, and swim lessons.
"Youth hockey is traditionally not as affordable as other youth sports," said Craig Cashman, president of Allston Brighton Youth Hockey. "The Harvard [Allston] Partnership Fund helps us keep it affordable for local families who wouldn't necessarily be able to play hockey because of that cost. We've been fortunate enough to receive this grant a few times, and it's really made a difference in our program. We've been able to engage more kids because of it."