Liu Zhenya has a vision for revolutionizing not just how we produce energy, but also how we share it.
Liu, former chairman and president of State Grid Corporation of China (SGCC), the world's largest utility company, is now the chairman of the Global Energy Interconnection (GEI) Development and Cooperation Organization, a United Nations- and SGCC-affiliated group. Speaking on Tuesday at Harvard Law School, Liu outlined a two-part program for energy independence — and interdependence.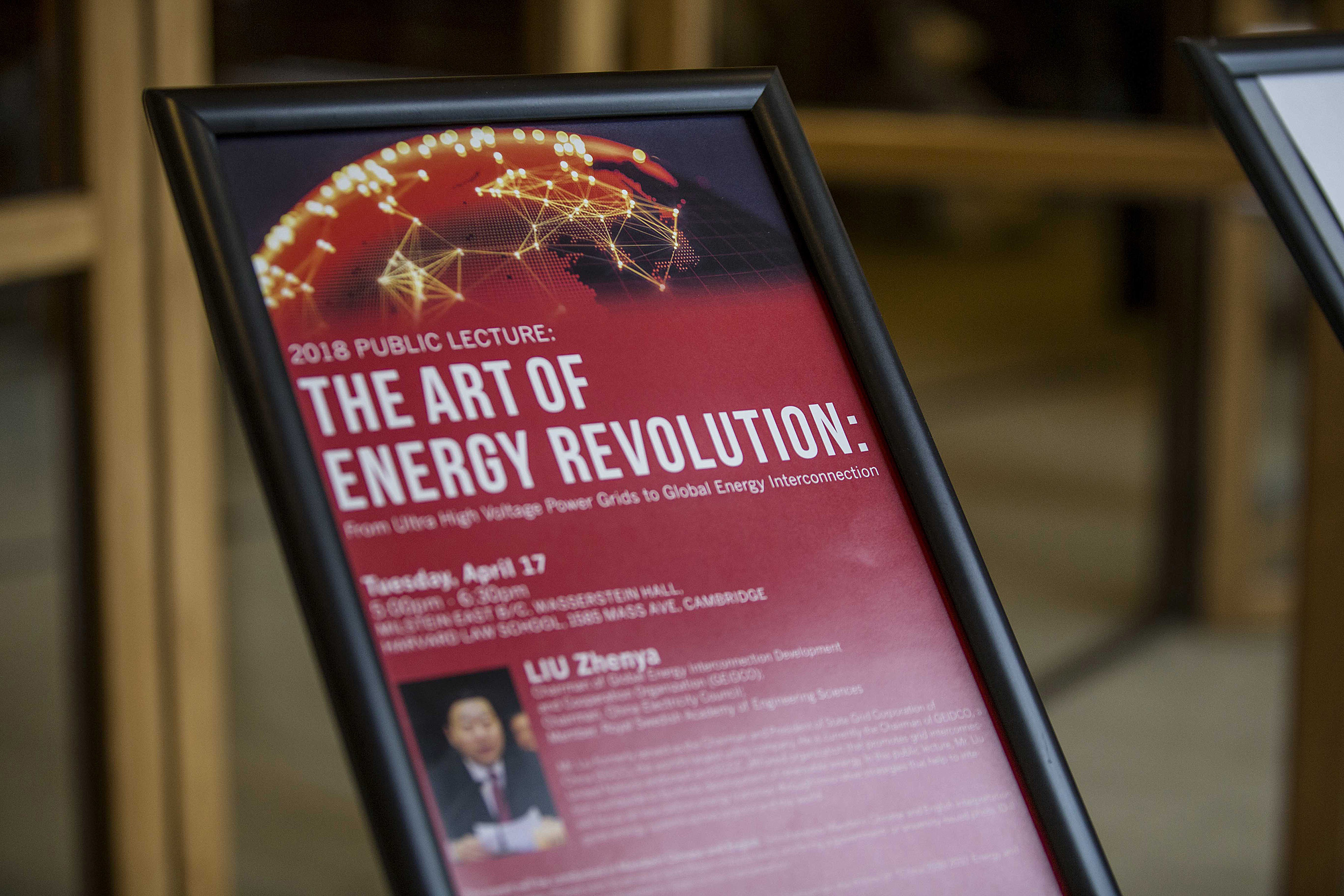 The talk, "The Art of Energy Revolution: From Ultra-High-Voltage Power Grid to Global Energy Interconnection," was sponsored by the Harvard-China Project, East Asian Legal Studies, and Harvard Global Institute.
Since 2004, Liu has been working with colleagues on ultra-high-voltage (UHV) electricity transmission. Initially proposed to solve energy shortages in his rapidly growing country, such transmission is, in Liu's words, "a key technology for ultra-large energy grids," several of which are now functional in China. Highly efficient, the technology can transport more electricity over longer distances, effectively revolutionizing the practicality of green power and enabling outreach to underserved areas.
"UHV tech has become a symbol of Chinese innovation," noted Liu, speaking through a translator.
This domestic breakthrough is only the first step, he said. Liu discussed the potential for UHV technologies — and new advances currently being worked on — to enable the next step: global energy interdependence. Such a grid would transmit power generated by solar, wind, and water around the world, allowing energy-ravenous cities to utilize currently inaccessible clean resources. (Liu noted that solar energy in 7.7 percent of the Sahara Desert could meet global energy needs.)
It would also allow underdeveloped and developing nations to access the same resources and bypass the traditional carbon-heavy stages of burning coal, wood, or manure, effectively helping to balance income inequality on a global scale.
Global energy interdependence holds promise to "push the world out of fossil-energy dependence and overcome resource shortages, environmental pollution, and climate change," Liu said. "It will ultimately provide solutions to the problems of global energy development."