Over the course of the Your Harvard series, inaugurated in 2014 as a worldwide celebration of the alumni community, President Drew Faust has addressed thousands of alumni and witnessed countless moments and interactions that left her inspired. As she prepares to step down, the Your Harvard San Francisco program provided Faust one more chance to share her thoughts on the impact of The Harvard Campaign and the role alumni will play in shaping the University's future.
"Harvard endures because Harvard adapts, and Harvard endures because Harvard remains true to its bedrock values," Faust recently told an audience of nearly 500 gathered at the Yerba Buena Center for the Arts. "I've been reflecting on the interplay between change and constancy, adaptability and endurance. And as we approach the next year and beyond that — the next decade, the next generation, the next century — how do we plan for and support that interplay?"
In a time plagued by a widespread lack of trust in institutions, Faust reiterated the University's commitment to the value of Veritas, truth. "We are in the facts and expertise business. We need to make sure that we make the case for why this matters, why facts can help cure disease, why facts are the foundation of democracy, why facts are important for human civilization and progress," she said.
With regard to stretching the frontiers of scientific discovery, Faust implored Harvard to continue asking "how," "what," and "what if." For centuries the answers to these questions have changed the course of human history. These questions also derive from humanistic thinking, and Faust recognizes Harvard's need to "remain committed to the enduring, transcendent importance of the humanities and the liberal arts."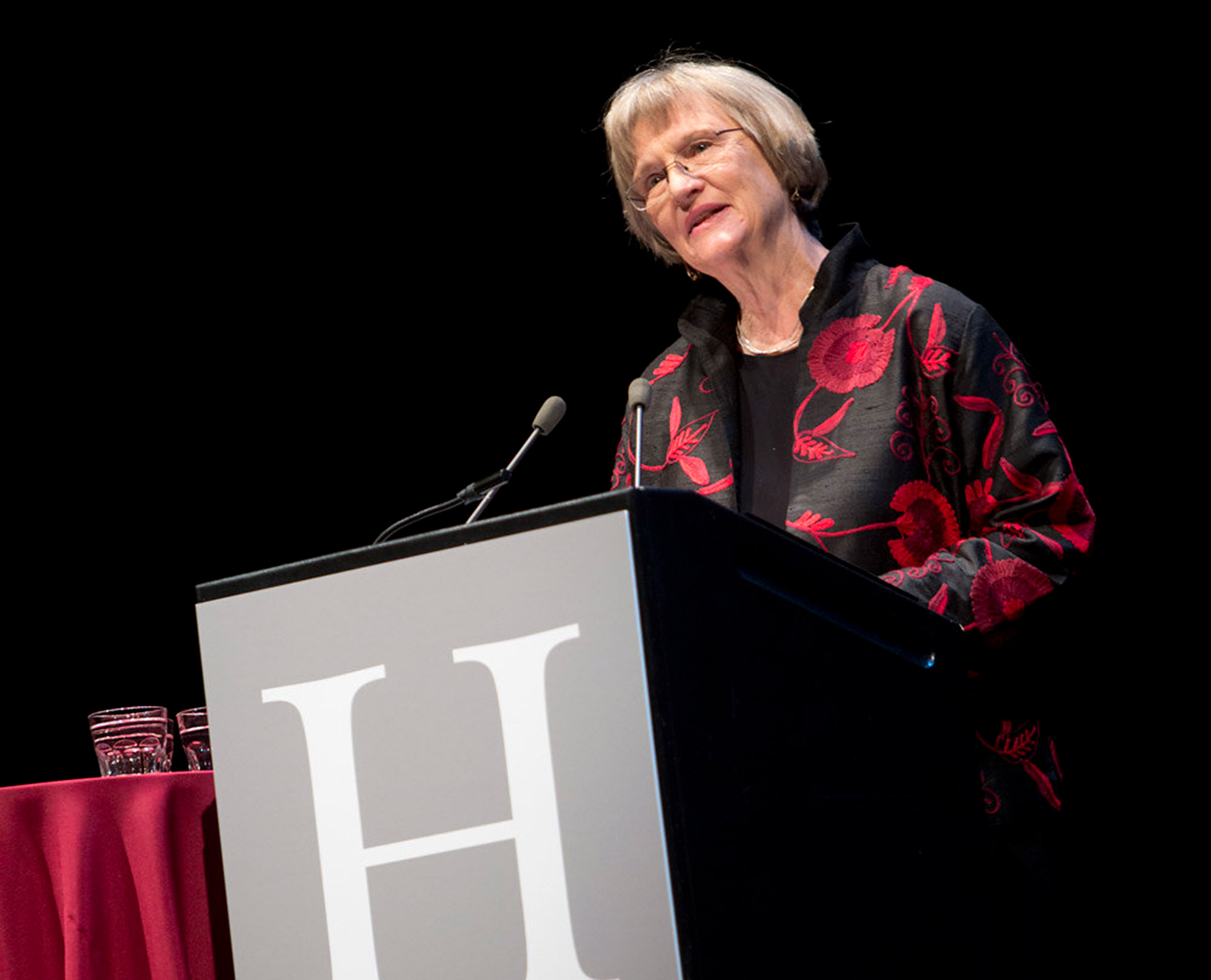 Faust connected the importance of innovation and breakthrough thinking with what she called the ways in which universities create "habits of mind to engender the capacities for judgment, interpretation, empathy, and insight." Faust argued that, "The humanities encourage us to slow down in a world that indiscriminately values speed — to ask questions that may never be answered, to follow leads that may prove to be dead ends, to explore with a rigor and depth that requires persistence as well as discipline."
The premier series of The Harvard Campaign, Your Harvard has engaged audiences in 17 cities including Beijing, Minneapolis-St. Paul, Berlin, and Washington, D.C. The events have provided a special opportunity for local Harvard alumni to come together to celebrate their communities while hearing from Faust and members of Harvard's outstanding faculty.
Co-hosted by the Harvard Club of San Francisco, the Bay Area stop featured a conversation between Michael Puett, Walter C. Klein Professor of Chinese History and professor of anthropology in the Faculty of Arts and Sciences, and Susan Dymecki, professor of genetics and director of Ph.D. Programs in Biological and Biomedical Sciences at Harvard Medical School, facilitated by influential business strategist and best-selling author Charlene Li '88, M.B.A. '93. The dialogue took a thoughtful, cross-disciplinary look at the intersection of spirituality and science, how we can live our best lives in a capricious world, and what we might teach our children and students in order to build a better society.
"We often think there is a huge conflict between science and spirituality. On the contrary, it strikes me that the key for both is to try to break us from our assumptions that lead us to live very poor lives," said Puett.
Dymecki agreed there is a connection between the science of today and Puett's field. "I see both as seeking to understand our natural world, our place in the natural world, and our responses to the changes — the dynamic nature, the unpredictability of the world around us," she said. "The emerging models in neuroscience may actually provide a plausible mechanistic explanation for directives and teachings 2,500 years ago."
The two also discussed the notion of a "comfort zone" in human cognition — a state that can, and, as they argued, perhaps ought to be avoided from both a neurological and philosophical perspective.
"Emerging data in the neurosciences is that we are much more plastic and malleable in terms of strengthening and changing our neural circuits so that we can respond physiologically to new experiences," Dymecki said. "Simple experiences can really change our neural circuitry. I like the model that the more we push ourselves out of our comfort zones, the more we're strengthening new connections and the better we get at doing it each time. We can very much shape who we are and change aspects of who we are."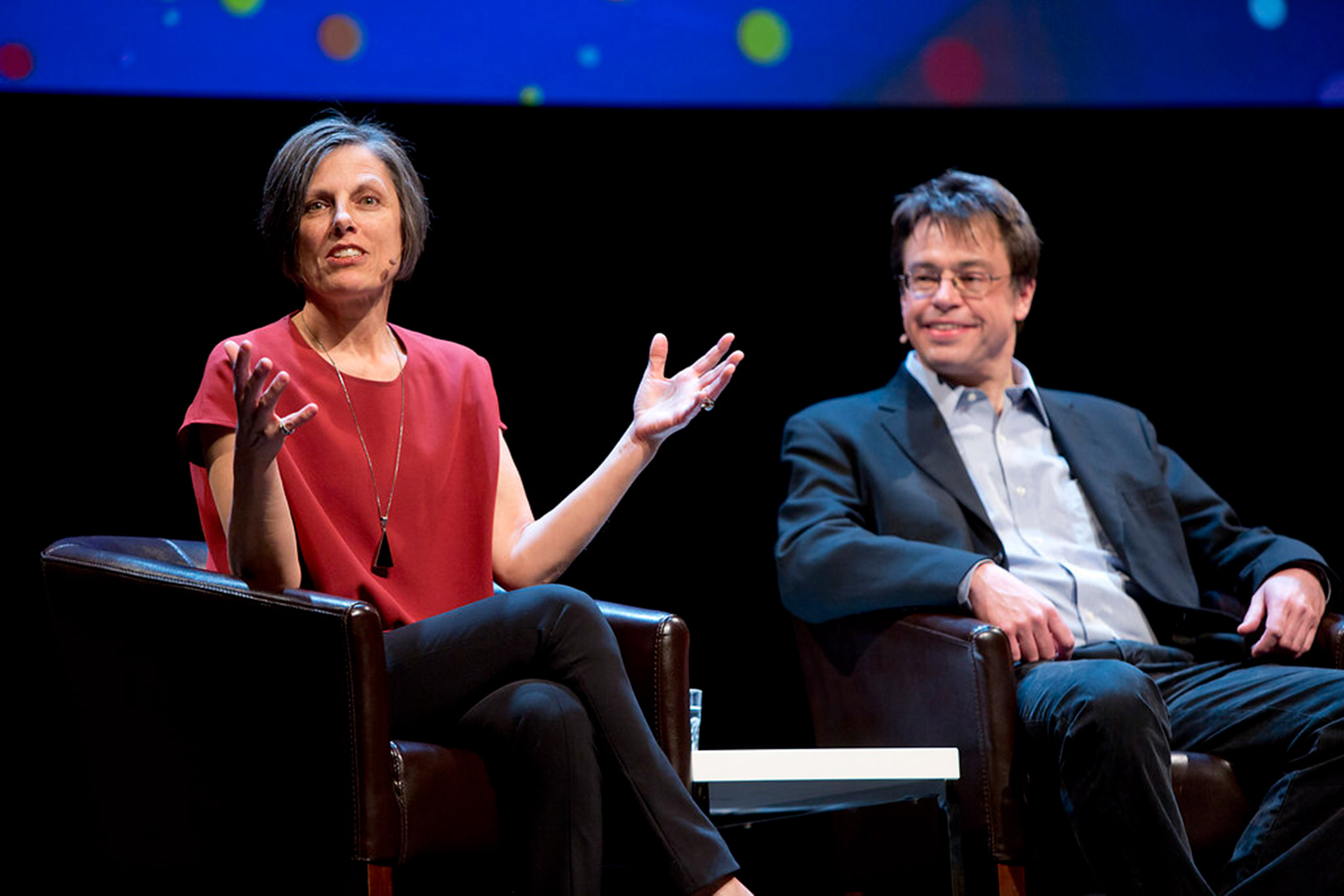 As talk shifted to addressing the challenges associated with building a better society through our children and students, Puett argued that the Chinese philosophers would urge us to start small. "If we begin training our children differently, running our classrooms differently, talking to each other differently, running offices in a different way, the impact it's going to have is incredible," he says. "How do we alter entire cultural assumptions? You begin with little things. It's in your daily interactions that you fall into patterns and ruts that will dominate your life if you don't try to break out of them. It's right there that you begin to make changes."
There is also something to be said for embracing the role of failure in advancing discovery. "We have to remove the stigma from failure," said Dymecki. "In science, you pose a question and you hopefully design a well-constructed, well-controlled experiment. But often the outcome might be perceived as a failure. Willingness to accept and let go and move on to something else — to take that risk and be wrong, pick yourself up and move forward — instilling that in our students will take us places scientifically that are very important."
"The current generation, more than any in the 20 years I've been teaching, wants to question fundamental assumptions," Puett said. "They love it in the classroom if you challenge their most basic assumptions. They love it in the classroom if you ask the big questions. They get incredibly excited. I think this is wonderful because this is a generation that is going to be facing potentially a very difficult world, and I think it's a generation that is going to be ready to tackle that. I'm very optimistic."
It's a thought Faust echoed in her remarks, and it defines Harvard's ultimate pursuit of truth.
"We are always learning, not just how to understand the world, but what to do with our understanding. We are called to do good in the world, to build trust in our actions, our words, our purposes, to serve as a reliable compass by which to steer toward truth, veritas."