One Harvard research team has shown how an immense amount of data can be stored in custom-built strands of DNA. Where does that technology's greatest value lie? Another lab has a 3-D printer knitting cells into blocks of living tissue with embedded, functional vasculature. Should these be deployed as models of disease, for drug discovery, or as the future of wound healing?
Each case requires an experienced leader's systematic approach to turn a stunning innovation into a transformative business plan.
For advanced technologies across the University, a new entrepreneur-in-residence (EIR) program launched by Harvard Office of Technology Development (OTD) might offer a crucial bridge to commercial development.
"We want to see as many startups come from Harvard as possible," said Isaac T. Kohlberg, senior associate provost and chief technology development officer. "In order to launch startups, you need initial CEOs and executives, and you need to identify them early on to work with the researchers and scientists."
The first EIRs in the program, in 2017, included Shahid Azim, a serial entrepreneur who focuses on bioelectronics and non-invasive sensing, and Nat Harrison, a Chicago-based entrepreneur with a background in materials science, chemistry, and optoelectronics. Their time on campus sparked discussions beyond their expectations and nurtured business development efforts that still continue.
With at least two more EIRs on board for 2018, and further recruitment underway, OTD's program is poised to deliver a new set of perspectives — and perhaps a sense of urgency — to faculty, postdocs, and graduate students who feel a tug toward the startup life.
"Even for the kind of businesses that come out of universities, the proprietary tech is only one piece of it," said Harrison, who relocated to Boston to participate. "There's always more value that's built in either the business system or the enterprise that's launched.
"I often see a tendency among researchers to say, 'Let's wait, let's get our ducks in a row and do another paper. Let's not tell people about our technology yet.' There's kind of a stealth bias, and I think that's the wrong bias," Harrison said. "I think you need to have a speed bias. The speed bias says, talk to more people and figure out if there's a 'there' there — if they want it, if you can do it."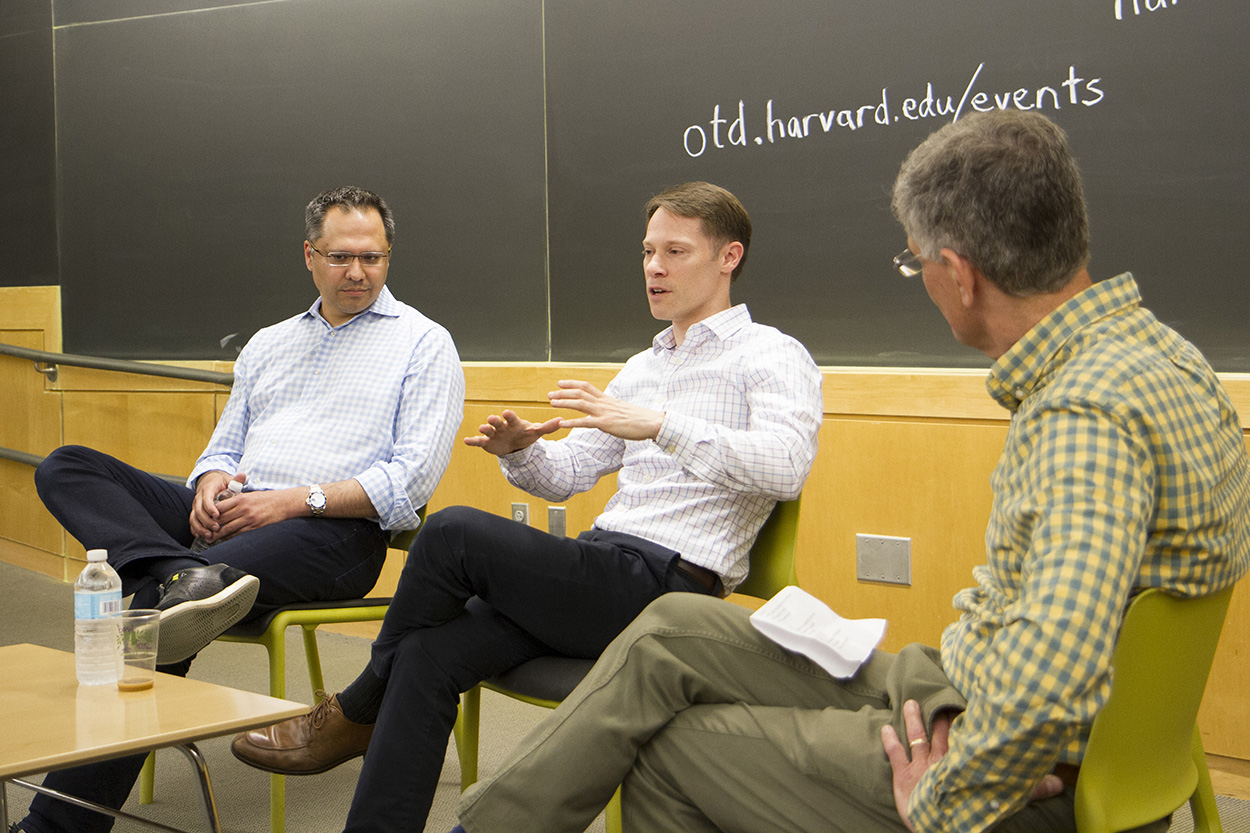 Bridging lab to business
While related programs exist at Harvard Business School, Harvard Innovation Labs, and Harvard's Wyss Institute, bringing EIRs into the Cambridge and Longwood labs for extended periods represents a new mechanism for focused technology development efforts at the University.
"Commercially speaking, when you talk about transferring research from the academic to the real world, the transfer is rarely successful without having talented, dedicated individuals to play a major role in that trajectory," said Kohlberg.
Bruce Bean, the Robert Winthrop Professor of Neurobiology at Harvard Medical School (HMS), knows the difference an entrepreneurial adviser can make. His lab co-developed a technology that could one day treat chronic cough and other ailments, and a startup is in the works.
"As scientists, we can take the work up to a certain point, but most of us have little or no experience in what it takes to go from promising effects in animals to [human] clinical studies, and particularly to know what investors are going to look for and what their concerns are," Bean said. "A seasoned entrepreneur has the expertise to go from the science to figuring out whether it's going to be commercially viable."
Since 2005, when Kohlberg arrived at Harvard to lead OTD, this unit of the provost's office has helped to launch more than 100 companies built around Harvard technologies. The staff is focused on providing a series of bridges from the lab to the startup, whether in the form of research funding, advice and networking, or strategic planning.
Much of OTD's success has come from the life sciences, where commercially promising research can get an extra boost from the Blavatnik Biomedical Accelerator, and where emerging companies benefit from Boston's robust early-stage venture ecosystem. Heavy hitters have included Genocea Biosciences (vaccines), Selecta Biosciences (biologic therapies), Editas Medicine (genome editing), Tetraphase Pharmaceuticals (antibiotics), and Magenta Therapeutics (stem cell transplantation). Outside of the life sciences, Harvard's pilot Physical Sciences & Engineering Accelerator has demonstrated early success with startups like Voxel8 (3-D printing), Perusall (educational technology), and RightHand Robotics (warehouse automation).
"Harvard is producing a lot of high-quality stuff that's got commercial legs," said Harrison, who spent much of his time on campus last year connecting with researchers at the intersection of materials science, computer science, and biology. "The smaller departments are punching above their weight."
Essential input
The EIR program promises to provide greater entrepreneurial and strategic leadership to translational research projects University-wide. Kohlberg plans to bring in between five and eight EIRs with expertise to inform all areas of life science and physical science and, over time, rotate in new candidates. The point, he said, is that in the right hands — with companies that are committed and well equipped — potent innovations can be developed to their fullest potential.
To maximize the potential for serendipity, the program is flexible. According to Kohlberg, an EIR can work horizontally across a number of projects, groups, and individuals, scanning the fertile research environment for opportunities. Or, an EIR can engage vertically, identifying a specific project and working with the research group to turn the concept into a startup.
In either case, EIRs can make connections to prospective investors and provide advice, mentorship, and coaching about the startup process. They can offer counsel on business models and on fundraising strategies, as well as on how to pitch an idea and address the business challenges unique to each innovation.
"The EIRs will talk to all these various faculty, postdocs, and graduate students. We'll introduce them to people, and they'll find a bunch on their own," said Sam Liss, executive director for strategic partnerships in OTD. "Being an EIR gives them a platform from which to go find interesting technology and see what develops out of it."
For Azim, who previously helped launch three venture-backed startups, inspiration came easily: "I was just blown away by people's curiosity to solve problems, and their creativity, frankly." He said it was rewarding to be able to contribute an external perspective. "As they are deep into very specialized research, most of these students and researchers don't have the professional network at this stage to tap into industry thought leadership or key decision-makers. The EIR program is a really good mechanism to bridge that chasm."
Harrison and Azim each have met and mentored many research teams at the University.