Years ago, when children were asked what they wanted to be when they grew up, they often answered firefighter, astronaut, or teacher. Today, they'd likely say pop star, tech entrepreneur, or professional athlete.
And why not be a pro athlete? Famous and admired, many get paid a lot of money to have fun playing sports. They devote years to perfecting their skills and competing to become the best. And given the long odds of making it, getting drafted by a pro team, signing a contract, or a getting a sponsorship deal can feel like winning the lottery.
But for every savvy athlete-business whiz like basketball stars Magic Johnson or LeBron James, there are hundreds more who squander their earnings by getting involved in sketchy investment schemes, bankrolling risky ventures like restaurants, hiring family and friends for nonessential jobs, or simply living beyond their means.
A widely cited 2009 Sports Illustrated story reported that many NFL and NBA players faced significant financial strain within a few years of retiring from their sports. The NBA doesn't maintain a record, but makes it a priority to ensure that players have access to financial education.
Whatever the number, athletes have no shortage of hangers-on eager to solicit them to invest in business ideas or fast-talking acquaintances offering to become their financial advisers. What can be in short supply are experts with sophisticated business expertise willing to share their time and knowledge to teach athletes how to make more-informed business moves.
Some Harvard Business School (HBS) students and their professor, Anita Elberse, want to change that. This fall, they launched "Harvard Business School and the NBA: Crossover into Business," a semester-long program in partnership with the NBA that offers 10 active and recently active players a chance to develop their business acumen and explore business interests with the help of M.B.A. student-mentors.
"This is all about giving them the tools to get smarter and to make better decisions," said Elberse, the Lincoln Filene Professor of Business Administration, who leads the program and teaches the popular M.B.A. course "The Business of Entertainment, Media and Sports."
"I think where it started for me was the realization that many, many athletes make a lot of money during their careers; then they lose it very quickly after their careers," said Elberse, who runs an executive education program each spring that's attracted the likes of NBA All Star Dwyane Wade and actor/rapper LL Cool J. "The statistics are pretty sobering. So we said, can we help? We have students who are really willing to help and I think they are more trustworthy than your average person who comes out of the woodwork simply because these players are now rich."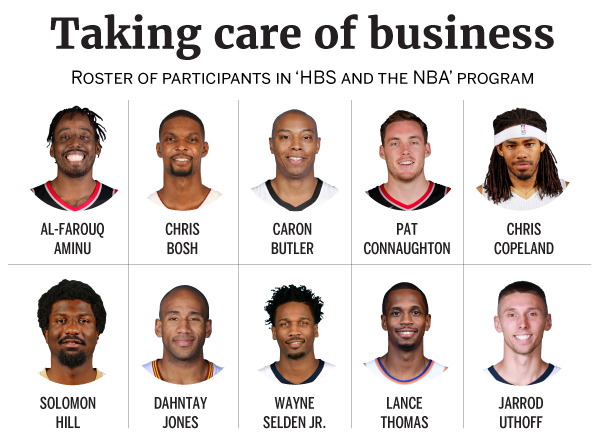 Jason Price, an M.B.A. student who coordinates the program, said he was motivated to tackle the issue by his own experience as an elite athlete in college.
"I've wanted to try to help solve this problem for a few years now," said Price, who was an All-American track and field star and team captain at the University of Southern California, a perennial track powerhouse. There, he saw firsthand how successful young athletes, even in sports less lucrative than professional basketball, could come into a lot of money at a young age and face complicated financial decisions while they were unprepared to tell good ideas and advice from bad.
He was quickly on board after the NBA and Elberse partnered up and worked out the program's concept, leveraging HBS's considerable convening power and resources to help young stars learn to make more informed choices.
"For me, the mission has always been to create a way that athletes and entertainers can have — at their fingertips — a way to answer the business questions they have, answer the questions about their brand that helps them make an [impact] in their communities and in their lives and helps them build their platform and build their wealth" into something "that's sustainable and something they can do on their own," he said.
By giving players, many of whom only had one year of college before turning pro, useful information and teaching them how to evaluate business opportunities, Price said the mentors hope to ultimately reduce the financial failure rates among young athletes and help them reinvest in their communities, where they can have a major impact.
From one game to another
Free agent center Chris Bosh was intrigued by the chance to study at HBS after hearing about Elberse's executive education class from Wade, his former Miami Heat teammate, with whom he won two NBA championships. Bosh is sitting out the NBA season while recovering from a blood-clotting illness, but has not yet retired from playing. He was released by the Heat in July.
"I've always taken an interest in business," said Bosh, 33, who was drafted by the Toronto Raptors in 2003 after his freshman year at Georgia Tech. "As basketball players, that's always one of the huge topics that come up because we come into a lot of money and we don't necessarily know the ins and outs. Our professionalism is in basketball. And for a lot of us, we didn't do much with education. … [HBS] attracted me because it was an opportunity to learn from one of the best institutions in the world and see if I could do it."
Though he has financial advisers to oversee his nearly $190 million in career earnings, Bosh said in an interview that he wants to understand better what they're doing and to explore post-playing options before diving back into the many business ventures and investment opportunities he's presented with.
"I've had my failed attempts, and I've had a lot of them. I kind of stepped back and said, 'Why don't I just take this time to educate myself and really, really learn about and get at the core of what business is, how business works, and see what it is I like. Let me try to connect the dots and educate myself first before I even think about getting in the [business] game.' Because, you know, people will take your money!" he said, laughing.
Lance Thomas, a forward with the New York Knicks, is his team's player representative to the NBA, so, "When I saw this was happening, I wanted to be part of it." Though Thomas, 29, likely has many more playing days ahead, he's not taking any chances. "You can never start too early to get ready for life outside basketball."