Michèle Lamont, Harvard's Robert I. Goldman Professor of European Studies, professor of sociology, professor of African and African-American studies, and director of the Weatherhead Center for International Affairs, has been awarded the prestigious 2017 Erasmus Prize.
The prize is given in recognition of an individual or group for contributions to European culture, society, or social science. The Erasmus Foundation chose Lamont for her "devoted contribution to social science research into the relationship between knowledge, power, and diversity."
The ceremony took place Tuesday afternoon in the Netherlands, and was presided over by King Willem-Alexander. The award is named after Dutch Renaissance humanist Desiderius Erasmus.
"I'm extremely honored," Lamont said. "I really feel that the timing could not be better, given the current political climate we are in."
Lamont hopes the award will highlight the work she has done to address boundaries in society and to connect the dynamics of recognition and distribution.
"When we talk about inequality, it's not just about economics or resources. It has to do with racism, xenophobia, sexism. We really have to take a multidimensional approach to addressing inequality, and destigmatize the groups that feel the most stigmatized currently."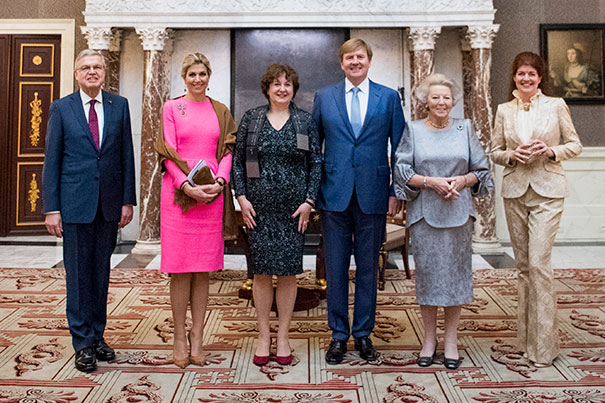 Throughout her career, Lamont has investigated how cultural conditions shape inequality and social exclusion, and how stigmatized groups find ways to preserve their dignity and self-worth. Her interests center on how class and ethnicity determine the ways that people view reality, and on how the well-being of minorities influences the success of the broader society.
"The prize is a tremendous honor and a tribute to Michèle's important contributions to our understanding of the impact of culture on social stratification," said Claudine Gay, dean of social science for the Faculty of Arts and Sciences, and Wilbur A. Cowett Professor of Government and of African and African-American studies.
Lamont was born in Toronto and grew up in Quebec. After studying in Ottawa and Paris, she began her academic career at Stanford University, then held professorships at the University of Texas-Austin and Princeton University before moving to Harvard in 2003. Lamont has written dozens of books and articles on such subjects as culture, social inequality and exclusion, racism and ethnicity, institutions, and science. In her most recent book, "Getting Respect" (2016), she and her colleagues described how various stigmatized groups respond to the daily experience of discrimination. Her previous book, "How Professors Think" (2009), examined how the academic world determines what knowledge is valuable.
An influential sociologist, Lamont has played a leading role in connecting European and American areas of research in the social sciences. In 2002, she co-founded the Successful Societies Program at the Canadian Institute of Advanced Research. She was recently voted president of the American Sociological Association. She presided over the association's annual meeting this fall, with its theme of culture, inequalities, and social inclusion around the world. She began her directorship of the Weatherhead Center in 2015.
In conjunction with presentation of the prize in Amsterdam, a varied program of activities will be organized around her with the theme "knowledge, power, and diversity."