Students hopping off the buses at the Jackson/Mann K-8 School in Allston earlier this week were greeted by not one, but two cheerful principals.
The "Principal for a Day," Annie Tomasini, joined Andrew Tuite, Jackson/Mann's actual principal, in welcoming students back from the Thanksgiving break.
Tomasini, the senior director of state, local, and community relations at Harvard University, was at the elementary school as part of the Principal Partners program. The program is run by the Boston Plan for Excellence (BPE), a local organization that fosters improvement in the Boston Public Schools (BPS). Each year Boston-area colleges, businesses, media, community leaders, and political leaders partner with local schools and spend the day shadowing principals to "get a firsthand look at the school-improvement investments the district has made and the challenges that remain," according to Principal Partner's website. Participants spend time with students, attend meetings with teachers, and sit in on classes, all in an effort to experience what educators do every day.
"Teachers, administrators, and staff here at the Jackson/Mann, and all across Boston, are making an incredible and meaningful impact on the lives of the children they educate and care for every single day," said Tomasini, who herself is a graduate of the Boston Public School System. "Harvard is honored to once again have the opportunity to connect and partner with the Jackson/Mann, and with all of BPS today and every day."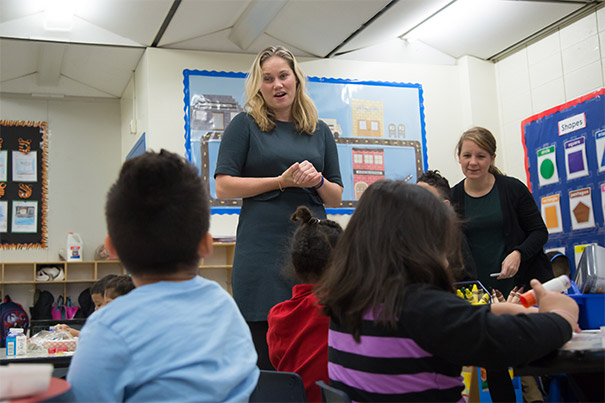 Jackson/Mann has more than 700 students, from kindergarten to eighth grade. They speak more than 31 different languages. Seventy-eight percent qualify for subsidized lunch, and 24 percent receive some sort of special education services.
Harvard has a strong partnership with the school. Among the contributions: an intern from the Graduate School of Education's School Leadership Program works directly with Tuite; a group of eighth-graders regularly visit the Ed Portal for its Apprentice Learning program; all seventh-graders come to Harvard's campus to participate in the Project Teach program, which helps them develop a college-bound identity; hundreds of students take part in a STEM (science, technology, engineering and mathematics) program developed by the Harvard Smithsonian Center for Astrophysics; and more than 200 first- and second-grade students will attend a performance of "Charlotte's Web" at the American Repertory Theater in December. Additionally, through its 2014 cooperation agreement with the city of Boston, Harvard provides $12,000 a year to support enrichment opportunities for the students.
"These [enrichment opportunities] have been a huge benefit. The students love them. We love them," said Tuite. "What Harvard has done here has really been fabulous."
Tomasini, who visited a class that recently took advantage of some of the supplemental programs, heard from one kindergarten student: "We went to the Aquarium! I saw a turtle and a really, really big fish! I had so much fun!"
The partnership is equally important to Harvard, which has long collaborated with local schools, particularly in Allston-Brighton and Cambridge. Through its many programs, both in the individual schools and on its own campus, Harvard reaffirms its commitment to the health and improvement of public education, and support for the development of high-quality teachers.