Eighty-five years ago, Memorial Church was dedicated in Harvard Yard. On Veterans Day, Harvard's military community returned to the church to honor service members past and present.
The 11 a.m. ceremony marked a number of milestones: One was a rededication of the original Memorial Church bell, which tolled Saturday in memory of Harvard veterans.  The second was the dedication of a plaque honoring Harvard's Four Chaplains for their heroic sacrifice aboard the U.S.A.T. Dorchester in February 1943. Finally, the service included an announcement, by Thomas Reardon '68, director of the Harvard Veterans Alumni Organization, and Army Col. Everett Spain, that Harvard College has joined Service to School's VetLink program for a preliminary period of three years.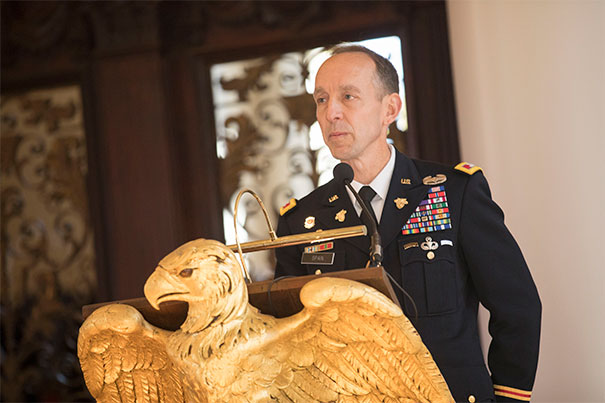 "Harvard students and alumni who answer the call to serve in the military are an essential part our University community," President Drew Faust said in a statement before attending Saturday's ceremony. "They are the soldier-scholars who lead not only their own generations but also those that follow. I am pleased that our partnership with Service to School's VetLink program will strengthen Harvard's ability to attract bright and talented student veterans who will bring their experience to campus and who share our commitment to service, inclusion, and opportunity."
As noted on Saturday, the VetLink partnership continues Faust's record of strengthening the military presence at Harvard, including her support for ROTC, which returned to campus in 2011. Her efforts to admit more veterans as undergraduates were also praised.
In his prepared remarks, Reardon thanked Faust: "You have been a wonderful friend to Harvard's military community," adding: "I wish there were more of you."
In recent years, Harvard College has been successful in expanding outreach to various segments of the college-bound population — normally secondary school students — who are interested in military service. With this new partnership, the College is broadening that focus to identify highly qualified veteran applicants. Through the VetLink program, these applicants are afforded an enhanced opportunity to showcase their military service, and Harvard gains powerful tools to improve its outreach efforts to veterans who could flourish at the College.
"Harvard College is deeply committed to increasing our recruitment of service to student veterans, and we are pleased to collaborate with Service to School's VetLink program," said Dean of Admissions and Financial Aid Bill Fitzsimmons '67. "This new partnership boosts our efforts to bring to Harvard College military veterans with talent and records of achievement."
Funding for the VetLink partnership is being generously provided by Reardon and fellow Vietnam veteran Bruns Grayson '74, both of the Harvard Veterans Alumni Organization, which seeks to promote connections among veterans on campus and in the alumni community and to raise awareness of Harvard's tradition of military service.
Service to School is a nonprofit that provides application counseling to veterans. Among the organization's goals is to help veterans win admission to top universities, part of a larger effort to ensure that today's education benefits for veterans are as effective and as transformative as they were for veterans of World War II.
In addition to Harvard, VetLink members include Amherst College, Cornell University, the University of Chicago, Massachusetts Institute of Technology, the University of Notre Dame, Pomona College, Princeton University, Smith College, Stanford University, Smith College, Williams College, and Yale University.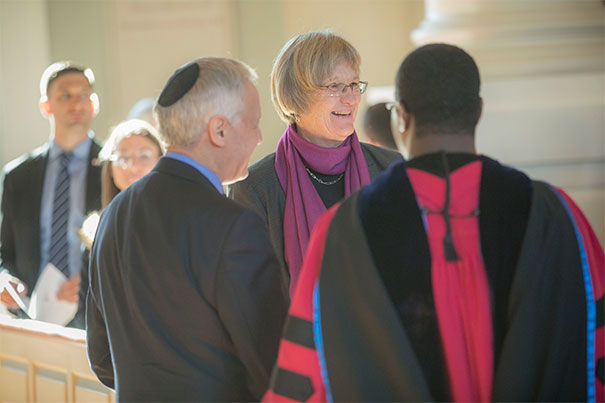 The Four Chaplains honored for their bravery in World War II were Lieutenants George L. Fox (Methodist), Alexander Goode (Jewish), John P. Washington (Roman Catholic), and Clark V. Poling (Dutch Reformed). After arriving at Harvard's Army Chaplains School in 1942, the four "occupied the same pews we're sitting in now," said Jonathan L. Walton, Plummer Professor of Christian Morals and Pusey Minister in the Memorial Church, at the Saturday service.
En route to a post in Greenland, the U.S.A.T. Dorchester was hit by a German torpedo. Realizing they had barely a half-hour to live, the chaplains worked together to save their fellow soldiers, even sacrificing their own life preservers. A survivor would remember them linking arms and looking skyward as the ship went down, praying in Latin, Hebrew, and English.
"They passed life's ultimate test," Walton said. "They exemplified the duty, leadership, personal courage and honor that we aspire to."
The morning's keynote speaker, Rabbi Arnold E. Resnicoff, a retired Navy chaplain, reflected on the legacy and present-day resonance of the valor shown by Fox, Goode, Washington, and Poling.
"The fact that they worked side by side broke down walls, shattered ceilings," he said. "Today there might also be a Hindu or a Muslim or a Buddhist chaplain. There may be a woman or a black chaplain side by side. We have to remember today that we are recognizing all chaplains, all races, all genders."
Resnicoff faced military trials in his own 40-year career: He served in Vietnam and was in Beirut when a barracks bombing killed more than 200 Marines. On Saturday he quoted a report that he wrote for the White House in the wake of the bombing. "To understand the role of the chaplain, we try to remind others and maybe ourselves to cling to the best of humanity even in the worst of times. We bring with us the truth that our faith not only reminds us of the holiness of heaven but also the holiness we can find here on earth. The chaplain brings to those who often see terror at its worst, some reason to hope."
Added Resnicoff, "I think every person here who has served can say 'Amen' to that, and I hope the Four Chaplains would as well."