In its eighth year, the FAS (Faculty of Arts and Sciences) Giving Thanks Open House is among Harvard's newer traditions.
But the pre-Thanksgiving event, which lets faculty and staff pause and pen notes of gratitude to colleagues, is one full of meaning, especially for the givers.
Ethel Falaise, who works in the registrar's office, came to this year's event, held in the faculty room, with Emily Miller, coordinator of Title IX at the College. Falaise used the occasion to think "back on the year and to who has been helpful in my role." Miller had similar intentions, but also sent notes to people she has met while connecting across divisions.
"You don't always take the opportunity to slow down," she said. "This provides a nice touchpoint."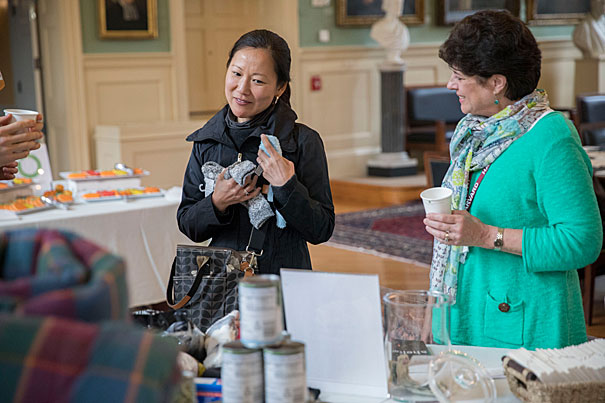 Some staff members, such as Anu Vedantham, director of learning and teaching services for FAS Libraries, thanked colleagues for their support. "I had an assignment this year that was pretty intense, and a lot of people came through," she said.
A pianist provided background inspiration for the messages while many staff and faculty nibbled on cookies and dropped off donations for the Harvard Square Homeless Shelter (HSHS), a student-run operation that serves those experiencing homelessness for the cold months, November through April.
Ryan Ward, an Adams House senior who works as a staff director at the shelter, piled bags of canned goods, socks, and outerwear that had been donated. "During the holidays, a lot of people want to step up and give. This is one of the biggest fundraisers of the year for us," he said. "It's a great event for us to show what HSHS does. The canned goods are used up very quickly in the shelter."