Can a few bad apples be a good thing?
A new exhibit inside the Glass Flowers gallery at the Harvard Museum of Natural History proves the answer is yes.
The 78 delicate creations of "Rotten Apples," only a few of which have been out of storage this century, are part of the Ware Collection of Blaschka Glass Models of Plants. Mixed in with the bunch are pears, plums, and apricots.
"When I was a kid, this was an apple I'd eat, I didn't care about the scabbing," said conservator Scott E. Fulton, making final repairs to an apple cataloged as "839 Malus pumila."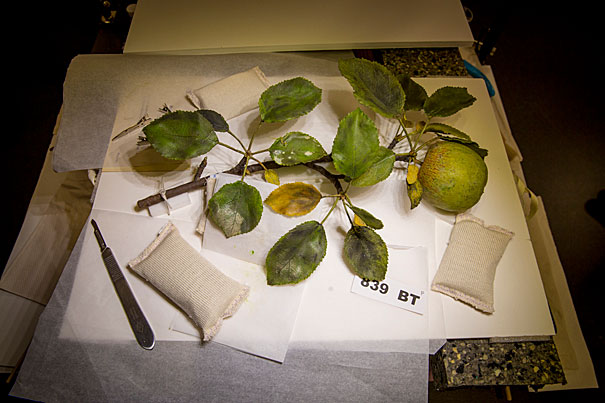 "The details are so natural — right down to the capillaries on the leaf."
Father and son Leopold and Rudolf Blaschka created more than 4,000 glass models of 780 plant species between 1886 and 1936. Fulton, along with Glass Flowers manager Jennifer Brown, spent months preparing the apples for exhibition.
The conservator, who has worked with the Glass Flowers for 21 years, said restoring the apples to exhibit-worthy condition meant grappling with the effects of age and, at times, lingering damage from the days when storage and exhibit spaces were kept warm by coal-fired furnaces.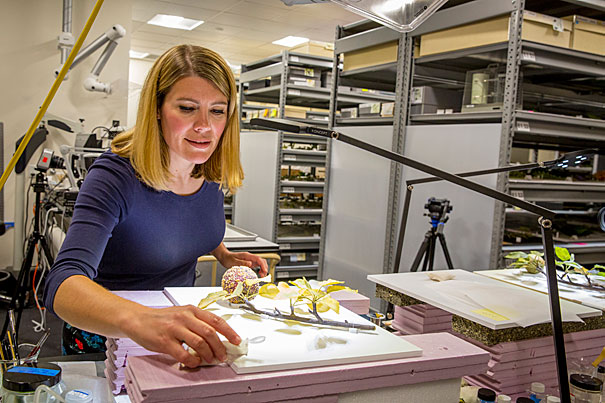 He pointed to some white spotting on the leaves of an apple branch.
"It looks like the disease, but it's not. It's a lead salt that migrates during the more humid months and crystallizes on the surface when the air dries during the heating season. That can be very problematic."
To remove soot and dirt without losing the vibrant color of the models, Fulton used a mineral spirit. In addition, he created what he called acrylic resin "slurries" pigmented to match the natural colors of green earth and yellow ocher. The resin slurries also reinforce and consolidate the glass.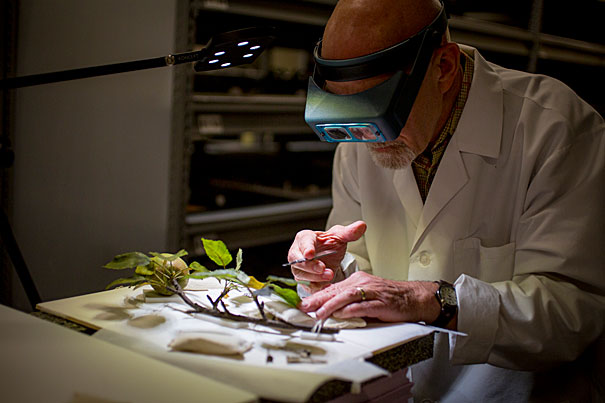 York Imperial, Alexander, Russet, Cox's Pomona, and English Pearmain are among the fruit varieties on display. Diseases include fungal rot from an Aspergillus species, brown rot caused by the fungus Monilinia fructigena, and Brooks fruit spot from Mycosphaerella pomi. Sixteen wax models from the Economic Botany collection of the University Herbaria are also part of the show.
"People love the Glass Flowers, but this makes the exhibit more dynamic, and gives them more reason to come back," Brown said.