In a stop at the Kennedy School on Tuesday, the host of Comedy Central's new political satire "The Opposition w/ Jordan Klepper" said that the nation's increasingly heated divisions have him worried.
"I hope we can get to a place where things become less and less polarized," said Klepper. "It's been a really frustrating few months as far as all of that goes, and I think everything right now is becoming a wedge issue and you almost can't help but take a side."
Speaking at the Institute of Politics' John F. Kennedy Jr. Forum, Klepper talked about his vision for "The Opposition," the uses and limits of satire, and what he learned as a correspondent for Comedy Central's "The Daily Show." Jesse Shelburne, president of the Student Advisory Committee of the IOP, and Sharon Yang, its vice president, served as moderators.
Klepper said the idea for "The Opposition" came from his discovery, in covering rallies for President Trump, that many of Trump's supporters were getting their information not from traditional news outlets but from online sources such as Breitbart and Alex Jones' "Infowars."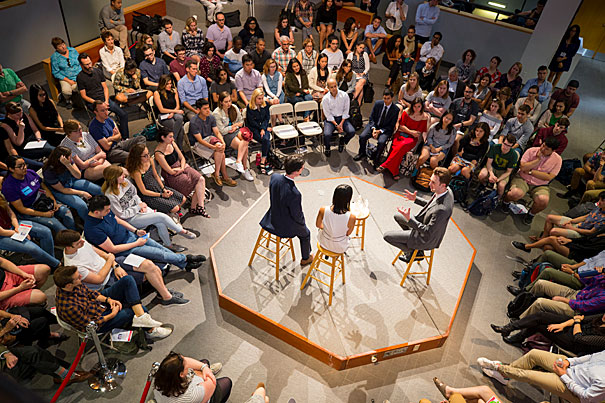 "It felt like that was a world that was just bubbling up and starting to control the conversation, starting to influence the commander-in-chief, and so it was like, let's look into this world and try to build a show that lives kind of in this alternative media landscape," he said.
Klepper hopes to steer the show clear of conspiratorial chatter that is not gaining much traction. But he said he feels an obligation to highlight claims that draw widespread attention, such as the false reports that followed the Las Vegas massacre.
"We started to see that this isn't just side fringe stuff — the fringe is becoming mainstream," he said.
Conversation among Klepper's staff "tends to lean more progressive," he acknowledged. But the show itself is less about choosing sides than rooting out misinformation, he said.
"We try to create comedy and satire out of those things that we're frustrated by. … If we can laugh at something, hopefully we can take out some tension from it."
He added: "For me, satire has always been the most effective form of comedy. I am moved by the showing and not the telling."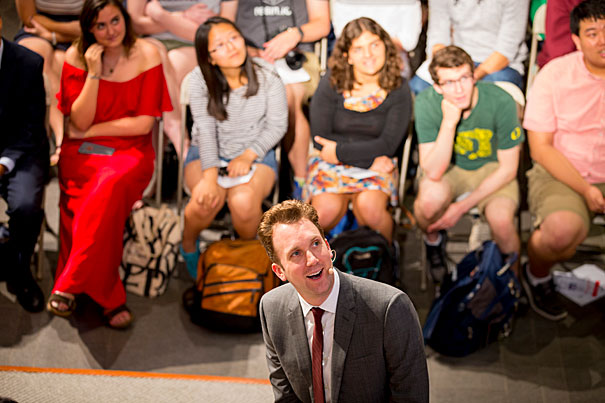 Klepper said it would be a mistake to consider him a journalist, and he hopes people will not rely on comedy shows such as his for their news.
"I want people to be hopefully inspired, laugh, find catharsis in what that show is, but I don't see our take on it as the end goal of fact or information," he said.
Asked if he had any encounters with Trump voters where he felt sympathy for their views, he cited the jubilation he witnessed at a rally in Phoenix in August.
"People lined up six hours ahead of time in 106 degrees, and they're there because a win came to their town," he said. "They bet on a horse, the horse won and it's a chance for them to have a win, to have a parade. … I think that I can empathize with that. They see themselves … in somebody who wasn't given a chance at winning. And I think that's a very powerful thing."
Also powerful is Klepper's sense that the country's turn toward more sustained political engagement is a positive, even amid bitter polarization.
"There is an excitement there," he said. "There is a movement for people to be active. … It's easy to be overwhelmed by the deluge of information and bad news. But we aren't a country that does not care. … So I hope in that we can find some positivity and some way forward."