Are you a global citizen? Is that a good thing?
What are the major issues facing education globally?
How will cities cope with 21st-century challenges such as sprawl, inequality, and climate change?
These questions and more will be debated during Worldwide Week, a University-wide series of events showcasing the extraordinary breadth and depth of Harvard's global engagement.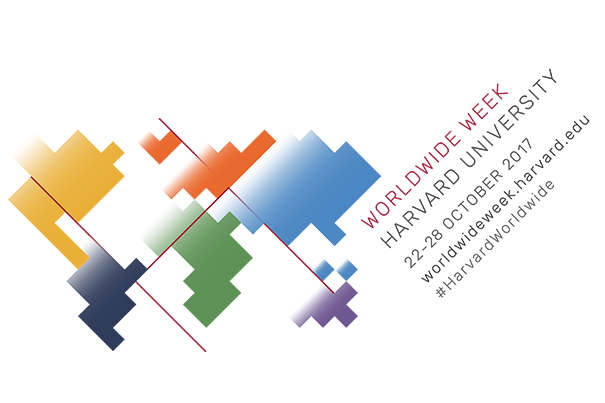 Worldwide Week, Oct. 22–28, will include a range of events that addresses critical global issues, academic and cultural programs, even an international comedy night. To top the week, an unconventionally challenging contest will award the winner a summer travel fellowship. Events are hosted by Harvard Schools, research centers, departments, and student organizations, all coordinated by the Office of the Vice Provost for International Affairs. For the full list of events, visit the website.
Worldwide Week comes at a critical point in the political landscape that is shaping America, according to its organizers.
"At a time when many voices around the world, including in the U.S., are calling for a turn inward, away from global engagement, and when in many quarters the momentum has swung toward reinforcing boundaries, borders, and walls, an event like Worldwide Week is now urgently needed," said Vice Provost of International Affairs Mark C. Elliott.
As host to more international scholars than any other U.S. university, Harvard educates and learns from an especially wide range of students, notes the vice provost's office.
Kicking off Worldwide Week will be a festival hosted by the Harvard Graduate Council. Featuring samplings of global food and dance, the festival will be Oct. 22 from 2–6 p.m. at Science Center Plaza.
"We are excited about kicking off Worldwide Week with our inaugural International Festival," said La'Toya Princess Jackson, vice chair for communication for the Harvard Graduate Council. "We're designing this event to reinforce the message of 'One Harvard.' We want to make sure all members of the international community at Harvard are represented."
Major events during the remainder of the week include:
"Citizenship and Globalization: The Meaning of Global Citizenship." A panel discussion moderated by NPR's Tom Ashbrook and featuring Professors Danielle Allen, Homi Bhabha, Rakesh Khurana, and Dani Rodrik. (Oct. 23, 7–8:30 p.m., Science Center, Hall B.)
"The Future of Cities," a panel discussion to be introduced by Harvard President Drew Faust and moderated by Harvard Business School senior lecturer John Macomber. (Oct. 25, 3:30–5:30 p.m., Askwith Lecture Hall, Longfellow Hall, HGSE.)
"Global Health and the Future Role of the United States." Keynote by Michael Merson, director of the Duke Global Health Institute, panel including Lisa Berkman, Thomas D. Cabot Professor of Public Policy and Epidemiology and director of the Harvard Center for Population and Development Studies; Paul Farmer, Kolokotrones University Professor of Global Health and Social Medicine and head of the Harvard Medical School Department of Global Health and Social Medicine; and Wafaie Fawzi, Richard Saltonstall Professor of Population Sciences and chair of the Harvard T.H. Chan School of Public Health Department of Global Health and Population, on Oct. 26.
"Learning to Change the World: A Showcase of Global Research on Education." A panel discussion moderated by Fernando Reimers, Ford Foundation Professor of the Practice of International Education, featuring the research of several Graduate School of Education faculty members focused on international education.
And then there's "Where in the World is Harvard?," the travel fellowship contest sponsored by the Office of International Education and vice provost for international affairs. Students can win a travel fellowship if they can identify where a series of photos, taken by Harvard students during summers abroad, were taken. College students are eligible for a grant for study, internship, or service, and graduate students can win a $2,000 grant for their summer academic work. Photos will be displayed at multiple locations around campus, purposely chosen to get participants out of their "campus comfort zones."
Worldwide Week doesn't aim to solve issues of global importance in a week, according to event organizers, but it will show that Harvard is engaged in addressing a remarkable number of these issues, and giving students, faculty, and staff a unique chance to join the conversation.
"I've been vice provost for international affairs at Harvard for two years now, and even I continue to be amazed by the scale and the impact of the University's global activity," Elliott said. "I hope Worldwide Week might give new inspiration and energy to those who are already working globally, but just as important, I hope it will give our entire community, no matter the subject or location of their work, a chance to see and participate in some part of what Harvard is doing worldwide."