After more than a year of renovations and construction at Winthrop House, returning students have discovered a residence that combines neo-Georgian character with 21st-century amenities, including a student-run grill, an art space outfitted with a 3-D printer, and a meditation room.
"I was a bit worried that the character and charm of the House would get lost in the renovations, but I think they did a great job of integrating the old and the new," said Kristen Althoff '18.
"All of the staircases have been salvaged, and the main part of the dining hall still looks the same," she added. "I feel like these details are what tie our fresh, new 'Throp back to its roots, so when alumni return, I think they'll still be able to recognize their house."
One part of the House that alumni won't recognize is Beren Hall — a new, five-story building at the corner of Mill and Plympton streets. Named for Robert M. Beren '47, M.B.A. '50, the space will allow some 50 students who had been housed on DeWolfe Street to rejoin the Winthrop community.
Anchoring the new building is the grill, which features large windows and comfortable spaces for eating, socializing, and studying. Below, a lounge area includes a foosball table, pool table, and large TV.
[vr url=https://news.harvard.edu/wp-content/uploads/2017/08/360-002_common_room.jpg view=360]A rooftop common room in the newly renovated Winthrop House. The molding around the top of the room features the famous words of Puritan leader John Winthrop — "We shall be as a city upon a hill, the eyes of all people are upon us." Kai-Jae Wang/Harvard Staff
The new building's top floor is dominated by a common space that has floor-to-ceiling windows on three sides overlooking an expanded patio and the Charles River beyond. Molding around the top of the room features the words of Puritan leader John Winthrop: "We shall be as a city upon a hill, the eyes of all people are upon us."
"We have been intimately involved in this project for five years and the results are just wonderful," Winthrop Faculty Deans Ronald S. Sullivan Jr. and Stephanie Robinson said. "We were here to welcome our students home on move-in day, and being able to see the expressions on students' faces — they were literally mouths agape, jaws dropped. Parents were telling us that they weren't sure they could get their students to ever leave!"
"Being able to have everyone under one roof is exciting, but being able to make these three buildings weave together and feel like one — with the connecting spaces between them — it's a great feeling," Robinson added.
The project included extensive updates to living spaces. All rooms in Beren Hall are senior suites featuring single bedrooms with common rooms and en suite bathrooms. House-wide, 71 percent of all beds are in suites with suite common rooms, and 70 percent of all beds are in single bedrooms.
Other aspects of the project were aimed at strengthening connections within and between Gore and Standish halls. Renewal included the construction of corridors to connect the House's traditional vertical entryways, as well as lower-level connectors to improve accessibility, enabling students to move wing to wing without setting foot outside. Landscaping and enlarged entries from the Yellowwood courtyard unify the two buildings.
[vr url=https://news.harvard.edu/wp-content/uploads/2017/08/360-001_dining_hall.jpg view=360]The dining hall in the newly renovated Winthrop House. The original checkerboard floors were preserved as part of the renovation. Kai-Jae Wang/Harvard Staff
The project included an expansion of the dining hall to accommodate the House's larger student population; doubling of the terrace outside Gore — a popular place for students to study and relax — to span the length of the building; reclaiming spaces under the former vertical entryways as areas for quiet study; and social space on the lower level, including two music practice rooms. Another striking feature is an expanded west entrance in Gore.
"I have only positive things to say about the renovation project," said Connor Horton '18. "As a senior, I've had the privilege to enjoy both old and new Winthrop. It's gratifying to see my favorite places in old Winthrop — the dining hall, JCR, library, and Tonkens Room — preserved within a completely transformed House.
"It's clear that the project to renew Winthrop House was a careful collaboration of students, faculty deans, and the architects," he added.
As the second House renovation project, the Winthrop renewal was informed by earlier test projects on Stone Hall at Quincy House and McKinlock Hall at Leverett, as well as the renewal of Dunster House. Construction on Lowell House started this summer, with a fall 2019 opening planned.
Next in line is Adams House. Beyer Blinder Belle, the architects for the Winthrop renewal, have begun design, with construction expected to begin in the summer of 2019 and proceed in three phases, finishing for fall of 2022.
As with all House renewal projects, sustainability was a key consideration at Winthrop.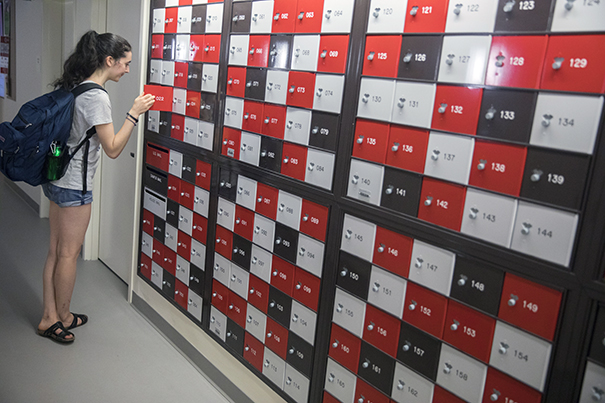 From recycling more than 92 percent of the debris to reusing flooring as wall paneling and salvaged lumber from elm trees for tables, efforts were made to minimize the environmental impact of construction. High-efficiency plumbing fixtures, a low-flow irrigation system, and the use of native plantings will reduce water usage by 46 percent from code standards. Energy modeling indicates that the cost of electrical power will be 34 percent lower than code-mandated conservation levels. Like other renewal projects, Winthrop House is on track for LEED Gold certification.
The project also paid homage to the House's history as one of the earliest undergraduate residences through the preservation of original wood paneling and checkerboard floors, a meticulously refurbished library, and a hallway decorated with portraits of famous Winthrop alumni ranging from former President John F. Kennedy Jr. to actor B.J. Novak.
Along with the work inside Winthrop, a pair of historic, wood-frame houses on Plympton Street were raised and set on new foundations, and will provide living spaces for House faculty deans and resident scholars.
"Houses are at the heart of the student experience at Harvard and central to our students' liberal arts and sciences education," said Michael D. Smith, Edgerley Family Dean of the Faculty of Arts and Sciences. "The spectacular renewal of Winthrop House represents, both inside and out, a truly 21st-century educational environment where our students will thrive today, tomorrow, and for generations to come."