When he was a sophomore John Wang '16 declared social studies his concentration, but he couldn't shake how an art history course his first semester freshman year had taught him to see things differently.
"I think that class really opened my eyes to the discipline and to kind of a whole other way of thinking as well," said Wang, describing Jennifer Roberts' "American Art and Modernity."
Roberts, the Elizabeth Cary Agassiz Professor of the Humanities, urged her students to use visual culture to question their understanding of the world. "That was a way of approaching images and art and history that I'd never experienced before," recalled Wang.
The experience would eventually drive him toward architecture studies, a collaborative track of the College's History of Art and Architecture concentration and the Graduate School of Design that blends classroom and studio work. Intrigued by the possibility of becoming an architect or pursuing a career in design, Wang decided to "give it a try and see what happens."
It was a wise decision. Last year he won the third Radcliffe Institute Public Art Competition, becoming the first undergraduate to to take the honor, which supports an installation in the Susan S. and Kenneth L. Wallach Garden in Radcliffe Yard.
Wang's recently unveiled design, "100+ Years at 73 Brattle," walks visitors back through time, evoking structures that once stood in the yard through a mix of granite, wood, soil, and sage.
"[I thought], here's an interesting story that hasn't been told that the art installation can tell," said Wang, who based his original concept on an old campus master plan he found at the Schlesinger Library that showed that the wood-clad house of William Bates stood in the garden space from 1821 to 1875.
There was more history to tell. Maps from the Cambridge Historical Commission revealed that two other buildings had occupied the site through the years: a three-story, mansard-style house belonging to Moses Sawin, located there from 1875 to 1917 and used at one point for Radcliffe classrooms, and, for a brief period, the Gilman Building, named after Radcliffe benefactor Arthur Gilman. Eventually Wang changed his design to incorporate all of the structures.
"I think the sense that something used to be here that's no longer here really came across to me … I wanted to explore that," said Wang, who said his blueprint was partly inspired by the work of American architect Louis Kahn.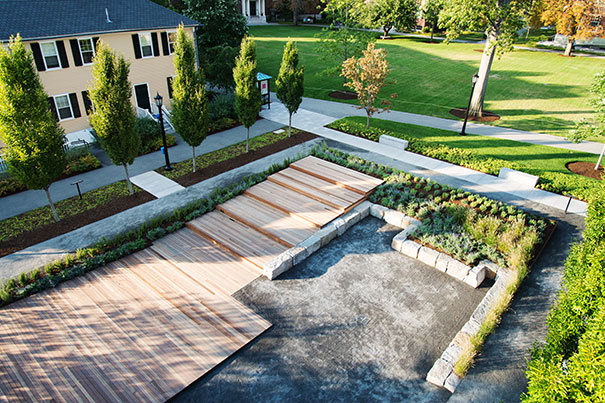 Kahn's buildings and designs "manage to make you have a sense of wonder and think about time in a longer scale," said Wang, who wrote his thesis on Kahn's Franklin D. Roosevelt Four Freedoms Park on Roosevelt Island in New York's East River. The memorial to the nation's 32nd president consists of a sloping triangle of grass bounded by concrete with steps on one end and granite blocks surrounding a giant FDR bust on the other.
The scarcity of materials a century ago meant it was often more economical to preserve buildings than to raze them and rebuild, said Wang. (The Bates House itself was moved after it was sold in 1875 and still stands today at 38 Bradbury St.) The history of the buildings at the site informed Wang's own preservation ethos. The granite used to trace a partial outline of the Bates House, and a gradual ramp and adjacent series of mahogany steps representing the Sawin house, will likely be put to a different use once the installation is dismantled.
Of his finished product, which will be in place through 2019, Wang said he was "really trying to articulate all these things that I have found and thought about in a coherent way that would really come together in one piece." The result is an inviting spot for lunch or just a quiet place to recharge.
As a GSD student, Wang hopes his future will involve crafting buildings like those that have made lasting impressions on him.
"I would love to be able to design institutional buildings: libraries, schools because I think those are spaces that have meant a lot to me personally … where I have really learned to grow, and also the spaces where good design makes an impact on how people interact with the world."
The fourth Radcliffe Institute Public Art Competition is open for registration.