Soman Chainani knows how to appreciate differences. In his titular short story in "Flying Lessons & Other Stories," the author and filmmaker describes a young boy being dropped off at a beach in Spain, where he meets a boy about his own age with "wavy black hair, honey-gold skin, jade-green eyes, and look[ing] the way I always imaged Romeo would look when I read 'Romeo and Juliet.'"
When his grandmother later says she saw him staring at the boy, he protests that he wasn't. It's no bother, she replies: "The wonderful thing about Europe is that you can stare at whoever you like and no one cares."
Chainani read the story aloud late last month at the 2017 FAS Diversity Summer Panel, which addressed the importance of diversity in children's literature. The other panelists were Amitha Knight and Ellen Oh, respectively the social manager and CEO and president of the nonprofit We Need Diverse Books; the moderator was Callie Crossley, host of WGBH's "Under the Radar."
Oh cited a New York Times op-ed on "the apartheid of children's literature," which found that in children's literature, it's still a white man's world. She also described a 2014 Bookcon gathering in New York where the "power lineup" of authors included only white men. The white women in the group were angry. "Welcome to our world," said the authors of color.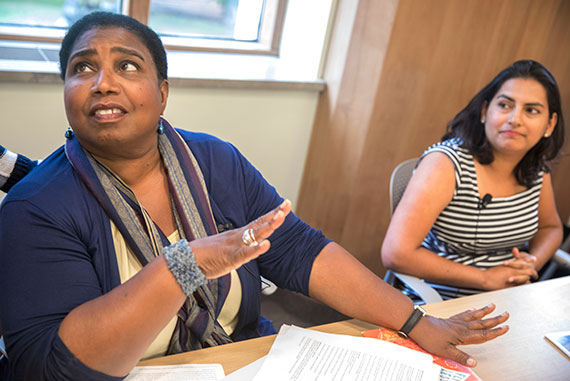 That homogeneity may extend from the authors to their characters, and in turn that can have a significant impact on young readers, Oh said. She quoted a black mother telling her, "We need diverse books because my sons can be heroes too," and an LGBT teen who said, "Maybe I wouldn't have tried to kill myself if only I had seen that it was OK to be gay, it was OK to be trans."
Oh said children's books can and should create empathy.
"If you don't start that young in children, we end up where we are now, where we see hate, violence, and things that are erupting around us. Maybe that wouldn't be as problematic if we had just shown kids at a young age that the other is not something to be afraid of or to hate, that the other is a person just like you, just like me."
Chainani credited We Need Diverse Books with proving that characters of color can sell big commercial novels.
"There is this myth that happened, which we've kind of debunked now, that books by authors of color don't sell," Oh said, naming a number of authors of color who have been on The New York Times best-seller list. "That's a very important message to send. These books sell, they really do."
Knight said that when she was growing up, "I didn't know anyone who was an author, and when I read books growing up they were all mostly white people.
"When you don't see other people like you being writers, you kind of limit your imagination. It really matters, seeing you reflected on the page."
Oh stressed that diversity does not mean removing white writers from the table.
"This is not about replacement. I wish we could get rid of that idea," she said. "This is about inclusion. This is about adding. Make the table as big as you need it to be."
The Diversity Dialogues are offered by the FAS Dean's Office, FAS Human Resources, and the FAS Office of Diversity Relations and Communications.