HAVANA — When Yosvany Terry was a child, his home was always filled with music.
So when he stepped inside that home again on a summer trip to his native Cuba, he sat down almost immediately at the family piano to play "La Tedesca," an 18th-century classical contradanza. His father, Eladio, walked in, beating the chekeré, while his mother, Lidia, beamed.
"I wanted him to study medicine because I was a nurse and because from a very young age he was such a responsible kid, and his grades were so high," Lidia recalled before the musical interlude. "And he said, 'No, mom, I want to be a musician like my dad.' "
Terry's musical destiny was forged on this communist-ruled Caribbean island. His story is of duality, of adapting to instruments while assimilating into new cultures for the love of music. Terry is now senior lecturer on music at Harvard and its director of jazz ensembles, as well as being a saxophonist, percussionist, and composer with six bands (including a namesake quintet, Afro-Cuban Roots: Ye-dé-gbé, and the Ancestral Memories Quartet with French pianist Baptiste Trotignon). He has lived in two worlds "as far as I can stretch my memory."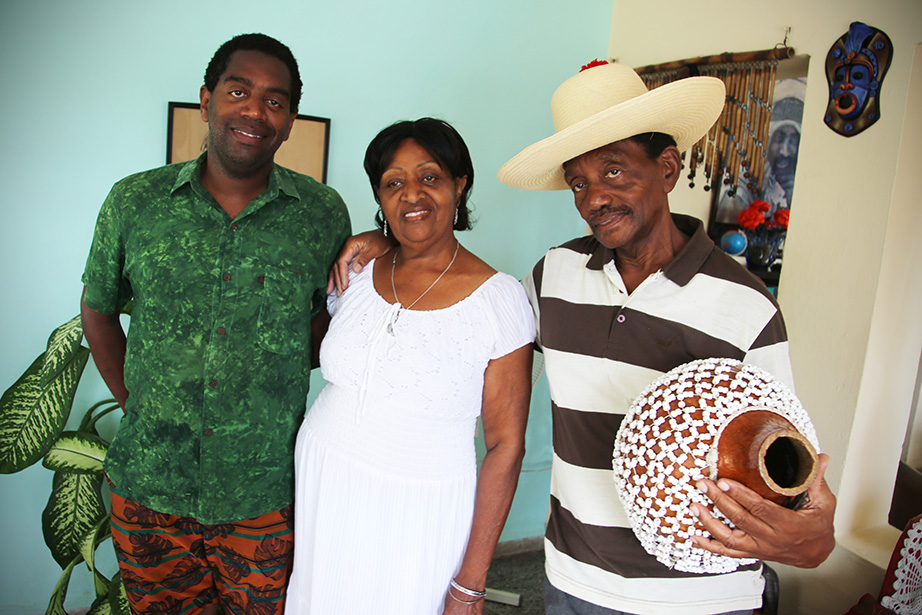 "I remember going to religious ceremonies and learning chants, rhythmic patterns, and how to play various instruments. And of course this was something I couldn't share with my peers at school," he said.
Those earliest recollections were created in Camaguey, a city in the middle of the island where Lidia remembered her middle son as "bright, serious, studious, and competitive."
"Every year, he always passed with good grades. When Yosvany received a grade of 98.5, he'd be upset because he wanted a 100," she said.
He wanted to study violin, which, like all formal musical education in Cuba, required total commitment by elementary school. But when space opened at the desired school, he was told, at age 8, that he was already too old.
"Papi," he told his father, Don Pancho, "I want to study music. It can be whatever instrument. How about saxophone?"
Even when school officials told Eladio his son would need to learn two years of saxophone in one year's time to catch up, a young Yosvany kept his focus. Said the senior Terry: "Every day I'd ask him how it was going at school and he'd say, 'I've surpassed this student, and that class, and I'm on to the next one.' … And he did it."
The family of five, which includes Yunior, a bassist/violinist who will begin teaching at New York University this fall, and Yoel, a flutist who died two years ago, has performed as Los Terry since the early 1990s. Lidia said her son's charismatic personality equals his musical aptitude: "When he arrives somewhere, he starts talking, and people pay attention," she said. "He likes to chat, to learn things. He's always interacting."
"I don't know if 'assimilated' is the right word," added Terry, a Grammy-nominated musician, "but I was born assimilated."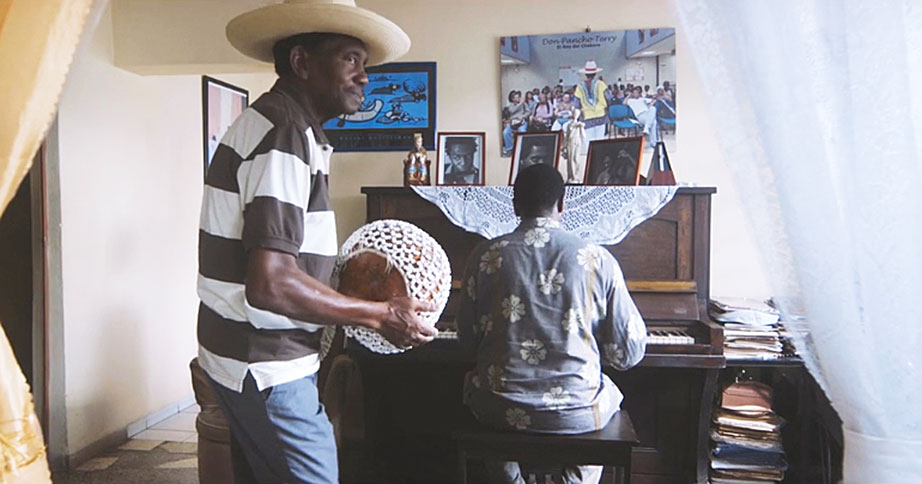 His easygoing nature is immediately visible. "It's his posture — he leans back," said Harvard Jazz Band student Jake Tilton. And it's a quality that Terry believes is a byproduct of starting day care at 6 months old. But it's also one that served him well when he decided, at age 28, to defect to the United States in 1999.
"Transitions are the most difficult part of life, and going through the transition of going to a new country was like jumping into the unknown," he said. "I thought about many composers who preceded me: Béla Bartók, who left Hungary, [Russian Sergei] Rachmaninoff, and Chano Pozo, the percussionist from Cuba. They all had to leave their countries in order to continue the development in their career. At the moment I left, the only thing that consoled me was my belief in music and art."
Evan Vietorisz, a Harvard College sophomore who plays guitar in the Harvard Monday Jazz Band under Terry's direction, said that having a teacher who comes to Monday practices after gigging all weekend has been an unmatched experience.
"He has so many projects. He could come to practice after concerts as huge as playing with Chick Corea and other jazz greats, and yet he never lets us feel like our work is child's play for him — he's only enthusiastic. There are few people as talented as he who are not just humble, but so generous and supportive."
Terry returns to Cuba at least once a year to visit his parents and to travel the countryside, where he believes the country's Afro-Cuban musical roots are in most need of preservation.
"I am working to preserve musical tradition, but, at the same time, to move it forward," he said. "It is so important to share it with the young generations because there was always someone who brought you along."