BERKLEY, Mass. — On a tour of Dighton Rock Museum here, a ranger from the Massachusetts Department of Conservation and Recreation doesn't hesitate to put the famous in its place.
"Plymouth Rock was just a loading dock," the ranger scoffs. "Dighton was the real first rock."
Indeed. The 40-ton, 11-foot boulder, an august hunk of sandstone that once sat in the middle of the Taunton River, tantalized generations of academics, who theorized that the ancient inscriptions carved into its face might have been made by the Vikings, Phoenicians, even the Israelites. And it was the rock that drew students to Harvard Art Museums' "Members Day Trip to Dighton Rock" on Sept. 8 to see it for themselves.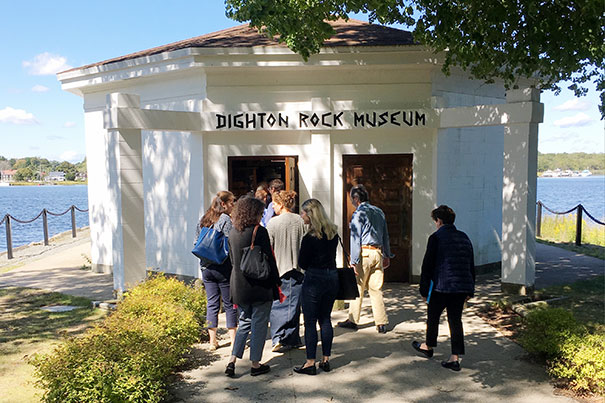 A tracing of the carving made by Harvard Professor Stephen Sewall in 1768 is currently featured in the museums' exhibition "The Philosophy Chamber: Art and Science in Harvard's Teaching Cabinet, 1766-1820." From the time of its original installation, scholars from around the globe traveled to Harvard to study the massive sheet of brown paper covered in thick black squiggles, joining in the debate over the origins of the rock's carvings.
The academics recognized the antiquity of the carvings, and used them to advance their own theories about the human settlement of the Americas. Rejected at the time was the theory most common today: The local native tribes made the 2,000-year-old carvings.
Anne Driesse, senior conservator of works of art on paper at the Harvard Art Museums' Straus Center for Conservation and Technical Studies, gave the day trippers the technical history behind Sewall's copy, including a discussion of paper production in 18th-century Massachusetts.
And in Berkley, archaeologist Ellen Berkland showed them Dighton Rock itself, now housed in its own museum, and described the 3-D imaging techniques that have confirmed Native American authorship of the carvings.
"We'll finally be able to put the story to rest," Berkland said.
This story was adapted from a first-person account by Harvard Art Museums student guide Samuel Shapiro '18, who is studying the history of art and architecture and social anthropology.