One will teach on the history of science and can't wait to take her students to see 15th- and 16th-century books in Houghton Library. Another, who will teach religion, is thrilled to call scholars whose work she admires her colleagues. A third, at the Business School, feels happily overwhelmed by teaching, advising students, and taking on administrative responsibilities.
Each year, Harvard welcomes a new class of ladder faculty. Theirs are the other new faces on campus, and their excitement is somewhat similar to that of freshmen. They start their academic careers with a mix of glee and wonder.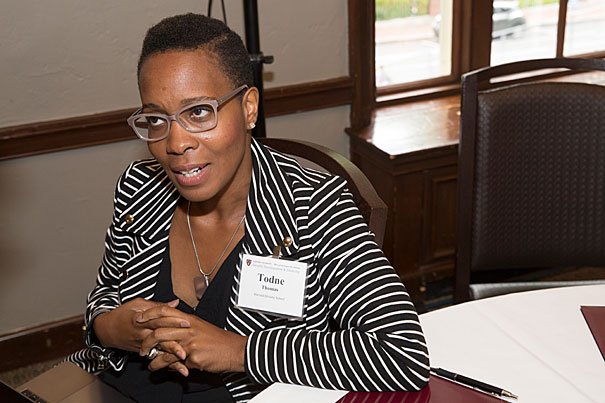 "It's almost surreal," said Todne Thomas, an assistant professor of African-American religions at Harvard Divinity School and the Suzanne Young Murray Assistant Professor at the Radcliffe Institute for Advanced Study. "Seeing faculty whose work I've been reading over the years and finding out that they're just down the hall, there is a kind of positive surreal quality to it, even as you're trying to find your way into the new culture."
Hannah Marcus, an assistant professor at the Department of the History of Science, said she felt the same way.
"I'm thrilled to be here," said Marcus, whose teaching interests include the early history of medicine and the body, art and technology in the Renaissance, and the relationship between faith and science in the early modern period. "Getting started at Harvard is very exciting. There are so many fascinating people to meet and infinite resources to support my teaching and research."
For Scott Kominers, M.B.A. Class of 1960 Associate Professor of Business Administration at Harvard Business School (HBS) and a faculty affiliate at the Department of Economics and the Center of Mathematical Sciences and Applications, teaching at Harvard is a wondrous opportunity.
"It's awesome," said Kominers. "I literally have my dream job."
The three newly appointed professors attended the New Ladder Faculty Institute last week at the Faculty Club, along with 50 other incoming faculty members from across the University. The event, hosted by the office of Faculty Development and Diversity, was a chance to meet new colleagues and learn about resources for teaching and research.
It was also a chance to take stock of the Harvard's efforts to develop a more diverse faculty. According to the Faculty Development and Diversity office, of Harvard ladder faculty, which includes tenured full professors and tenure-track faculty, 30 percent are female and 22 percent are minorities.
In the class of new tenure-track faculty, more than 40 percent are female and 37 percent are minorities, which is "very different from the Harvard of the past," said Judith Singer, senior vice provost for faculty development and diversity and the James Bryant Conant Professor of Education.
"The University is increasingly diverse," Singer said. "And it's part of a conscious decision. We think we can be a stronger faculty by being a more diverse faculty and by welcoming voices that previously may not have been part of Harvard, but those voices we really want to hear at the table."
Provost Alan Garber urged new professors to use the tools available to carry out research and enhance teaching, but mostly he exhorted them to find mentors, ask questions, and take advantage of libraries, museums, and other campus resources.
"For many people, it's so easy to become fully engaged in your School or your department that you may lose sight of what's going on across the University and how you might benefit from becoming involved in the University more broadly," said Garber. "If you don't take advantage of the fact that you have colleagues with expertise in virtually every academic endeavor who, if nothing else, will educate you in a very broad sense, you're missing out a lot of what makes Harvard such a special place."
Andy Wu, an assistant professor of business administration in his second year at the Business School, offered advice to newcomers. He found his first year "exciting and hectic" as he tried to navigate the School and adjust to a new life in a new city.
"The biggest challenge is managing your time," said Wu. "Harvard is like being in a candy shop. There are so many fun and exciting things to do, but you can't eat too much candy. You have to figure out which candy you want and enjoy the few pieces of candy you get."
Vilsa Curto '08, an assistant professor of health economics and policy at the Harvard T.H. Chan School of Public Health, said she was excited to be back at Harvard but also mindful of the hard work ahead.
"It's a wonderful and humbling experience," she said. "But the challenge is to stay focused, try to keep producing high-quality work, and take advantage of this community of people to help you develop your ideas, and keep the momentum going."