A midday run on a wicked hot day might not be everyone's idea of a day at the races. But the sweltering temperatures didn't stop people from coming to Allston on Sunday for the 14th annual Brian Honan 5K Run/Walk.
The largest number of participants and spectators ever — more than 1,500 — turned out for the neighborly event, which benefits area charities and education programs. And nearly 500 of them came from Harvard.
Gil Weintraub '10, who earned his M.D. in 2015 from UCLA, is now a resident tutor at Kirkland House and a member of the Harvard Crimson Men's Volleyball team. This was the second year he's run in the Honan 5K.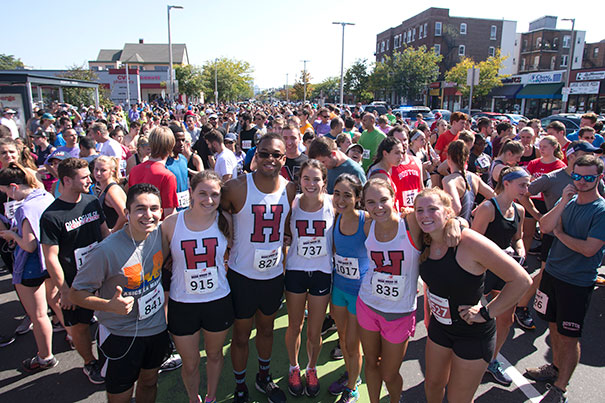 "I don't like running but I'll run this race," he said. "Harvard people and everyone you meet here is really enjoyable.
"Being with a lot of people who are moving in the same direction for the same reason is a very palpable, fun thing."
Weintraub's wife, Christine Baugh '10, a candidate to get her Ph.D. in 2018 and also a resident tutor at Kirkland House, said the race is a fun way to build and embrace the broader Harvard and Boston communities.
"The crowd is big, the weather is lovely, and I like being able to see everybody. The whole thing is inspiring," she said.
The 3.1 mile run/walk has turned into a playful competition that brings together local runners and families as well as universities — on Sunday, Harvard beat the other four participating colleges for the 14th straight year — to honor the memory of Brian Honan, a former Boston District city councilor representing Allston-Brighton who died in 2002.
Honan established national and local programs in education, recreation, housing, and health care. The programs, including the Honan Fellowship at the West End House Boys & Girls Club in Allston, are funded in part by the Brian J. Honan Charitable Fund.
"I'm seeing lots of Brian's friends and an extraordinary amount of Harvard participation, we are very grateful," said his brother, Rep. Kevin G. Honan. "Everyone is a volunteer, all the money is donated to charity. This supports lots of worthy causes."
In opening remarks, Boston Mayor Martin J. Walsh thanked everyone for coming, and took a moment to honor Brian Honan's mother.
"I want to give a special shout-out to Mrs. Honan, who is here with us today. Thank you, Mrs. Honan," said Walsh. "This is an incredible day and run. Brian was a wonderful human being, city councilor, and he was a great friend. He was somebody who cared deeply for our city, and it's great that so many people come out year after year to remember Brian Honan and the Honan family.
This was the third time Sen. William Brownsberger and his daughter Carly Brownsberger have run the race together.
"I like that this is a community event near my home and I do it with my dad," said Carly, of Allston. "But my dad runs faster. He says he will keep my pace, but once the race starts he gets inspired."
The charity and the tradition were the motivations for two Harvard Business School students.
"We supported this race last year, and are doing it again this year. It's a great event, well-organized, and for a good cause," said Stephen Roseman.
"It's a nice act of charity, and as a Swede it's good to take part in the American race tradition," said his friend Klas Lindstrom.
There was plenty of tradition to be had, including the singing of the national anthem by Boston Police Officer Kim Tavares, and the roaring of the "William Tell Overture" as the race began.
But just before the starting horn, Boston Police Commissioner Bill Evans reminded the runners of a couple of things.
"Make sure you drink plenty of water because it's hot," he said. "And you've got to run fast, because the Patriots kickoff is at 1 o'clock."