In a time of uncertainty, challenge, and change, Harvard's dedication to the pursuit of knowledge and truth and its unwavering devotion to inclusion can inspire a better, more tolerant world, Drew Faust told the Class of 2021 on Tuesday afternoon during her final freshman convocation ceremony as Harvard's president.
"We believe in facts and in the power of human minds to ascertain them," said Faust, speaking from the steps of Memorial Church while surrounded by students, staff, faculty, and alumni. "We are committed to education and learning as vehicles for human betterment and as essential foundations for democratic government."
Faust urged the incoming 1,702 undergraduates to engage with their classes and their professors, and not to shy from risk. She also encouraged them to connect with and celebrate the diversity of their classmates.
"We are excited to welcome you, Class of 2021, because you are in yourselves a great educational machine — destined to teach one another — and, of course, teach us as well — because of the variety of who you are and what you bring."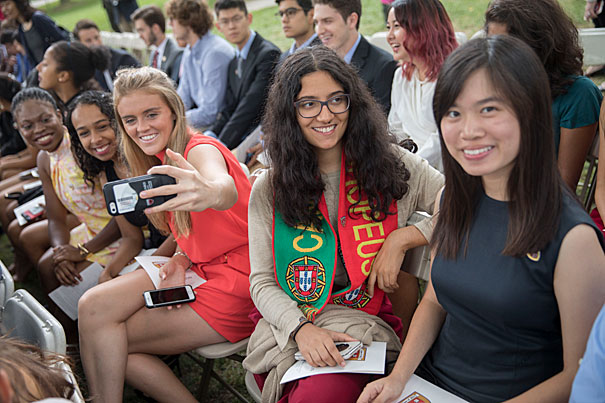 The Class of 2021 is made up of students representing all 50 states, as well as the District of Columbia, Puerto Rico, American Samoa, and the Northern Mariana Islands, and stands as the most diverse in the University's history.
Engage, debate, take chances, and "listen generously to others so that they may take risks too," Faust told the students. She also encouraged her listeners to do something they might not be accustomed to: "admit you are wrong."
"It is the best way to learn and grow," she said.
Faust noted that the University's longstanding commitment to diversity is being challenged by a lawsuit questioning Harvard's admissions processes. That same commitment is being reaffirmed, she said, by a policy implemented this year that seeks to limit the influence of exclusive and discriminatory single-gender social organizations on undergraduate student life.
Harvard's goal of creating a diverse campus is paramount, said Faust, who emphasized the University's commitment "to providing an educational experience that affirms the importance of every student at Harvard and urges students to learn from classmates unlike themselves."
Faust encouraged the new class to "[h]elp us to build at Harvard a model of how people can be enriched rather than divided by their differences."
"In face of proliferating incidents of hatred and violence across the country, we need to insist on a different way of being together," said Faust. "Let us strive to be a model of unity at a time of fracture and divisiveness. We have never needed the promise of this University more."
Rakesh Khurana, Danoff Dean of Harvard College, told the students, "We have never needed your talents, your energy and your commitment more than we do right now.
"We can create a community that measures itself not by trying to be the best in the world, but the best for our world," he said.
Michael D. Smith, the Edgerley Family Dean of the Faculty of Arts and Sciences, returned to the simple advice he has given to incoming classes in years past.
"You are surrounded by the powerful and beautiful things that happen when we connect ideas and when we connect people. So when you find that little voice inside your head comparing you to that fellow classmate across the room, I hope you remember these three words: don't compare, connect."
Faust's welcome to the Class of 2021 came a day after she sent a letter to President Trump supporting the aspirations of students nationwide. In urging the president to continue and defend Deferred Action for Childhood Arrivals (DACA), Faust praised the program as a path "for talented and motivated students to pursue their education and explore meaningful ways of contributing to our communities and economy."
As in years past, music played an important part in convocation. The ceremony opened with "Fanfare for the Class of 2021," composed and conducted by Nathan Wolfe '19 and performed by the Harvard University Band. The convocation also included performances by the Kuumba Singers, the Harvard Glee Club, the Radcliffe Choral Society, and the Harvard-Radcliffe Collegium Musicum.
The event also included an invocation from Jonathan L. Walton, Plummer Professor of Christian Morals and Pusey Minister in the Memorial Church, a welcome from Dean of Freshmen Thomas A. Dingman, and a student salutation from Marcus Granderson '18, president of the Kuumba Singers.
As the ceremony drew to a close, one of the newest residents of Straus Hall, Serena Shah '21, cheered when Dingman acknowledged her freshman dorm. Proudly wearing her new Harvard pin, Shah, from Barrington, Ill., said she welcomed Faust's message of inclusion and diversity.
"I am really glad that President Faust brought it up," said Shah. "Anything is a step forward in this arc toward inclusion, and I am really glad that she's talking about it so that it gets us thinking about it, because it is really important."