Each day when Jose Mendoza walks through the doors of the Harvard Ed Portal, he smiles. The Allston man knows he is living the dream his parents had for him when he was just a boy and the family was newly arrived from Honduras.
It was a dream of good education and economic opportunity, and Mendoza has made it his own, with the help of the Ed Portal programs that have been part of his life since he was 9 years old.
Now, a decade on, the Lesley University sophomore is an intern at Harvard, and he's giving back to the place that he says helped shape him and continues to shape and benefit his community.
"It's hard to believe that I'm here, not just expanding my knowledge like I did all the years in the Mentoring Program, but actually participating and helping," said Mendoza. "It's amazing, like a dream come true."
Mendoza was just 6 in 2005 when his family moved to Allston and he enrolled in Thomas Gardner Elementary School (now Gardner Pilot Academy). It was while he was a student there that Mendoza became familiar with the Ed Portal.
Mendoza signed up for the Mentoring Program, which pairs students from grades one through 12 with Harvard undergraduates who serve as role models. The mentors use visual art, music, and technology to bring creative learning to subjects such as math, science, and English.
"I started the summer of fourth grade and came twice a week. I loved it," said Mendoza. "It's not like going to school. I was learning about things at the Ed Portal that I didn't learn in school. And I had the opportunity to build a relationship with the mentor, like two friends working and learning together."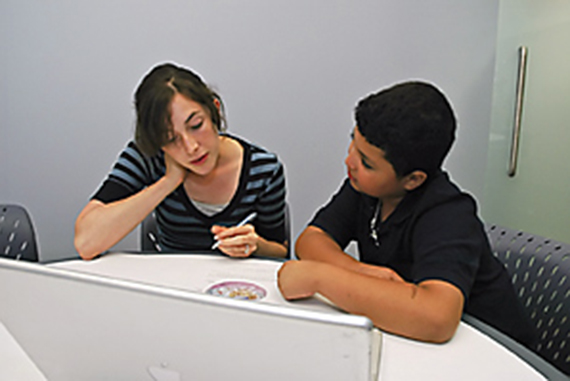 Education is important to Mendoza, whose drive earned him a reputation as an independent thinker and problem-solver early on, according to Ashley Jacobson, his high school math teacher and the dean of academics at Mary Lyon Pilot High School in Brighton.
"Jose was always a very positive student and active member of the community. He was very motivated, wanted to do well," said Jacobson. "He was one of the first students in my calculus class who took encouragement to do problem-solving outside the classroom. He utilized many resources and didn't get discouraged by struggle. He was a collaborator and was always excited to help his peers move forward."
Student body president his senior year, member of the National Honor Society, and salutatorian of his graduating class, Jacobson said Mendoza set himself apart by his intrinsic motivation, his ability to identify strengths in others, and his self-confidence — all skills she believes will serve him throughout his life.
But in addition his innate abilities, Mendoza stayed focused on the opportunities at the Ed Portal.
Joan Matsalia, associate director of Public School Partnerships at Harvard, got to know Mendoza when, in his junior year, he connected Mary Lyon Pilot to the Ed Portal with various outreach programs.
"Here's this bright young man from Honduras, who was so deeply involved in the community and many important community projects, and he connected his high school and students from his high school to the Ed Portal. It's incredible," said Matsalia.
He also connected his family to the Ed Portal. The oldest of three children, Mendoza was the first to attend the Mentoring Program; today, his younger sisters take part. "I used the Ed Portal throughout my life for academics and other resources, and now my little sisters are doing the same thing, it's unbelievable," Mendoza said.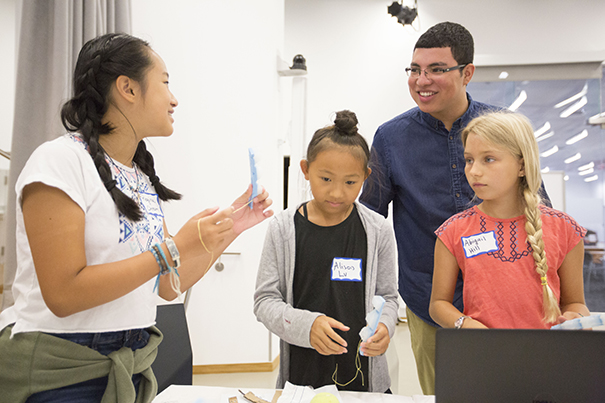 In fact, last June, his sister Libby Cartagena participated in the Harvard Ed Portal's "Magnificent Mosaics and Spectacular Self-Portraits: Works by GPA Third Graders." The exhibition was part of an educational initiative in which Gardner Pilot Academy, the Harvard Art Museums, and the Harvard Ed Portal united to create an art-inspired learning experience for third-graders.
Matsalia said when she saw Mendoza bring his sister to the Ed Portal for mentoring last spring, he joked with her about wanting to work there. That's when she knew he would be a good fit for a summer internship.
Mendoza's supervisor, Renelle Lawrence, program manager for Public School Partnerships, said she could tell Mendoza was a leader from the moment she met him. His ability to offer clear initiatives, speak his mind, and share his opinions was evident.
"Having Jose spend his summer with us has been a godsend, and he has really hit the ground running. He has been involved in all aspects of planning and implementation of our various programs, and has formed connections with many of the folks who utilize the Portal. In particular, he provided tremendous support to a resident in the workforce program, and has helped run many of our annual Summer Explorations program classes," said Lawrence. "We are thrilled that he has agreed to return this fall as both an intern, homework coach, and S.A.T. tutor."
Mendoza said he's fortunate his role at the Ed Portal is continuing, but he takes nothing for granted. As the first in his family to attend college, he said it was the Ed Portal's College Conversations workshop that helped him and his mother both realize it was an attainable goal.
"If I can say one word about the Ed Portal, it's a blessing," said Mendoza's mother, Yesenia Hernandez. "They contribute so much to the Allston-Brighton community and it just shows how much they care for the youth here."
"More than 10 years ago, when we first began envisioning the Harvard Ed Portal, we knew we wanted to offer residents a place where they could develop and nourish a passion for learning," said Robert A. Lue, faculty director of the Ed Portal, Richard L. Menschel Faculty Director of the Derek Bok Center for Teaching and Learning, faculty director of HarvardX, and professor of the practice of molecular and cellular biology.
"The Mentoring Program was our first offering, and it's special in that it allows Harvard undergraduates the opportunity to come together with students from Allston and explore new and exciting ways to learn. Year after year we continue to be impressed with how well the program is going, how much both the Allston and Harvard students are learning from each other, and the ways in which both continue to give back," Lue said. "Stories like Jose's are exactly what we had hoped would happen. We're thrilled he continues to be involved and we hope to see more and more outcomes like his going forward."
Although Mendoza is considering a career in health care administration after college, for the moment he is focused on helping the nonprofit learning center and the community it serves.
"It's neat to see all the behind-the-scenes of the Ed Portal, how much work and time and effort they put into all their events and programs. Not only that, they ask for my input and advice," Mendoza said.
"The opportunity to expand here is amazing."