Not long before Quentin Compson, Class of 1913, jumped to his death from the Great Bridge on June 2, 1910, the Harvard Corporation chose crimson over magenta as the University's official color. The trolleys were strictly local and the Red Sox were still playing at the Huntington Avenue Grounds. Had Quentin lived to graduate, he would have seen the Great Bridge become the Anderson Memorial Bridge, the Red Sox win the World Series in their inaugural season at Fenway Park, and the opening of the Red Line, named for the University's recently designated color.
Weighed down by Southern sin, the stress of saving his family's reputation, and two flatirons tied to his feet, Quentin sank to the bottom of the Charles River. Left with a suicide note was his grandfather's pocket watch, the glass shattered and bloody and the clock hands ripped out, an eerie expression of his resistance to the flow of time.
Many would say save your tears — Quentin was just a character imagined by William Faulkner, no more real than Holden Caulfield or Billy Pilgrim. Some readers and scholars, however, have taken a different view. Scholar Kevin Starr, M.A. '65, Ph.D. '69, Allston Burr Senior Tutor in Eliot House from 1970 to 1973, counted himself among them. In an interview shortly before his death, in January, he explained why.
"Quentin Compson was as real as Falkner made him in 'Absalom, Absalom!' and 'The Sound and the Fury,'" Starr said in an email, referencing the author's given surname. "Quentin Compson was made even more real in the imagination of generations of Harvard students thrilling to these novels in English 7, which became English 70, which became English 700, and is probably English 7,000 today. Quentin Compson was certainly real to Stanley Stefancic, his wife, Jean, and their friend Tom Sugimoto in the mid-1960s when they affixed the famous plaque to Anderson Memorial Bridge."
Starr's story is no fiction. Through word of mouth, the plaque became a sort of Easter egg for Harvard lit students. Rumored to be set at the exact spot where Quentin jumped, it read: "Quentin Compson III/ June 2, 1910/ Drowned in the fading of honeysuckle." This author remained anonymous, until one of Starr's former students turned sleuth.
Southerner Dale Russakoff '75 understood better than most the depth of Quentin's homesickness in the hurried, frigid North. A decade after graduating from Harvard, she embarked on a quest to find out more about the plaque, detailing her discoveries in a Washington Post article titled "Faulkner and the Bridge to the South."
The most rewarding — and astonishing — of Russakoff's encounters was with the Rev. Stanley Stefancic, B.D. '64, a good friend of her parents back home in Birmingham, Ala. As noted by Starr, it was Stefancic, with his wife, Jean, and their fellow Faulknerphile, Tom Sugimoto, S.M. '62, who decades before had engraved and epoxied the plaque to the bridge's eastward parapet in a little alcove, inconspicuously in line with a brick and behind some ivy. In Russakoff's account, Stefancic had a limited audience in mind — lit majors seeking insight on Quentin's despair and students who felt out of place, as the eldest Compson did, at the most prestigious of universities.
Almost immediately, the plaque made an impact on students. Joe Blatt '70, Ed.M. '77, a senior lecturer and faculty director of the Technology, Innovation, and Education Program at the Ed School, was a history and literature concentrator as an undergraduate. In his senior year, he stayed on campus during Christmas break to finish a seminar paper on imagery in Faulkner's novels.
"It was a rainy night and I was struggling with my paper," Blatt remembers. "I decided to get out to clear my head, and ended up taking a pretty long walk around Cambridge. When I crossed the Anderson Bridge it was very late, and I noticed something reflecting in the moonlight.
"Finding the plaque was like kismet or serendipity, coming upon a poetic inscription almost exactly like what I was writing about. I've never had an experience like that before or since; probably why it's stuck with me for so long."
Thirteen years later, construction crews knocked the plaque off during a renovation. Blatt, then a TV producer who walked the bridge every day on his way to work, immediately noticed the disappearance. On June 2, 1983 — the 73rd anniversary of Quentin's death — he persuaded colleagues to do a piece on the lost plaque. Before summer's end, a replacement appeared.
The new plaque, whose provenance is still a mystery, appeared with a small — and deeply contested — modification to the text. "Fading" had been replaced with "odour," a stark reinterpretation of Quentin's motives. Originalists saw Quentin as grasping at the memory of honeysuckle — symbolic of his idealized South — in a place far from home. But the new interpretation raised a different possibility, that the tormenting scent and its attached memories were inescapable even 1,200 miles from Mississippi.
"I was delighted to see it restored. The plaque gives real life to a fictional character — what better way to honor a great writer and validate the study of literature?" said Blatt. "And I did notice the change in the text, but I was mostly disappointed that the plaque was less elegant than the first one, which looked like it was made of gold or polished bronze. The new one looked cheap, like tin; it was too big for the brick where it was mounted; even the engraving was of poor quality and in an ugly font. Perhaps I'm romanticizing my recollection, but the original was a beautiful work of art. I can still see it vividly. I could even describe it to an identikit artist."
Competing interpretations aside, interest in the plaque was revived when Extension School lecturer Thomas A. Underwood, A.M. '85, Ph.D. '90, made it the centerpiece of a photography contest in his expository writing class "Southern Writers Reconsidered." (The winning student got cookies from the rest of the class.) The photos were tacked to a wall in Underwood's office until he left to teach at Boston University, where he remains today.
"I wanted them to think about Faulkner's Quentin, who was, after all, a Harvard student alienated by his surroundings," Underwood said. "It seems odd to care so much about a plaque honoring a man who never lived but who committed suicide; but the Quentin plaque, like the Smoot bridge at MIT, was part of the cultural landscape of Harvard University. Surrounded by shields that say 'Veritas,' the plaque spoke to the arts at Harvard and said 'Imagination.'"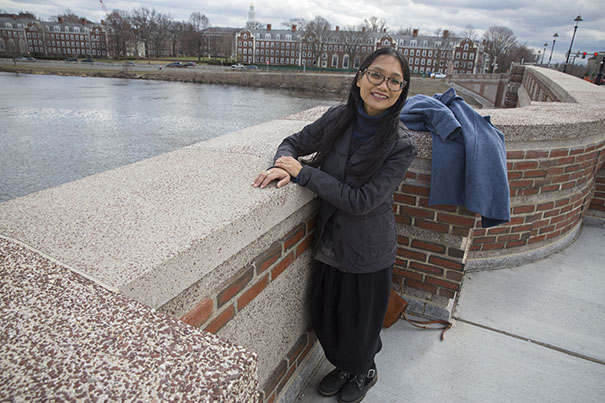 In 2012, as another Anderson Bridge renovation began, Maria Cecilia Holt, M.Div. '05, Th.D. '14, was nearing the end of her second degree at Harvard Divinity School. Holt's earlier enrollment at Harvard had been inspired by her initial encounter with Quentin, when she read "Absalom, Absalom!" as an undergraduate at Sarah Lawrence. The plaque was a big reason she came back.
"I said, 'I have to find this plaque, I've been looking for it for 14 years."
In the summer of 2014, the bridge's parapets were demolished. Soon after, Rod Connelly, an engineer on the project, noticed an object glinting in the dirt just off the bridge near the riverbank. He brought it back to his office, where it remained in a desk drawer for two years.
In 2016, Holt was invited to a conference in Brazil to present a thesis, which focused in part on Quentin's final exit and the plaque that commemorated it. When she returned to Cambridge in the summer, she found out the parapets had been demolished and replaced, and she called the Transportation Department to ask if any precautions had been taken to save the plaque. The answer came in the mail: a photograph of Connelly's find.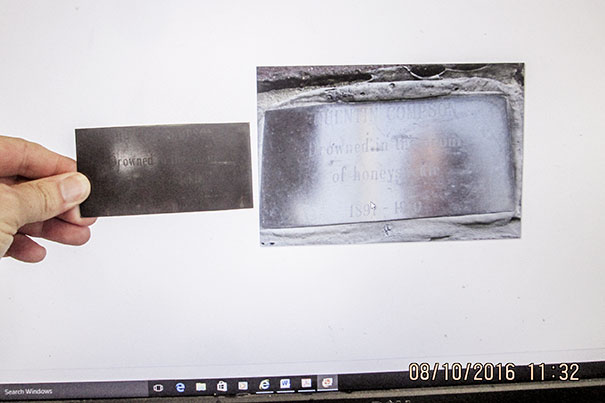 A year later, construction of the Anderson Bridge is winding down, with only the smallest details remaining. One such detail: What about the plaque? It will be reinstalled, said DOT spokesman Patrick Marvin, thanks in part to Holt's help identifying its rich history — a living history, as Starr noted, equal to the devotion of generations of students.
"As the late, great Walter Jackson Bate emphasized so many times in his luminous and engaging lectures," Starr said, "life and literature need each other, and the power that passes from literature to life and life to literature is necessary for each to achieve form, meaning, and a measure of transcendence."
John Michael Baglione is a writer and author residing in Boston. His work can be found at johnmichaeltxt.com.