Minnesota takes its history seriously. Its historical society was established in 1849, nine years before it became the 32nd U.S. state. But when Harvard President Drew Faust and faculty members visited St. Paul last month for the Your Harvard: Twin Cities event, the conversation focused on more recent times.
"If we consider the world over the past decade, we can see such sweeping and profound change in so many dimensions of our lives," Faust told more than 250 alumni and friends gathered at the Minnesota History Center. "I believe you would be hard-pressed to find a decade in which more change took place."
Your Harvard: Twin Cities, the latest in a series of global gatherings during The Harvard Campaign, was co-hosted by the Harvard Alumni Association and the Harvard Club of Minnesota.
As she reflected on her tenure, Faust — who has announced her plans to step down next June — recalled the significant technological achievements of 2007, the year she became Harvard's 28th president, as well as the year the iPhone, Twitter, Netflix, and IBM's Watson burst onto the scene. This technological revolution, Faust said, has transformed a generation of students and prompted Harvard to consider its own identity amid the changes.
Citing an expanded financial aid program bolstered by The Harvard Campaign, Faust applauded the University's growing diversity among students, who are more ethnically, racially, religiously, and economically varied than ever. She also celebrated the increasing numbers of both women and minorities among Harvard's faculty.
Change also has affected Harvard's teaching model, which has become more hands-on and practical. Faust emphasized the University's commitment to innovation and entrepreneurship as pillars upon which Harvard will continue to be built.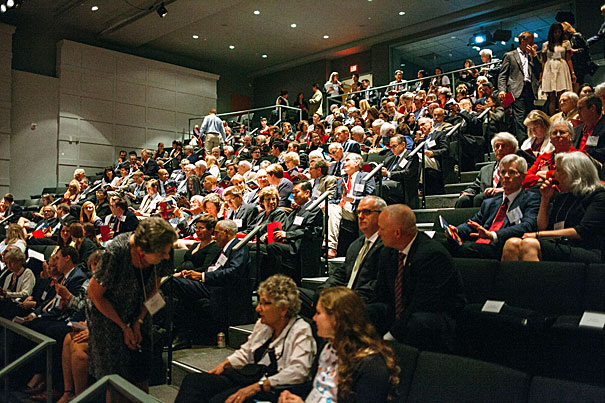 "Young people are used to being able to create across multiple forms, whether a spreadsheet or a sonnet, a line of music or a line of code, a virus-detecting diagnostic tool or a viral video," Faust said. "Creating opportunities for students who will list on their resumes what they will make is a central challenge for great research universities."
Echoing a theme that has developed during Faust's tenure, she lauded Harvard's evolving mission of inclusion and community. New and improved physical spaces — such as the expanded campus in Allston and the Richard A. and Susan F. Smith Campus Center — represent just one way that the notion of community can survive in an age where online learning is increasingly prominent.
"It is important that Harvard is a place where every member of the community can say, 'This is my Harvard, too,'" Faust said. "This is the most powerful purpose of a residential university, that we come together in a physical space to learn with and from each other."
Faust carried over the theme of change from the evening's earlier faculty conversation. Titled "The Art of Change," Archon Fung, academic dean and Ford Foundation Professor of Democracy and Citizenship at Harvard Kennedy School, and Sarah Lewis '01, assistant professor of history of art and architecture and African and African American studies in the Faculty of Arts and Sciences, along with facilitator Erik Takeshita, M.P.A. '06, discussed the powerful relationship between the arts and civic engagement. The topic was especially relevant in Minnesota, which has a rich arts tradition and received the third-highest dollar amount among the states in the most recent round of grants from the National Endowment for the Arts.
Fung and Lewis made note of the technological revolution and argued that the proliferation of images produced by personal devices such as smartphones has changed how people engage with the world.
"We are now so saturated with pictures — every two minutes we create as many images as the entire 19th century," Lewis said. "It puts the burden of discernment more on us, and visual literacy is a crucial aspect of global citizenship."
Fung made a case for a more deliberative democracy in which art is an important contributor to the public conversation by providing a platform for criticism, by generating awareness, as a voice for those who aren't able to speak up in the public sphere, and as a symbol of social solidarity.
"Art inspires, gives us joy, and gives us pause. It allows us to develop empathy and understanding of differences that determine whether our values align with our actions. Because at the end of the day, it's all about those actions that we take," said Takeshita, who asked Fung and Lewis to suggest personal actions the audience members could take to deepen their civic engagement through art.
"It's imperative to be open and listen to dissonant messages. We like to hear things that reinforce what we already feel and believe, but that is not very good for America right now," Fung said.
Added Lewis: "Find ways to learn what it is you don't know that you don't know. Be proximate to parts of the community you haven't gotten to know. Surprise yourself and enlarge yourself through that experience."
The Your Harvard series will continue in November, gathering alumni and friends in Washington, D.C.