Opening the University's seventh annual Harvard IT Summit at Sanders Theatre, Harvard's chief information officer, Anne Margulies, put forth the goals of the event: "We're here to build our IT community, to connect more closely to the University mission, and to learn from each other."
Thursday's gathering, sponsored by Harvard's CIO Council, brought together IT professionals, key partners, and faculty for a day of programming and concurrent sessions to explore technology innovations and best practices in higher education. This year, 1,400 attended.
Karim R. Lakhani, professor of business administration at Harvard Business School and the afternoon keynote speaker, said in his remarks that it's a brave new world for business, and IT professionals will be the ones to navigate to the increasingly broad horizon.
"The whole economy is becoming digital in many ways," said Lakhani, who, as the faculty co-founder of the Harvard Business School Digital Initiative, specializes in technology management and innovation. Lakhani opened by referencing the confusion and fear this sea change has wrought.
"The executives we see have a lot of anxiety. Is Amazon going to take over? Is Google going to become the next Telco?" he asked. "We're educating the executives at the Business School in how to cope with this change."
The change, he explained to the audience of Harvard's IT professionals, is scary because it is structural. Rather than focusing on products and services, he said, the current digital economy is based on platforms and ecosystems. In other words, business now depends much less on what you make than on how many people you can invite to join you.
Because this model is so different, Lakhani said, "most technological predictions are wrong." He went on to describe the inaccurate forecast of cellphone usage created for AT&T in 1982. A straight-line prediction estimated a mere 900,000 users by 2000. (In reality, there were half a billion global users by then.) "This curtailed significant investment," he noted.
The result has been "major missed opportunities," he said. For example, even an apparent market winner, Nokia, failed to see basic changes in the economy. Although Nokia's phones were first with many technological advances, Lakhani pointed out, the company missed the growing importance of the platform.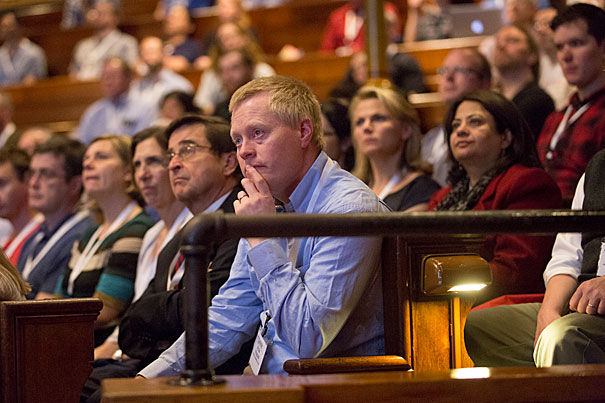 "The architecture of the industry shifted to a two-part system," he said. "What mattered was the core operating system and enabling lots of people to participate in your ecosystem, developing apps." Touch screens and web connectivity didn't help as developers flocked to more open platforms — and took consumers and market share with them.
Google's recent purchase of Nest home systems for a staggering $3 billion shows an increasing understanding of the importance of platforms. It is not that Google needs to be in the thermostat business, Lakhani explained, but that the interconnectivity of the Nest system offers the possibility of more horizontal business expansion. With customers who value connectivity and the data these systems provide, Google can expand. While the analog thermostat industry might be limited, the digital one is not. Perhaps, Lakhani noted, Nest will begin analyzing clients' maintenance needs and take charge of scheduling them, or it will advise energy companies.
"How are you creating value? How are you hatching value?" Lakhani asked. "Once we can aggregate data, we can rethink how to create value for our customers."
These lessons reach far beyond the business world. Lakhani recounted how, in his role as principal investigator at the Crowd Innovation Laboratory and NASA Tournament Laboratory, Harvard Institute for Quantitative Social Science, he helped utilize this horizontal thinking. The International Space Station, he explained, has an ongoing problem with part of its solar-energy system. The longerons — long, thin tubes that attach the solar panels to the station — are vulnerable to the extreme difference between sun and shade and so must be manipulated carefully to avoid damage. While NASA engineers had an imperfect solution, the NASA Tournament Laboratory created the ISS Longeron Challenge to help the ISS access more power. Offering a $30,000 prize — "decimal dust" in the NASA budget, as Lakhani put it — the contest garnered 2,000 code submissions from more than 450 entrants, including coders from Italy, China, and Belarus, who never would have been part of the original team.
More than half of the entries, said Lakhani, bettered the internal NASA solution. Many implemented completely different methods. Some, for example, would extend the lifespans of the joints that move the solar panels. With additional examples, from a study of MOOCs to a Dutch group that is analyzing — and potentially recreating — the works of Rembrandt, Lakhani made his point.
For Harvard and higher education more broadly, the digital transformation is "completely changing the skills we need in our faculty and our students, the tools we need, and the partnership with our IT organization — to even do humanities," he said. "Our mission as educators is up for us to reimagine."