Frank Kidner was a history scholar at San Francisco State University in 1993 when he took the first of what would be four trips to Syria over the course of a decade to study ruins dating to the Roman Empire.
Kidner documented his research in more than 9,000 photographs that detail architecture, topography, and the monuments themselves, focusing in particular on the Dead Cities region outside Aleppo.
"My interest in the built environment of the past had been there since childhood," said the 78-year-old, now-retired professor, who recently donated the images to the Dumbarton Oaks Research Library and Collection.
Kidner, who lives in El Cerrito, Calif., has long been interested in the emergence of Christianity in the physical Roman world. In his trips to the Dead Cities, some 700 former settlements along the hills of the Bélus Massif in northwest Syria, he cataloged ruins reflective of a wealthy rural life steeped in trade. His travels took him to churches, monasteries, farmsteads, and other sites.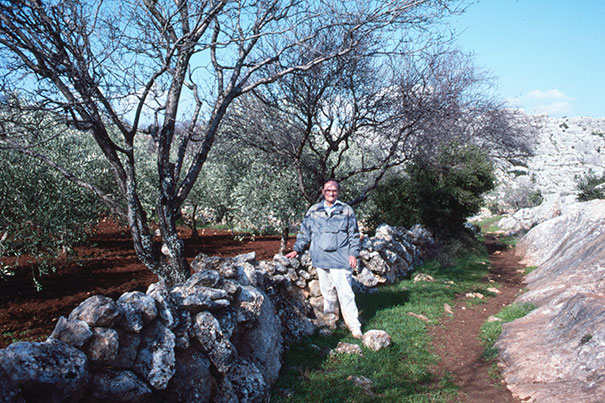 The collection includes more than 300 photos of St. Simeon's Monastery, a pilgrimage site named for a holy man who settled disputes from atop a pillar. Kidner shot monastery facades, interiors, apses, friezes, and vestibules at different angles and in multiple lights. Other pictures feature a tavern in Serjilla, a waterwheel near Hama along the Orontes River, and carved stonework from a church in Qirqbizeh, which inspired Kidner in his study of how foreign architectural elements were modified to fit with local building traditions.
Imaging Services at Harvard Library digitized the pictures, and Dumbarton Oaks will start cataloging them this summer. The photos hold value for scholars across disciplines, ranging from religion and archaeology to history, art, and architecture, noted Daniel Boomhower, director of the library at Dumbarton Oaks.
"These are not tourist photographs," he said. "Frank worked with high-quality film, and made adjustments with lighting and exposure to ensure he got the optimal exposure. It's called bracketing when you photograph the same image with slightly different settings. He looked at the architectural rubble with a trained eye. While an amateur might say it's old and interesting, Frank knew how these materials fit together originally, and there's a comprehensiveness in the collection, an appreciation of what to document."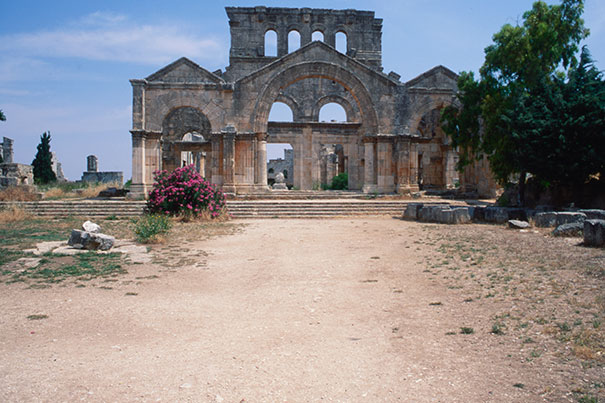 For Kidner, who retired from academic life in 2006, the gift marks the culmination of a lifelong love of old buildings. In a telephone interview, he recalled his passion for California Gold Rush history and a year exploring old architecture in the Netherlands when his father taught at Leiden University.
Traveling in Syria in the years before the devastation of war, Kidner often found himself on the receiving end of its citizens' hospitality.
"People were extraordinarily receptive and interested in what I was doing," he said. "I would have to be very careful about accepting invitations to come into their houses for tea. I had a schedule and the light was what it was, and turning down their offers at times made me feel badly."
Though landscape and architecture dominate the photographs, the most haunting images, in a country where war has claimed hundreds of thousands of lives, are of children.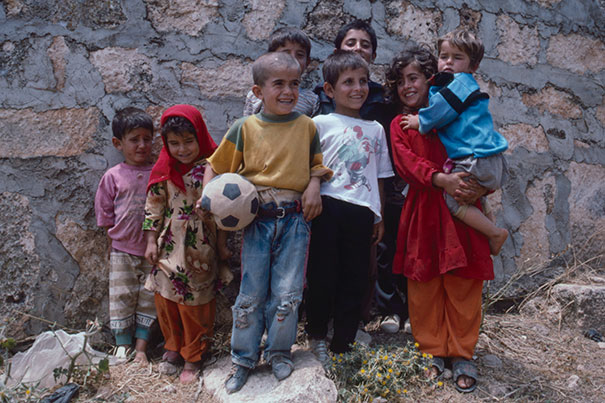 "Nobody really knows what remains of these ruins," he said. "I'm sure some of them have come through unscathed, but you don't know and it's on my mind a lot of time. And I wonder what is happening to those people. I fear nothing good at all."
Boomhower finds himself dwelling on the same fears.
"One of the conundrums in focusing on the recent destruction of ancient sites in Syria is that it is hard to compare [their destruction] to the humanitarian disaster it represents," he said. "The magnitude and severity of the war is well demonstrated by observing the destruction of these ancient monuments. It reminds us of how catastrophic the war has been for modern-day Syrians."