John F. Manning, the Bruce Bromley Professor of Law and deputy dean at Harvard Law School (HLS), an eminent public-law scholar with expertise in statutory interpretation and structural constitutional law, will become the School's next dean on July 1.
"John Manning is known among colleagues and students for his intellect and humility, his wisdom and integrity, his energy and openness," said Harvard President Drew Faust. "He has an unusual capacity for creating conversations and connections across lines of difference, and a deep appreciation for a wide range of perspectives and methods. Over and again during the search, I heard people remark on his magnetic enthusiasm for the law, his strong academic values, his collaborative instincts, and his extraordinary devotion not just to Harvard Law School as an institution but to the people — faculty, students, staff, and alumni — who are the lifeblood of its vital work. I'm delighted that he has agreed to guide Harvard Law School forward."
"I feel honored and grateful to President Faust for the opportunity to lead Harvard Law School as we enter our third century," said Manning. "And I feel privileged to work alongside our exceptional students, staff, faculty, and alumni, whose invaluable contributions to legal scholarship, education, and practice inspire me every day.
"Generation after generation, Harvard Law School prepares leaders who shape the law and institutions in the private bar, the public-interest community, government, business, academia, and beyond," he added. "Our unique strength comes from our large, excellent, and wonderfully diverse community — people whose many backgrounds, many lived experiences, many interests, and many perspectives energize all that we do. With them, I look forward to exploring how we can best nurture important scholarship on pressing issues, how we can embrace innovative teaching and learning, how we can further the best ideals of law and justice, and how we can together deepen an environment of belonging and mutual respect in which we discuss and debate the hard and crucial questions that belong at the heart of what we do."
A graduate of both Harvard College and Harvard Law School, Manning has been on the HLS faculty since 2004, following a decade at Columbia Law School. In her letter to the HLS community announcing his appointment, Faust called Manning "a greatly admired teacher and mentor," while noting his strong ties to public service and practice, including two stints in the U.S. Department of Justice as an attorney in the Office of Legal Counsel and the Office of the Solicitor General. Faust also noted Manning's service as a "University citizen," highlighting his role as a member of the University-wide Task Force on Inclusion and Belonging, and as a member of both the HarvardX faculty committee and the Vice Provost for Advances in Learning's faculty advisory committee.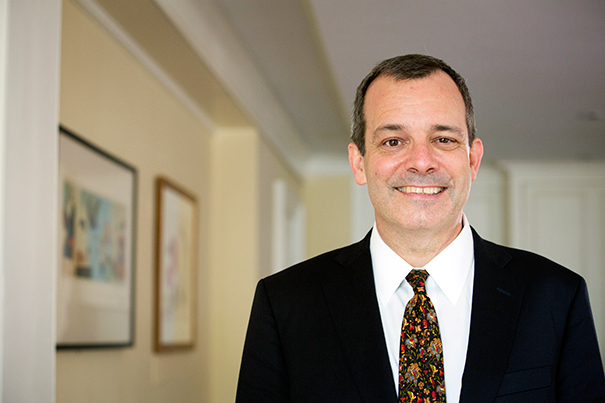 A prolific and influential scholar, Manning has published more than 40 articles in a range of leading law journals. He is co-editor of two leading casebooks, "Hart and Wechsler's Federal Courts and the Federal System" and "Legislation and Regulation." A past chair of the HLS committee on lateral faculty appointments, he teaches courses on administrative law, federal courts, legislation and regulation, separation of powers, and statutory interpretation. His honors include the ABA Section on Administrative and Regulatory Law's Award for Scholarship in Administrative Law and Columbia Law School's Willis Reese Prize for Excellence in Teaching, which he received two years in a row. He has argued nine cases before the U.S. Supreme Court.
Early in his career, in addition to his service in the Justice Department, Manning was an associate in the Washington office of the law firm Gibson, Dunn & Crutcher. He served as a law clerk to both Associate Justice Antonin Scalia of the U.S. Supreme Court and Judge Robert H. Bork of the U.S. Court of Appeals for the D.C. Circuit.
"Having admired John Manning since we were law students together more than 30 years ago, I know he will lead Harvard Law School with the energy, intelligence, collegiality, and good judgment that he brings to everything he does," said Supreme Court Associate Justice Elena Kagan, who was HLS dean from 2003 to 2009. "He embodies a blend of scholarly accomplishment, devotion to teaching, engagement with practice, and passion for the law that represents the best of our profession. And he's a terrific human being, always intent on what he can do to help others do their best work."
In her letter to the HLS community, Faust expressed gratitude to the 12-member faculty advisory committee that assisted her and Provost Alan Garber with the search, as well as people across the HLS community who offered advice. She also praised Martha Minow, who will conclude her deanship on June 30, "for her eight years of outstanding service as dean," and wished Minow "all the best as she embarks on the next phase of her brilliant HLS career."
"Harvard Law School will be fortunate to have at the helm such an outstanding person whose scholarship, teaching, public service, and devotion to justice and the rule of law exemplify the School's highest aspirations," Minow said. "John Manning's generosity of spirit, his superb judgment and integrity, his commitment to respectful and vigorous consideration of all points of view, and his longstanding contributions to strengthening community illuminate our crucial values, and I look forward to the splendid next chapter for this exceptional School."
Responding to Manning's appointment, Danielle Allen, director of the Edmond J. Safra Center for Ethics and the James Bryant Conant University Professor, called it was a "brilliant" choice. "John Manning is a thoughtful person and good listener who is devoted to the University," she said. "He has been a superb contributor to the work of the Task Force on Inclusion and Belonging."
David Barron, '89, J.D. '94, a federal judge on the U. S. Courts of Appeals for the First Circuit, said he believed that Manning "will give every ounce of his energy to the School." Barron, who has been a professor at HLS, added, "He loves everything about the School: the students, the faculty, the institution. He likes and respects people for who they are, and that is a great quality in a dean."
Susan M. Davies, former deputy counsel to the U.S. president and Story Senior Lecturer on Law at the School, cited Manning's "tremendous intellect," his scholarship that "has shaped the way we think about statutory and administrative law," and his dedication to learning. "His agile mind and generous soul, combined with a puckish sense of humor and a genuine compassion for others, make him ideally suited to help guide the Law School as it begins its third century," she wrote in an email.
Andrew Ho, education professor at Harvard's Graduate School of Education, served with Manning on the Vice Provost for Advances in Learning committee and as subcommittee chairs on the inclusion task force. "I am delighted by his appointment as dean," Ho said in an email. "I'm especially pleased that he'll continue in Martha Minow's tradition of seeing important connections between education and the law."