In what's become a rite of spring at Harvard, nearly 400 eighth-graders from upper schools across Cambridge visited campus recently for the seventh annual Science and Engineering Showcase.
The event highlights Cambridge students' year-end science projects, and allows them to present their findings to classmates, teachers, parents, and even Harvard students and professors. One goal is to build interest in STEM (science, technology, engineering, and mathematics) education at an early age, with an emphasis on fun.
"This showcase is an opportunity to think about how science can impact your life and give you opportunities you may not have thought about before," said Kathryn Hollar, director of educational programs at the Harvard John A. Paulson School of Engineering and Applied Sciences.
"I want to say to all of you — no matter your color, gender, background — science has a place for you," said Cambridge Mayor Denise Simmons. "The fact that you're here today, and engaged and participating in this program, means that you are already on your way."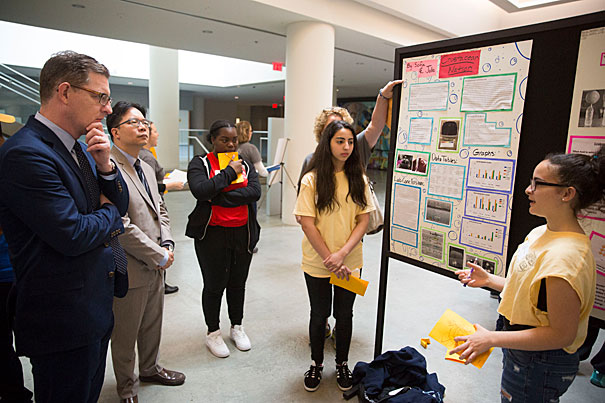 Student experiments ran the gamut of topics and ideas, with projects ranging from study of water quality in the Charles River to contact lens enhancement. One group even built a solar-powered model car.
"We got to thinking about how cars in the future could be using [solar power] instead of fossil fuels. Who knows, maybe this could help slow down global warming," said 14-year-old Ibta Chowdhury, a student at the Putnam Valley Upper School. The model car that Chowdhury built with classmate Greggy Bazile traveled 10 meters in seven seconds, exceeding their expectations.
Adelaide Kelsey, 13, and Sasha Bulyko, 14, both from the Vassal Lane Upper School, worked on a water filtration system.
Kelsey's mother, Sara St. Antoine, said partnerships such as the one between Harvard and Cambridge Public Schools are essential for building kids' interest in learning. "I love the permeability, and that all kids in Cambridge feel like they can be part of the Harvard world," she said.
Other parents agreed. "I think it's aspirational for [the students] to come here," said Nina Schwarzschild, whose son, Peter Leiker, a student at Vassal Lane, worked on plans for a hovercraft. "In a way it normalizes access to opportunity and high-quality education."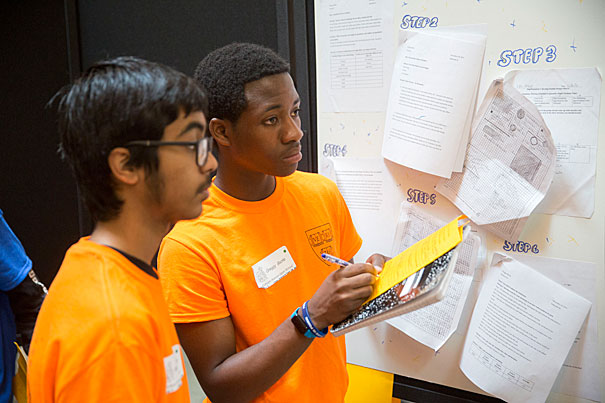 Superintendent of Schools Kenneth Salim, a 2011 alumnus of the Harvard Graduate School of Education, said he was impressed with the depth of knowledge on display. He encouraged students to keep thinking and keep asking questions, as they did when working on the projects. "I challenge you to continue to pursue things that are interesting to you, to think about problems that you can solve, or ones that affect you, your family, or the larger world."
"I never cease to be amazed at the quality of work from these talented young students," said Paul Andrew, vice president of public affairs and communications at Harvard. "The diversity of projects and the scale of their curiosity is testament to their passion for science, and of course to the dedication of their teachers."
He also said that Cambridge schools have historically been a pipeline to Harvard, noting that in the past five years, 60 Cambridge Rindge and Latin graduates have been admitted to the College, including 17 this past year alone.
"We hope this showcase and their visit to Harvard inspires these students to see themselves here again someday — maybe this time as college students."