In the age of social media and selfies, Harvard President Drew Faust urged graduating seniors gathered in Memorial Church on Tuesday to embrace the value of noticing rather than being noticed, of seeing rather than being seen.
"Remember, the art of noticing is not a job," Faust told Harvard College's Class of 2017 during the Baccalaureate Service, an annual tradition leading to Thursday's Commencement ceremonies. "It is a way of being, a habit of moving through the world, alert and unbounded and open to others, and to discoveries that impel you to learn and to change. This is what I most hope Harvard has instilled in you."
Noticing is at the heart of a liberal arts education, said Faust.
"Noticing — not just passively seeing but actively looking — is connecting your mind and awareness to something beyond yourself and often beyond your existing knowledge and assumptions," Faust said. "Noticing is the pathway out of the echo chamber of your own mind."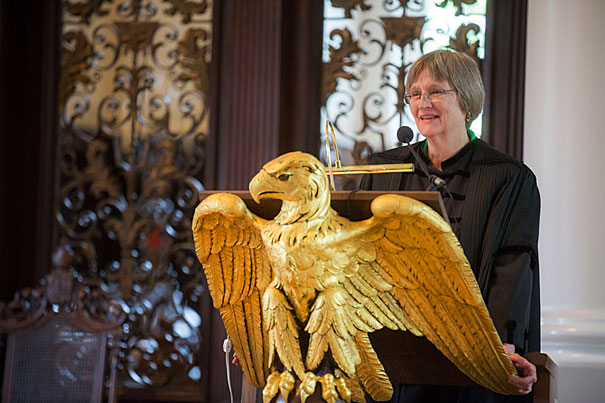 In her address, Faust also spoke of the importance of noticing even what "we fail to notice," such as our own prejudices, to build a more tolerant world.
"My graduation wish for you is that we will have succeeded in making you noticers," Faust said. "One of the dictionary definitions of notice is 'to treat someone with some degree of attention or recognition.' To notice is to affirm to another, 'I see you, you are not invisible.' It opens the possibility for connection and understanding. Noticing is the condition for empathy."
Baccalaureate Service | Harvard Commencement 2017
The Baccalaureate Service for the Class of 2017 inside Memorial Church.
The Baccalaureate Service is a ritual as old as Commencement. Donning caps and gowns, seniors at Harvard's first Commencement in 1642 attended the service to hear a sermon from the president and the clergy. Nowadays, the service still features an address by the president, but also readings from scriptures sacred to the many religious traditions in their original languages. The Class of 2017 includes 1,541 students from 60 countries and 49 states.
This service included readings from the Bhagavad Gita in Sanskrit, the Dasam Granth (Sikhi) in Gurmukhi, the Bible in Hebrew, the Quran in Arabic, the Ofudesaki (Tenrikyo) in Japanese, the New Testament in Greek, a Diné Beauty Way prayer in Diné Bizaad (the Navajo language), and writings from Seamus Heaney in English (representing humanism).
Jonathan Walton, Plummer Professor of Christian Morals and Pusey Minister in the Memorial Church, presided over the service and asked the students to reflect on the challenges and accomplishments of the past four years, and to see the day's ritual as "a moral capstone."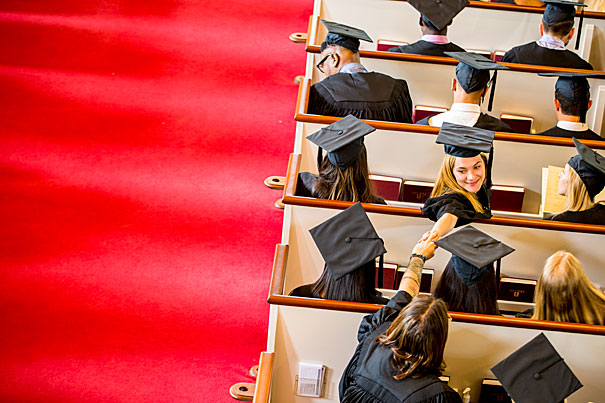 "This week is not one of culmination and conclusion concerning your education," said Walton in his salutation. "It is the Commencement — just the beginning. It is my sincere prayer that each of you will embrace the world with an open mind, a humble spirit, and a curious, courageous, and compassionate demeanor."
In her address, Faust also asked the seniors to notice an offbeat historical moment taking place in the Memorial Church, which recently underwent an eight-month renovation that included a new air-conditioning system. "We're making history right now: Harvard's first air-conditioned Baccalaureate in its 381 years," said Faust, prompting laughter from the audience.
As she often does in Baccalaureate speeches, Faust recounted key events that marked students' lives over the past four years. In their freshman year, she recalled, the Boston Marathon bombing prompted the cancellation of Visitas weekend, and in December a bomb threat postponed some exams.
As sophomores, students endured record snowfalls and frigid temperatures, while as juniors they experienced a mumps outbreak and finally got to enjoy the renovated Dunster House. As seniors, Faust said, they witnessed the first strike in 30 years by Harvard workers, walked out of classes to support Black Lives Matter movement, and rallied against sexual assault. But they also rejoiced, as when Harvard's men's hockey team won its first Beanpot in 34 years.
In closing her speech, Faust asked the students to notice how lucky they are, and reminded them that with luck comes responsibility to be grateful, and even humble. "By noticing our own luck," she said, "we can more easily notice when others don't have it. And we can nurture the humility essential for learning and growth."
Faust said she believes that the seniors have learned a lesson for lifetime. "Your degree may or may not get you noticed," she said, "but what I hope your education does guarantee is a lifetime of noticing."
Sarani Jayawardena '17, a government concentrator and Mather House resident, said she appreciated the theme. "It was a very poignant speech," she said as she headed to Widener Library for class pictures. "Her advice is something we need to follow."
As for the Baccalaureate Service itself, Jayawardena found it redolent of tradition and beauty. "I especially liked that students read scriptures from different religions in many different languages," she said. "It reminded me how impressed I am by my classmates."