Continuing a cherished tradition that dates back more than 360 years, three students will deliver orations to the Class of 2017 during Morning Exercises at Commencement.
The students, who were chosen by a panel of judges during a speech-writing competition, are two Harvard College seniors and a graduate student from Harvard Divinity School. They will deliver their orations, one in Latin and two in English, before graduates, family, friends, and members of the Harvard community in Tercentenary Theatre.
Once, students delivered orations to defend their theses. But now they seek to inspire their peers with messages of encouragement. This year's topics address how to overcome fear, how to remain hopeful, and how to be properly bewildered.
Here are this year's orators: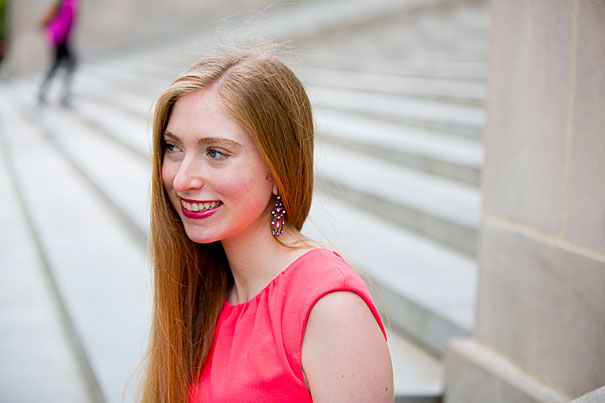 Jessica Rachael Glueck, Latin speaker
Jessica Glueck '17 traces her love for Latin back to high school. Sitting around the dinner table in her hometown of Leawood, a Kansas City suburb, Glueck's father would preach the benefits of learning Latin as a way to understand English better. Glueck obliged and signed up for a class in the language, which she grew to love.
Fast forward to today.
An English concentrator with a secondary in classics, Glueck will give the Latin oration. She still can't believe it. Neither can her father.
"I was talking to my dad the other day," said Glueck during an interview at the coffee shop at the Harvard Art Museums, one of her favorite campus hangouts. "If someone would have told us when I was in high school that I'd be at Harvard, and I'd be giving the Latin oration, neither of us would have believed it. It went further than either of us ever expected."
Like a modern Latin poet, Glueck will address her class outdoors, in Tercentenary Theatre, to sing the praises of her Harvard years as they come to an end. In her speech, "Epos Imperfectus," "The Unfinished Epic," she plans to eulogize the quest for learning, the callings found, and the friendships she and her classmates formed over four years.
But unlike Ovid and other ancient Roman poets whom she learned to admire, Glueck plans to include an admonition that she hopes will help her fellow graduating seniors. It is a message inspired by Virgil, who on his deathbed ordered his masterpiece "The Aeneid" to be burned because, in his view, it was unfinished.
"Even if we stand at the end of our Harvard years, some of us may be thinking of things we would have done differently, of things we'd like to go back and change," she said. "But it's good to remember that this is actually the first book of our epic, and that we could do better in the next book."
Glueck's next book, for instance, will start in September, when she will begin classics studies at the University of Oxford. She hopes eventually to teach Latin and English to inspire others to study the classics, which, she said, can enrich people's understanding of today's world. "Classic antiquity is an intellectual touchstone for so many different cultures," she said.
Learning Latin helped Glueck become a better writer, she said, by familiarizing her with the roots of words, syntax, and clauses. In the process, she also read books that delved into a broad range of human emotions and desires that still resonate today, and was delighted by the authors' wit.
"People forget the ancients have a great sense of humor," she said.
Echoing that trait, Glueck will inject humor into her speech, which the audience will be able to follow because the Latin text will be accompanied by an English translation in the Commencement program. "Some people may think Latin is a language of somber philosophy, but it's not," said Glueck. "It's such a triumph to be able to communicate in a language that we no longer speak."
The Mather House resident said her message will be that the best is yet to come, or as she says in Latin, "Opus nostrum solum hodie incipit" — "Our masterpiece only begins today."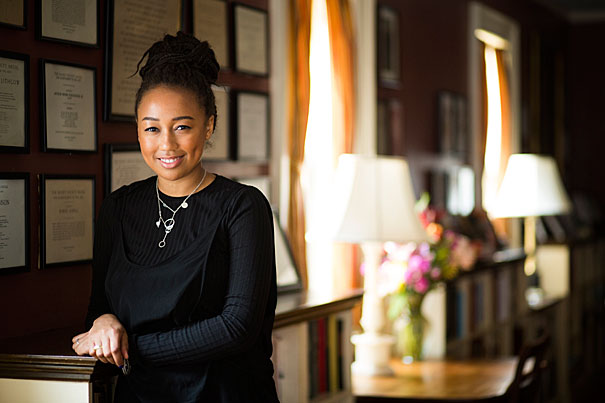 Auguste "Gussie" Roc, undergraduate speaker
Gussie Roc '17 drew inspiration for her Commencement speech from two startling events that left a mark on her life and the lives of her graduating classmates.
Like most of her peers, Roc was in first grade when the Sept. 11 terror attacks took place. And like most of them, she was a high school senior when the Boston Marathon bombings happened. The attacks marked the beginning and the end of the Class of 2017's elementary and secondary school years, and brought uncertainty and fear into their lives.
In her speech, "When We Fall in One Piece," Roc will talk about the ways fear can be overcome.
"Having gone through these difficult moments or scary times," said Roc, a Pforzheimer resident, "I realized that what's important is to recognize each other's humanity and understand that whether or not we have commonalities, we're one people."
A Brooklyn native, Roc said that seeing acts of compassion and bravery in the midst of those two attacks helped her to "take every day as a blessing" and "try to be somebody who does active good in the world."
An American history and literature concentrator, Roc plans to pursue a career in filmmaking or screenwriting. At Harvard, she rediscovered a love for films and writing after trying classes in government, economics, and statistics, and finding out they were not for her. In her sophomore year, she co-directed the Harvard College Film Festival, and in the summer of 2014 she traveled to Berlin as a film studies and production student. She also worked as a producer at the Harvard Radcliffe Dramatic Club, served as a leader at the Freshman Arts Program, and as a president of the Signet Society, a social club where students and faculty celebrate the arts and humanities.
Fanning her passions, she took courses on playwriting, screenwriting, and autobiography and memoir, and she wrote a play she performed in class, one of the highlights of her College years. "I came full circle," she said. "I went back to the things I wanted to pursue from the beginning."
She hopes to write screenplays about stories and people overlooked by mainstream culture and off the beaten path. Two films that she finds inspiring are "Beasts of the Southern Wild" and "Little Miss Sunshine," small independent movies that were highly acclaimed by critics and had success in the box office.
"For everyone who feels their story doesn't matter," she said, "there are examples out there of stories that might have not been told. Not only can those stories be told, but also they can be successful at the box office and show the diversity of life."
After graduation, Roc plans to move to New York or Los Angeles and write a screenplay that tells an important story about an unnoticed topic or marginalized people. She will depart with her best memories of Harvard, including the friendships she made and the courses that reignited her vocation in the arts. She will remember seeing towering figures such as Civil Rights leader and U.S. Rep. John Lewis and Pakistani education activist Malala Yousafzai, both of whom stood "in the face of fear." She'll also remember having given a speech to her departing classmates.
"It's an honor," she said. "But what's really important for me is that my speech talks about how our basic humanity is being threatened, and what we, as world leaders and world changers, can do to preserve it."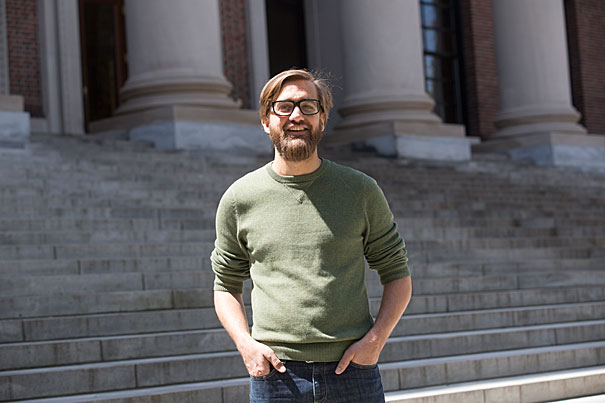 Walter Smelt III, graduate speaker
As a poet working on his first manuscript, Walter Smelt III said jokingly that he often feels like he's talking into empty air. But Smelt, who will speak on behalf of the graduate students, will have a massive audience at Commencement.
It will be the second time Smelt addresses a university audience. In 2007, Smelt was the undergraduate speaker at Boston University's commencement. He spoke then about the need to "inhabit the earth." This year, as a graduate of the Harvard Divinity School with a master's of theological studies in religion, literature, and culture, his planned message will be for graduates to stop being clever and instead let themselves "be bewildered."
"Harvard has a tradition of excellence firmly established," said Smelt. "But that's all the more reason to have humility, admit the limitations of our knowledge, and the need to become bewildered. It's important to question, and not always get the answer."
It is a lesson that Smelt said he learned at the Divinity School, where there is a tradition of deep analysis alongside the accumulation of knowledge. Ethics, or knowing what's right and what's wrong, is equally important.
"At the Divinity School, I learned that there are things beyond knowledge; there is wisdom," he said. "Science is really important, but it's also important to remember that you can know everything in the world and not know what you shouldn't do. There are still ethical considerations to be made."
Smelt, who earned a master's in creative writing from the University of Florida in Gainesville, came to the Divinity School to look at literature from the perspective of faith and to explore the intersection of religion and literature, both of which have long been part of his life.
Growing up in a religious family in West Palm Beach, Fla., Smelt became fascinated by books, including the Bible, which he saw both as a sacred document and as a wondrous piece of literature with "tremendous power to shape people's lives."
A high school teacher introduced him to poetry, and Smelt found a passion. He is working on a book of poems, many of which deal with religious subjects such as the exploration of faith and doubt, and which exhibit religious imagery. "Religion keeps finding its way in my poems," he said.
Smelt hopes to teach creative writing in the future. Meantime, he tries to practice what he preaches and let himself be bewildered. He keeps himself connected to the real world, outside the ivory tower, by dog sitting, working at an after-school program, and freelancing as a writer.
"It's important to me to recognize the limits of my knowledge," he said, "and go out, do some good, and engage with the world."