He dropped out of College to chase a dream and returned 12 years later as leader of a company that has changed the world. His goal now, he says, is to make that world become a better place in which to live, work, laugh, love, and connect, and to encourage others to do the same.
After receiving an honorary degree Thursday morning, Facebook co-founder and CEO Mark Zuckerberg stood again in front of Memorial Church in Tercentenary Theatre during the afternoon and urged newly minted Harvard graduates to go out into life and make a difference, with purpose.
"Today I want to talk about purpose," he said. "But I'm not here to give you the standard Commencement about finding your purpose. We're millennials. We try to do that instinctively. Instead, I'm here to tell you that finding your purpose isn't enough. The challenge for our generation is to create a world where everyone has a sense of purpose.
"Purpose is that feeling that you are part of something bigger than yourself, that you are needed, and that you have something better ahead. Purpose is what creates true happiness."
That's a critical goal in a time of everyday change, said Zuckerberg. Increasing automation means the loss of jobs that had helped a generation find its voice and frame its values. Similarly, community connections, which also helped connect and define prior generations of Americans, are slowly slipping away, often leaving people bereft of meaning and paths forward.
"A lot of people are feeling disconnected and depressed, and are trying to fill a void in their lives," he said.
Zuckerberg outlined three ways that Harvard graduates and others can help foster a world where everyone has a sense of purpose. First, he suggested big projects that get lots of people involved.
In past generations, hundreds of thousands of people worked to put a man on the moon, and millions volunteered to help immunize children against polio. The world needs more thinkers and doers who can tackle similar, present-day challenges, said Zuckerberg.
"It is time for our generation-defining great works. How about stopping climate change before we destroy the planet, and getting millions of people involved in manufacturing and installing solar panels? How about curing all diseases and getting people involved by asking volunteers to track their health data and share their genomes? … How about modernizing democracy so everyone can vote online, and how about personalizing education so everyone can learn?"
The second pillar of his plan involves helping people gain equal opportunities to succeed and find their purpose, through donations of money and time, because "when more people can turn their dreams into something great, we're all better for it."
His third path to purpose, unsurprisingly, involves a concept he knows something about: building community.
"We get that our greatest opportunities are now global. We can be the generation that ends poverty, that ends disease. We get that our greatest challenges need global responses too. No country can fight climate change alone or prevent pandemics. Progress now requires coming together not just as cities or nations, but also as a global community."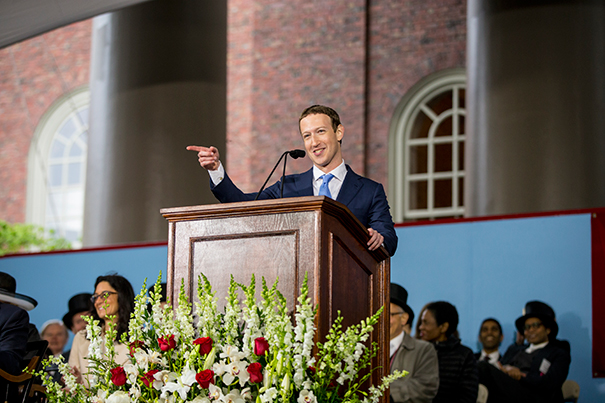 From Kirkland House to Palo Alto
Similar to Bill Gates, another Harvard dropout turned tech billionaire, Zuckerberg, an entering member of the Class of 2006, left Cambridge in the fall of 2005 for Silicon Valley and never looked back. In Palo Alto, Calif., the young computer whiz transformed the company he had created with his roommates in his Kirkland House dorm room less than a year earlier into a revolutionary social media platform that has fundamentally reshaped how people connect with each other globally. Early in his talk, Zuckerberg poked fun at his Harvard track record.
"I'm honored to be with here you today because, let's face it, you accomplished something I never could. If I get through this speech today, it'll be the first time I actually finish something here at Harvard."
Zuckerberg also reminisced about his time at Harvard and his best memory, meeting another undergraduate at a going-away party in his honor. He said his College friends (and his parents) were certain he was about to be thrown out of Harvard for his actions in founding the precursor to Facebook, facemash.com, a controversial website that let people rate the attractiveness of fellow undergrads.
The situation drew the ire of administrators and classmates, but also brought him to that party to meet his future wife, Priscilla Chan '07, "the most important person in my life."
"We have all started lifelong friendships here, and some of us even families. That's why I'm so grateful to this place. Thanks, Harvard."
At Facebook, Zuckerberg became the youngest self-made billionaire in history at age 23, overseeing a company that today lets close to 2 billion users share everything from baby pictures and birthday wishes to favorite recipes and political views.
In recent years, he has dedicated more attention, and his fortune, to philanthropy. With Chan, he created the Chan Zuckerberg Initiative in 2015, backed by a promise to devote 99 percent of their earnings from Facebook stock shares to fund the organization's mission of curing disease and promoting education.
Zuckerberg's address brought to a close Harvard's 366th Commencement, culminating almost a week of festivities and celebrations to honor Class of 2017, as well as returning alumni celebrating milestone reunions.
Among those returning for celebrations as part of the Harvard Alumni Association were members of the Class of 1947, who had been in the audience on the same spot when Secretary of State George C. Marshall gave the speech that laid the foundation for the Marshall Plan to help Europe following World War II.
Poet T.S. Eliot and physicist J. Robert Oppenheimer, a creator of the atom bomb, shared the stage with Marshall for their honorary degrees on that sunny June day 70 years ago. On Thursday, under a steady rain, actors Judi Dench and James Earl Jones, composer John Williams, physicist Walter E. Massey, and human rights activist and physician Hawa Abdi Dhiblawe were among the honorands seated near Zuckerberg during the Morning Exercises.
"From a whiteboard in Kirkland House to One Hacker Way," Harvard President Drew Faust said in reading Zuckerberg's honorary degree citation, "he has forged a transformation through the power of connection and set his sights on how bold new ideas can serve the world."
"Actively and affirmatively" back free speech, Faust urges
During the Afternoon Program, officially the annual meeting of the Alumni Association, Faust also addressed the crowd. She urged her listeners to consider how to help "actively and affirmatively" enable and nurture free speech on college campuses nationally.
Universities are special places where intellectual debate and discussion, evaluation of ideas based on facts and evidence, and rigorous questioning of and pushback against those ideas are essential to advancing knowledge, she said. Free speech enables universities to push for understanding and to uncover truths, something they must constantly strive to do, she added.
"Universities must model a commitment to the notion that truth cannot simply be claimed, but must be established — established through reasoned argument, assessment, and even sometimes uncomfortable challenges that provide the foundation for truth. The legitimacy of universities' claim to be sources and validators of fact depends on our willingness to actively and vigorously defend those facts."
Faust also touched on the issues of diversity and inclusion in her remarks. During her decade as Harvard's 28th president, she has helped spearhead University efforts to promote inclusion and belonging. Still, she said, more needs to be done. Faust noted that while Harvard College is more diverse than ever, many students still struggle to feel like they are full members of the community.
"We must support and empower the voices of all the members of our community and nurture the courage and humility that our commitment to unfettered debate demands from all of us. And that courage means not only resilience in the face of challenge or attack, but strength to speak out against injustices directed at others as well.
"Ensuring freedom of speech is not just about allowing speech," said Faust. "It is about actively creating a community where everyone can contribute and flourish, a community where argument is relished, not feared. Freedom of speech is not just freedom from censorship; it is freedom to actively join the debate as a full participant. It is about creating a context in which genuine debate can happen."