Those who enjoy the vagaries of New England weather say that it builds character. At Harvard's annual Commencement in Tercentenary Theatre on Thursday, which was held amid gloom, drizzle, rain, and winds — depending on the moment — character was bolstered once more. And yet the speakers' rhetoric soared, the students rejoiced, their parents cheered, and the alumni bonded and laughed as always. In the end, a wet and chilly day couldn't quite dampen the spirits of the annual gathering of the Crimson, outside again, as every May, together.
Here are some of the soggy day's moments that mattered:
At Memorial Church, a reminder of what's been and what can be
As is tradition, Commencement morning began with a service in Memorial Church and remarks by Jonathan L. Walton, Plummer Professor of Christian Morals and the church's Pusey Minister. Umbrellas and plastic ponchos were as ubiquitous among the graduating seniors in the pews as cellphones were.
The seniors sang along with the hymns and replied to the responsive reading, letting out an occasional chuckle at some of the reading's more fiery rhetoric.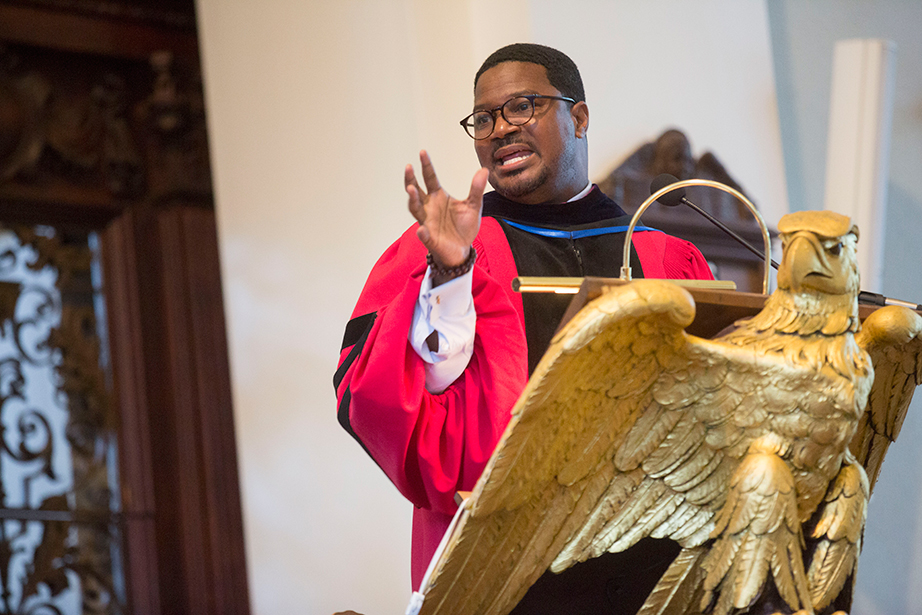 Walton said the seniors are part of a millennial generation defined by contradictions. Many were raised by helicopter parents who structured "every minute" of their days, yet they emerged as independent, innovative thinkers. He said he found the seniors comfortable with diversity even though most would go on to work and live in "segregated enclaves defined by wealth, regardless of the color of your skin." The iPhone generation has new ways to connect, he said, but "many of you expect more from technology than you have come to expect from one another."
Still, Walton said during the past four years he watched the students defy narrow social constructs with their outreach and social justice work, their activism, and their dedication to helping others. He said the seniors, backed by their Harvard experience, are poised to fight inequality and to "push the pendulum from a culture of excess toward a culture of altruism. You, the graduating Class of 2017, can use your privilege and your power to help shift the cultural climate."
"We need you to use your moral imaginations to draft cultural alternatives so that we can have a brighter future for those who come behind us," he added, calling on them to imagine a world free of hate and hunger, prejudice and despair, inequality and inaction. "This is what Harvard College has provided you — not simply a place to learn but a place to think great thoughts, a place to dream air castles in the sky furnished with hopes and aspirations for a brighter future. This is who you are."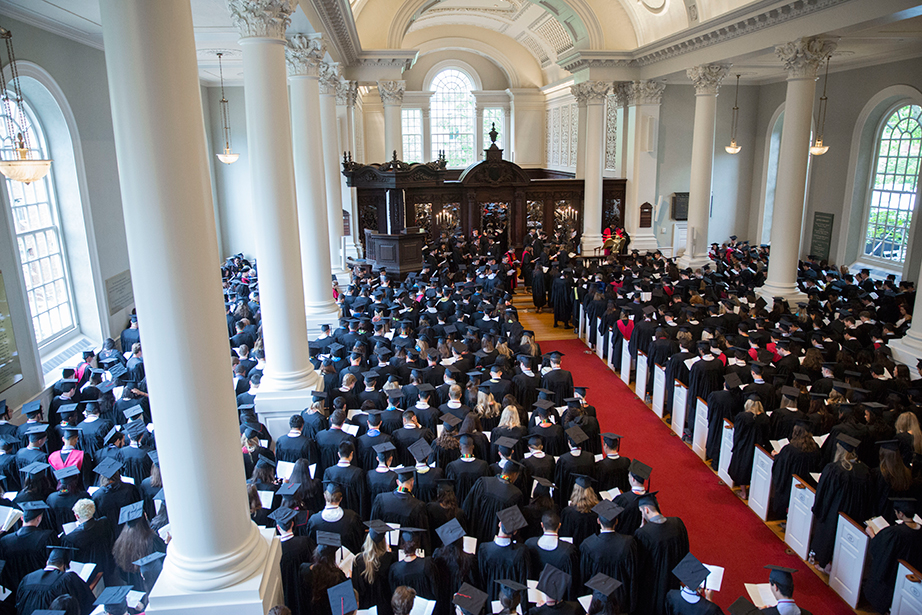 Ayodeji Ogunnaike from the Class of 2010, a tutor at Pforzheimer House while he pursues his Ph.D. at Harvard in religion and African studies, said Walton's words went well with former Vice President Joe Biden's Class Day talk on Wednesday. "It gave [students] a really neat perspective on how important it is to use their degrees in a world that desperately needs it."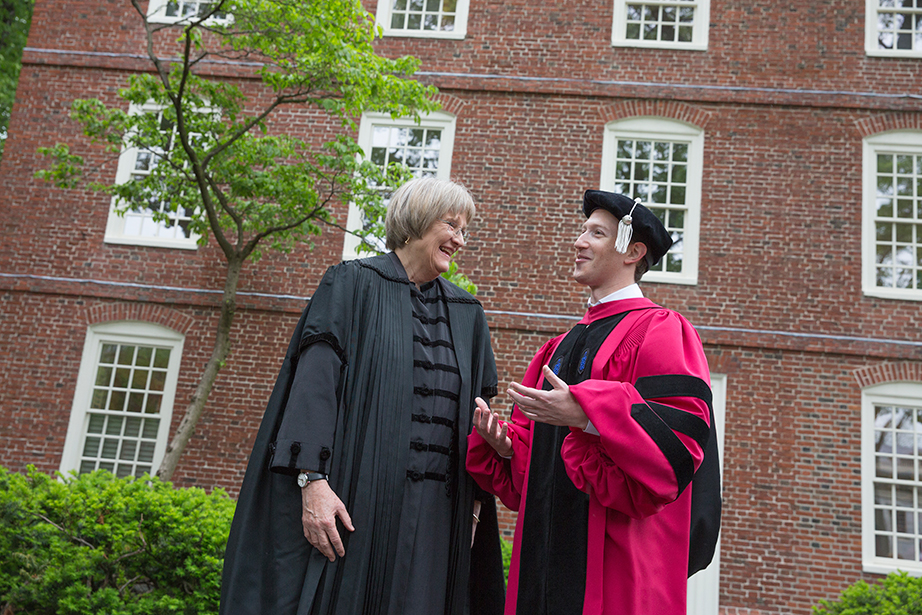 On his way to catch up with his Eliot House classmates, Kairn Brannon, a mechanical engineering concentrator who will work at a Chicago startup after graduation, said Walton's message struck a chord. One line in particular that Brannon said will stay with him was a quote from the educator, author, orator, and Civil Rights leader Benjamin Elijah Mays: "I would rather go to hell by choice than stumble into heaven following the crowd."
Nearby senior Ella Duncan, an integrative biology concentrator from Pforzheimer House, said that while she won't officially graduate until December, she came to the service to say farewell to friends and to begin slowly to detach from campus life.
"It's kind of surreal to be here and not exactly be graduating but still experience it with everyone who is. I kind of felt like I could say goodbye to Harvard incrementally, which is really special. I can say goodbye to my senior friends and still love the place without having to say goodbye right away."
Her post-College plans include travel and then Divinity School, possibly at Harvard, where she hopes to study "plant medicine from a spiritual and cultural perspective."
— Colleen Walsh
A mother who can't stop smiling
Dressed in white with a hint of crimson — with white and red fingernails to match — Ify Nwosu posed for a picture before carefully running off in heels to watch her daughter Uju, a graduating College senior, march into Tercentenary Theatre. Nwosu couldn't stop smiling.
"[Uju's] going on to med school. Yay!" said Nwosu, who is originally from Nigeria but now lives in Calgary, Canada. She said that seeing her daughter graduate was "a dream come true." Uju's older brother Ugo called Harvard's service more intimate than his own graduation ceremony a year ago at University of California, Berkeley, which was held in a stadium rather than under the trees. "It's a bit more intimate. A bit more pomp and circumstance. It's a little bit nicer because it's on the campus itself."
— Colleen Walsh
"One of the greatest rituals," Cornel West says
"It's always a beautiful ritual" said Professor Cornel West, surveying the ceremony in the Old Yard as a crowd gathered near Massachusetts Hall to try to catch a glimpse of the honorands and Harvard President Drew Faust before they processed into Tercentenary Theatre.
West, professor of the practice of public philosophy, chatted with friend and colleague Henry Louis Gates Jr., the Alphonse Fletcher Jr. University Professor and director of the Hutchins Center for African & African American Research, before heading to Morning Exercises.
West called Harvard's Commencement "one of the greatest rituals in American culture," lauding "its continuity and tradition."
He said the ceremony evokes the spirits of Harvard graduates from years past, from Transcendental poet and essayist Ralph Waldo Emerson to historian, sociologist, and Civil Rights activist W.E.B. Du Bois. "So many towering figures," he said.
— Colleen Walsh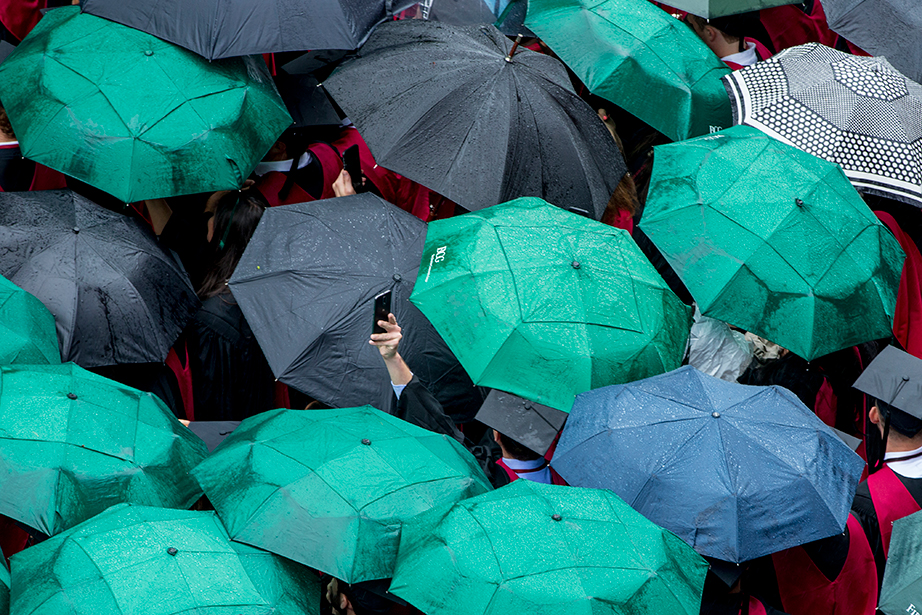 Embracing the Force
The Force was strong at Tercentenary Theatre. With Commencement Day falling 40 years to the day after the original "Star Wars" opened, the film took a starring role in the honorary degree ceremony.
Composer John Williams, who received an honorary Doctor of Music degree, counts the movie's unmistakable theme among his vast body of work. Legendary actor James Earl Jones, who was awarded an honorary Doctor of Arts degree, voiced the film's archvillain, Darth Vader, in one of his many memorable roles.
In addition to receiving his degree, Jones also played a cameo Thursday, stepping to the microphone to put a capper on the Rev. Jonathan Walton's closing benediction.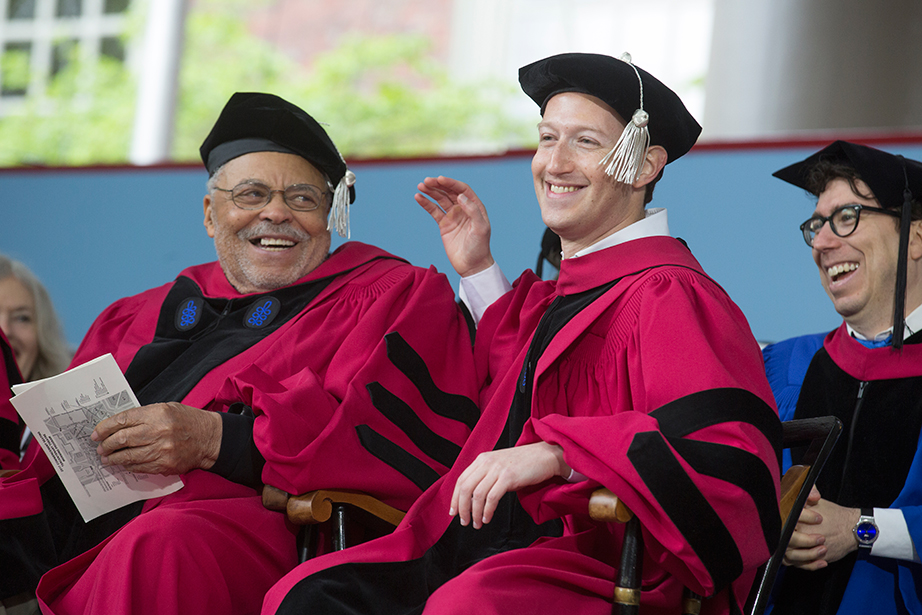 Walton stopped, stepping aside so Jones could take the microphone.
"May the Force be with you," Jones said.
Also at the ceremony, Mark Zuckerberg, who left the College after co-founding Facebook in his dorm room in 2004, finally received a Harvard degree — an honorary Doctor of Law — but not without first having to endure some gentle ribbing.
In announcing the degree, Provost Alan Garber noted Zuckerberg boasts not just a Facebook connection, but a "Star Wars" one as well:
"Today, on the 40th anniversary of the opening of 'Star Wars,' we recognize one of the most accomplished persons to ever have celebrated a 'Star Wars'-themed bar mitzvah," Garber said in his introduction. "It was clear from childhood that the Force is strong with this one."
Garber went on to note Zuckerberg's early skill writing computer code. But his true breakthrough, the provost said, was understanding that people wanted computers not just to connect to other computers, but to other people.
"It is with the greatest of pride, having confirmed that his bills are fully paid, that we welcome back Mark Zuckerberg to at last earn his Harvard degree," Garber said.
— Alvin Powell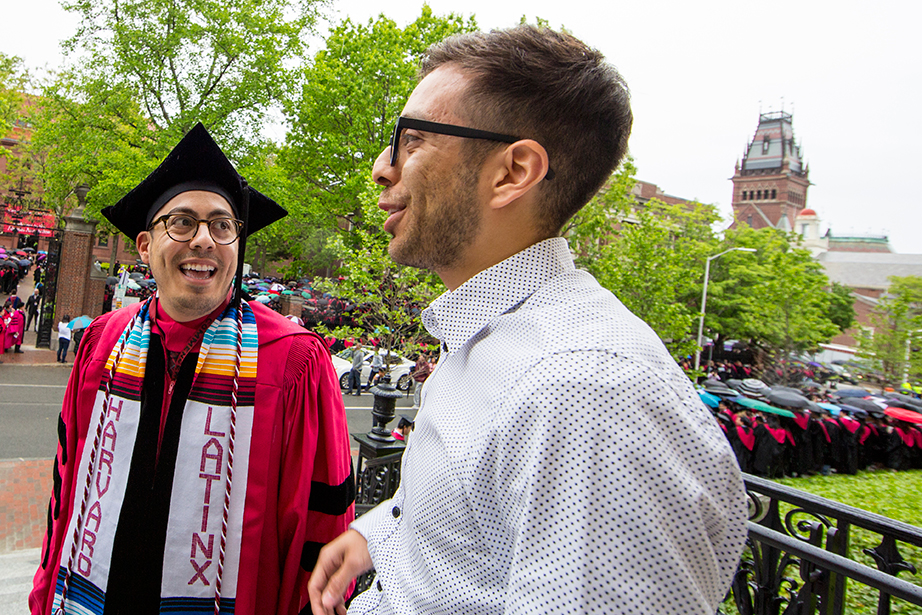 Family accomplishment
When they first arrived in California's Central Valley from Guadalajara, Mexico, in the 1970s to search for a better future but armed with only sixth-grade educations, Jeffrey and Juan Reynoso's parents scarcely knew that one day they'd be sitting in Harvard Yard watching one of their five sons graduate with a Ph.D.
But that's just what they did on this soggy but still joyful Thursday morning. Now retired, their mother spent more than 30 years working at a discount retail store while their father, a one-time farm worker and meat packer, eventually started a small business.
"Today feels extraordinary. It's a beautiful celebration for us as brothers being the first generation in our family to graduate from higher education. This is a big deal," said Jeffrey Reynoso, Dr.P.H. '17, who holds a bachelor's degree from University of California, Los Angeles, and a master's in public health from UC Berkeley. He came to the Harvard T.H. Chan School of Public Health in 2014 as a member of the School's inaugural cohort of "Centennial Fellows."
"It's a beautiful day to be at Harvard and to show the world really what a microcosm of the globe this is," he added.
In August, Juan, the youngest Reynoso son and a Stanford University graduate, will begin study in a new joint master's degree program in public health and urban planning offered by the Harvard Chan School and Harvard Graduate School of Design.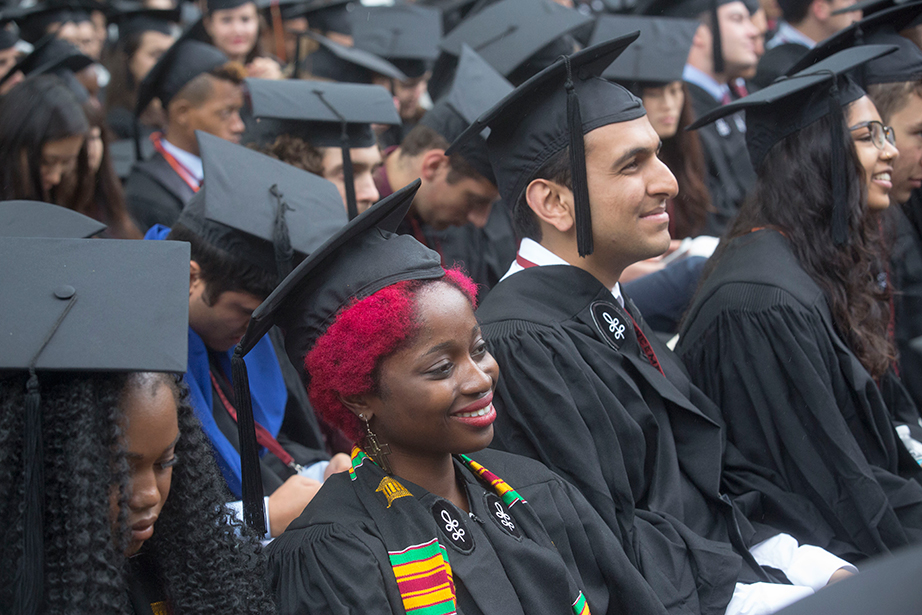 "Health is more than just going to the doctor," said Juan. "Health is in the places where we live, work, play, and thrive." In order to facilitate better health outcomes, "We need to think of health in terms of how we build communities and neighborhoods and cities, in ways in which the healthy choice is the easy choice."
Earlier in the week, Jeffrey brought his parents to the third "LatinX" ceremony for Latino graduates across the University. "I think of our culture and how far we've come as a community. The celebration is bilingual, so it's an opportunity for parents that come from various countries across Latin America to also experience graduation in their own mother tongue," he said.
After Commencement, Jeffrey will bring his talents and knowledge back to the West Coast, serving as executive director of the Latino Coalition for a Healthy California, a nonprofit that promotes inclusion and diversity in public health and leads the state's campaign to reduce public consumption of sugary drinks.
"I'm really passionate about health equity and social justice and I really want to be involved and lead an organization that is contributing to the betterment not only of Latinos, but communities of color and disenfranchised communities across California for better health and better health outcomes."
— Christina Pazzanese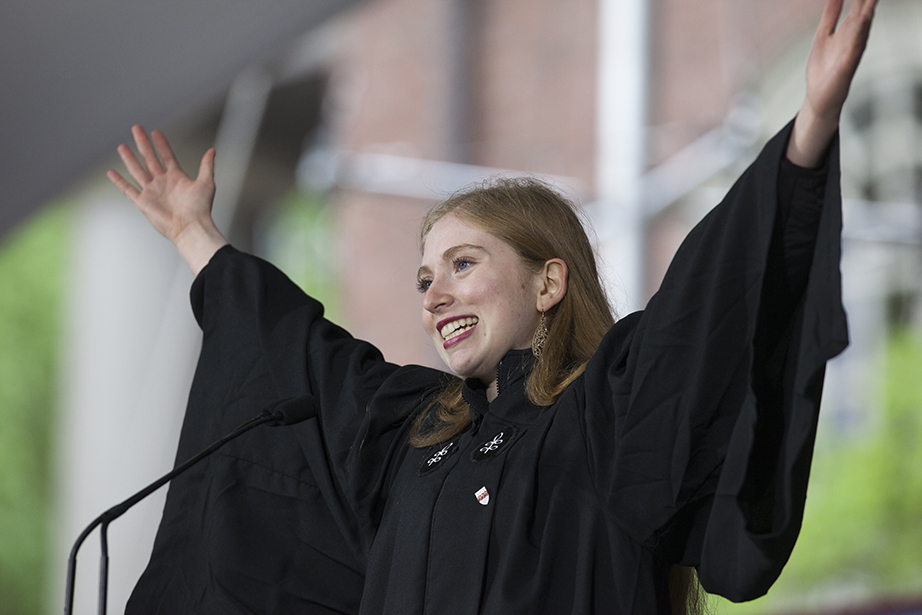 "It's sunshine in our hearts"
Ernest Carter '76 and Gabrielle Virgo '80, proud parents of Laila Carter '17, huddled together while sitting at a table in the Old Yard near Weld Hall. Both were holding umbrellas to protect themselves from what was then a light rain, but they were brimming with joy.
"We don't mind the rain," said Virgo, a biology concentrator and a pediatrician in Silver Spring, Md. "It's sunshine in our hearts."
Carter shared his wife's sentiment. For both of them, attending their daughter's graduation took them back to their own graduation ceremonies and that of their oldest daughter, Nicole Carter '08.
"It's always nice to be in the Old Yard," Carter said. "The ceremony is larger than in previous years, and there were no big screens when I graduated. But it's the same excitement, the same joy, the same Harvard spirit."
— Liz Mineo
Post-bagel reflections
Commencement started early, but not so early that it interrupted long-established routines.
"Ran to Dunkin' Donuts," said Andreas Westgaard, a master's in public policy student from the Kennedy School. "Half of the M.P.P. class was at Dunkin' Donuts this morning."
"Yeah, the usual," agreed Jaclyn Dean, another M.P.P. student waiting for Commencement Exercises to start, who then reeled off her order in a practiced tone. "Everything bagel, toasted with cream cheese, and a small coffee, one cream."
Westgaard, who is moving to San Francisco to work for IBM, said it was hard to believe how quickly two years at the Kennedy School passed. "I think it just hit me that we're graduating. I don't think it had really dawned on me since exams. It's gone by very quickly."
Dean and Westgaard agreed that among their striking memories of their time at HKS was the parade of influential speakers, including U.S. Rep. John Lewis, former U.N. Ambassador Samantha Power, and former Defense Secretary Ashton Carter.
— Alvin Powell
A letter of thanks before Commencement
Peter Toledo and Dilce Rossetti, senior researchers at Brazil's National Institute for Space Research, traveled from Sao Paulo to watch their daughter's graduation. Carol Toledo '17, worked at the Museum of Fine Arts in Boston during the day while taking courses at night at the Harvard Extension School over the past two years. She graduated with a master's in museum studies.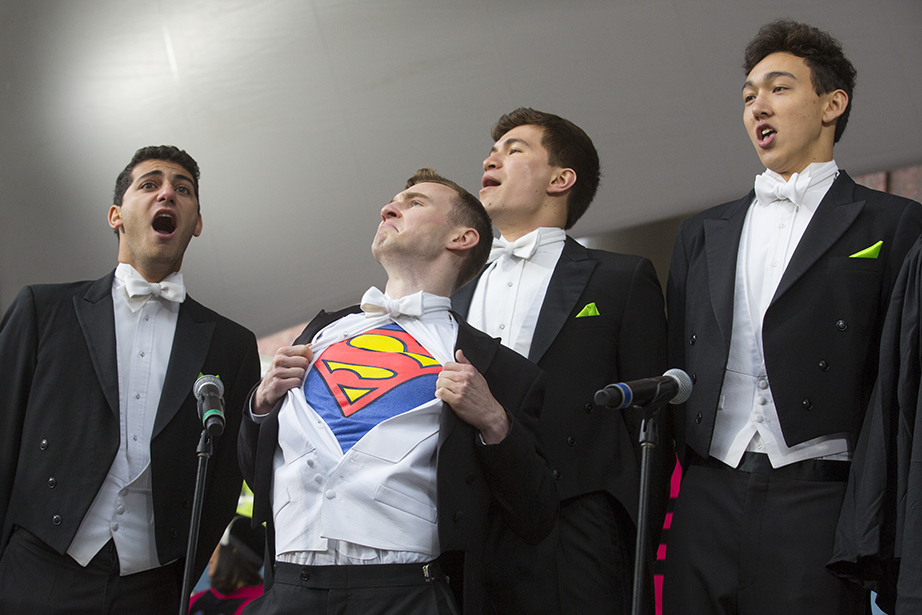 The couple enjoyed the ceremony and basked in pride of their daughter. They especially enjoyed reading a letter she had written before Commencement, expressing her love, gratitude, and admiration for them.
"It was a beautiful letter," said Rossetti. "It made me cry, and I was overwhelmed with so many emotions."
— Liz Mineo
Behind the ceremony, logistics and musing
For Harvard landscaper Denilson Mata, Commencement is often a 12-hour workday. Hundreds of people crowd the Old Yard in Tercentenary Theatre, and landscapers are busy all day picking up what they leave behind.
This time, because of the rain, Mata didn't find much litter. "It always rains the day before or the day after Commencement," said Mata, who has seen eight ceremonies since he began working at Harvard 10 years ago. After Mata picked up a paper cup, he took a couple of pictures of the ceremony with his cellphone. He planned to post them later on his Facebook account for his family and friends back in Brazil.
"My friends always ask me, 'What about you? When are you getting your diploma?'" said Mata. "Every Commencement, I think: I could be there. I could get a degree. It's never too late. Maybe next year."
— Liz Mineo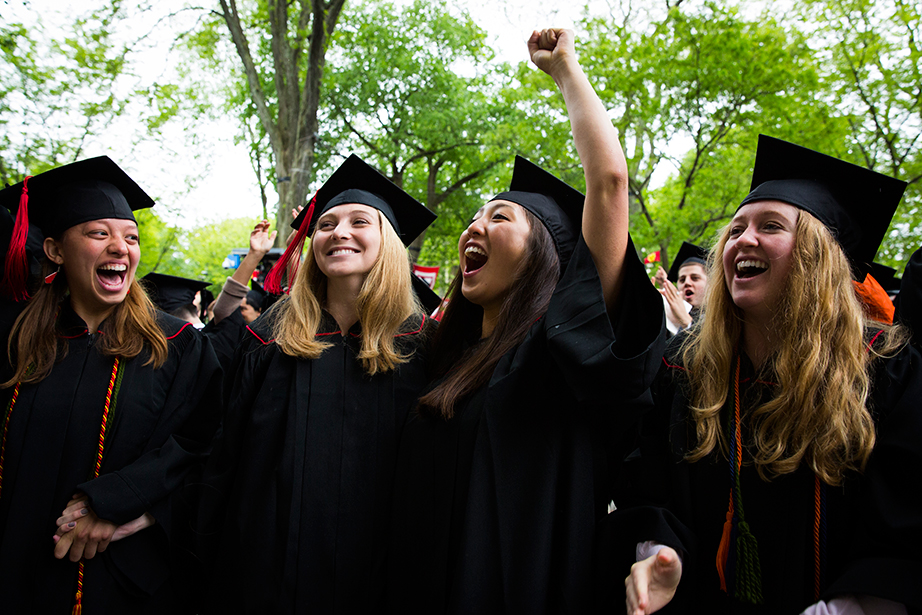 Three states, three graduations
The past few weeks have been busy for Gloria Robinson. As matriarch of her family, Robinson, who hails from Columbus, Ohio, has traveled from Virginia to Texas to Massachusetts to attend three of her grandchildren's graduation ceremonies.
Robinson was in Cambridge to celebrate the graduation of Karl Drew Reid '17, a psychology concentrator who lived in Kirkland House and played shortstop on the Harvard baseball team.
"I had to be here," said Robinson, sitting in Kirkland House. "Our family has a lot of history at Harvard."
Reid's parents also are Harvard alumni. Andrea Reid '88 is a graduate of Harvard Medical School, and Karl Reid, E.D.D. '07, is a graduate of the School of Education. Both are from Silver Spring, Md.
"You can't replicate these experiences," said Andrea Reid. "It's wonderful to see your kids finishing strong, with big smiles, moving on to the rest of their lives."
— Liz Mineo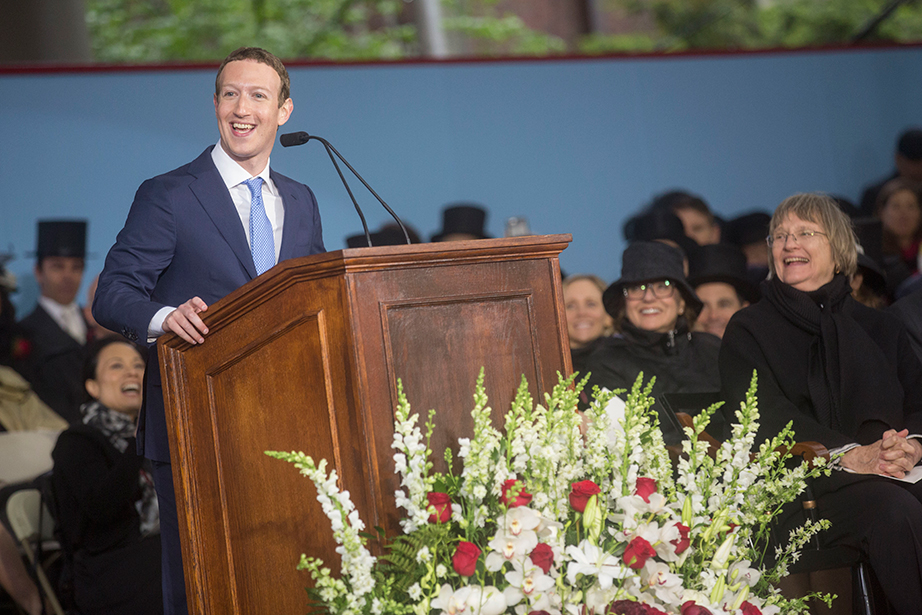 Deeper into data
With a master's in epidemiology from the Harvard T.H. Chan School of Public Health, Jenny Tse took her career full circle, sort of.
Before Harvard, Tse worked as a medical scribe in New York. As a scribe, she took down patient information for a physician's practice. Seeing patient after patient, she became interested in how to prevent disease, which led to epidemiology. Next for Tse: a job at a Kendall Square firm analyzing health records like those she used to collect.
"It was not what I planned on doing at all," Tse said. "Because I was doing electronic medical records before, I was interested in seeing where all the information goes, and to take a stab at analyzing that data."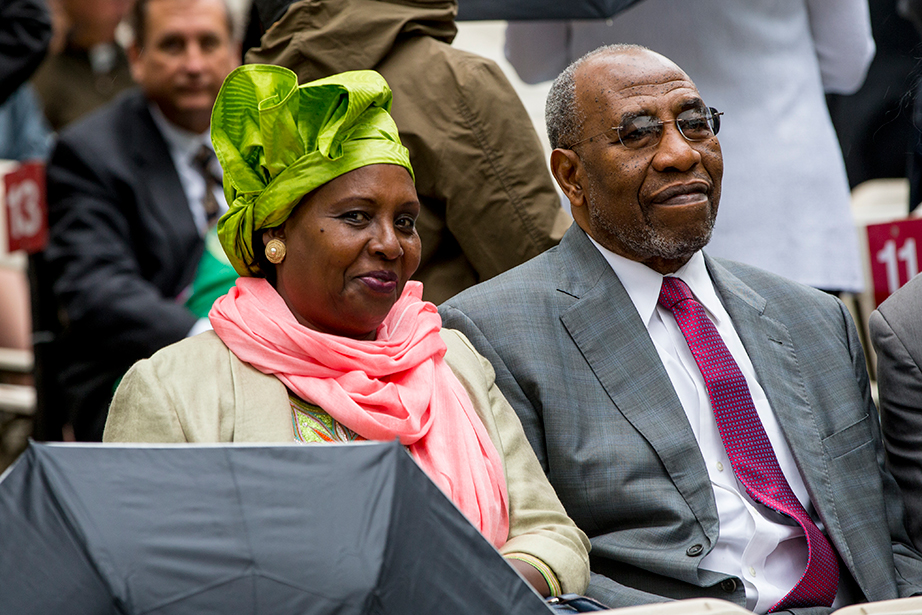 — Alvin Powell
Making mom proud
 Allison Harrington, receiving a master of theological studies from the Divinity School, executed a quick, weather-prompted change that would have impressed Superman, no phone booth necessary.
Harrington layered a jacket underneath her gown as she and classmates waited on Oxford Street to enter the Yard. She even did an interview while changing from light, open shoes into sneakers. "I thought this was an amazing experience, I really enjoyed the Divinity School, I learned a lot," said Harrington, who is thinking about turning her interest in politics and religion into a career.
The graduate's mother, Laurene Harrington, helped with the change — corralling stray socks and a mortarboard — but made clear that the Harvard degree was all Allison. "It's kind of where I thought she'd end up," Laurene said, adding that her older daughter is also a Harvard graduate. "They did it on their own, honestly."
Though she credited her daughters, Laurene nonetheless permitted herself a parent's emotion: "Extreme pride. It's very, very emotional to have two kids graduate from Harvard."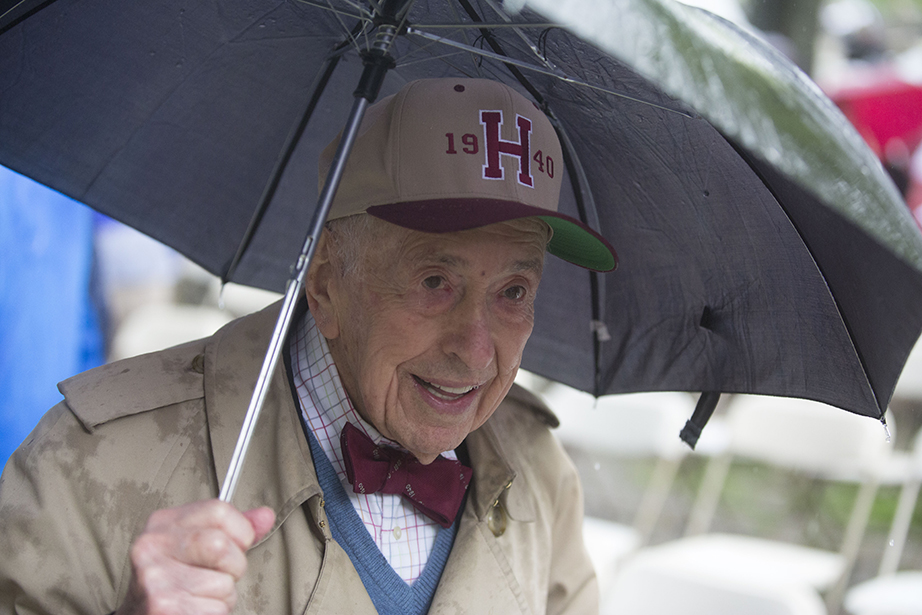 — Alvin Powell
Next up: Boston vs. California
For Caitlin Chan, who graduated from the Harvard Chan School, the choice of where to live post-graduation boils down to Boston or her native California. Despite the rain and gray skies for Commencement, weather will not be the deciding factor.
Chan, who counts four months spent in Rwanda via the FXB Center for Health and Human Rights among her most memorable Harvard experiences, said the main consideration will be whether she works in domestic or global health. With Boston's strong global health community and the contacts she's already made, if she decides to work in global health, she'll stay in Boston. A focus on U.S. health means California.
"It's a little bit of a tossup," Chan said. "A lot of the research I'm interested in is here. They [the FXB Center] have a lot of really great global opportunities."
— Alvin Powell